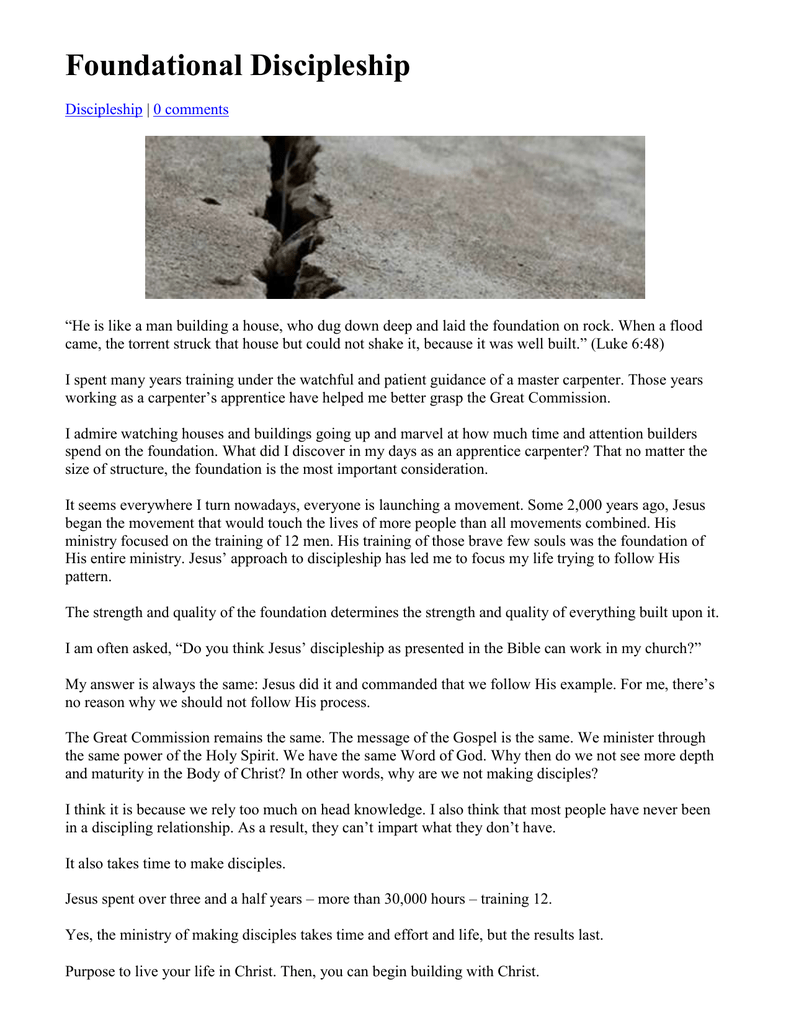 Foundational Discipleship
Discipleship | 0 comments
"He is like a man building a house, who dug down deep and laid the foundation on rock. When a flood
came, the torrent struck that house but could not shake it, because it was well built." (Luke 6:48)
I spent many years training under the watchful and patient guidance of a master carpenter. Those years
working as a carpenter's apprentice have helped me better grasp the Great Commission.
I admire watching houses and buildings going up and marvel at how much time and attention builders
spend on the foundation. What did I discover in my days as an apprentice carpenter? That no matter the
size of structure, the foundation is the most important consideration.
It seems everywhere I turn nowadays, everyone is launching a movement. Some 2,000 years ago, Jesus
began the movement that would touch the lives of more people than all movements combined. His
ministry focused on the training of 12 men. His training of those brave few souls was the foundation of
His entire ministry. Jesus' approach to discipleship has led me to focus my life trying to follow His
pattern.
The strength and quality of the foundation determines the strength and quality of everything built upon it.
I am often asked, "Do you think Jesus' discipleship as presented in the Bible can work in my church?"
My answer is always the same: Jesus did it and commanded that we follow His example. For me, there's
no reason why we should not follow His process.
The Great Commission remains the same. The message of the Gospel is the same. We minister through
the same power of the Holy Spirit. We have the same Word of God. Why then do we not see more depth
and maturity in the Body of Christ? In other words, why are we not making disciples?
I think it is because we rely too much on head knowledge. I also think that most people have never been
in a discipling relationship. As a result, they can't impart what they don't have.
It also takes time to make disciples.
Jesus spent over three and a half years – more than 30,000 hours – training 12.
Yes, the ministry of making disciples takes time and effort and life, but the results last.
Purpose to live your life in Christ. Then, you can begin building with Christ.