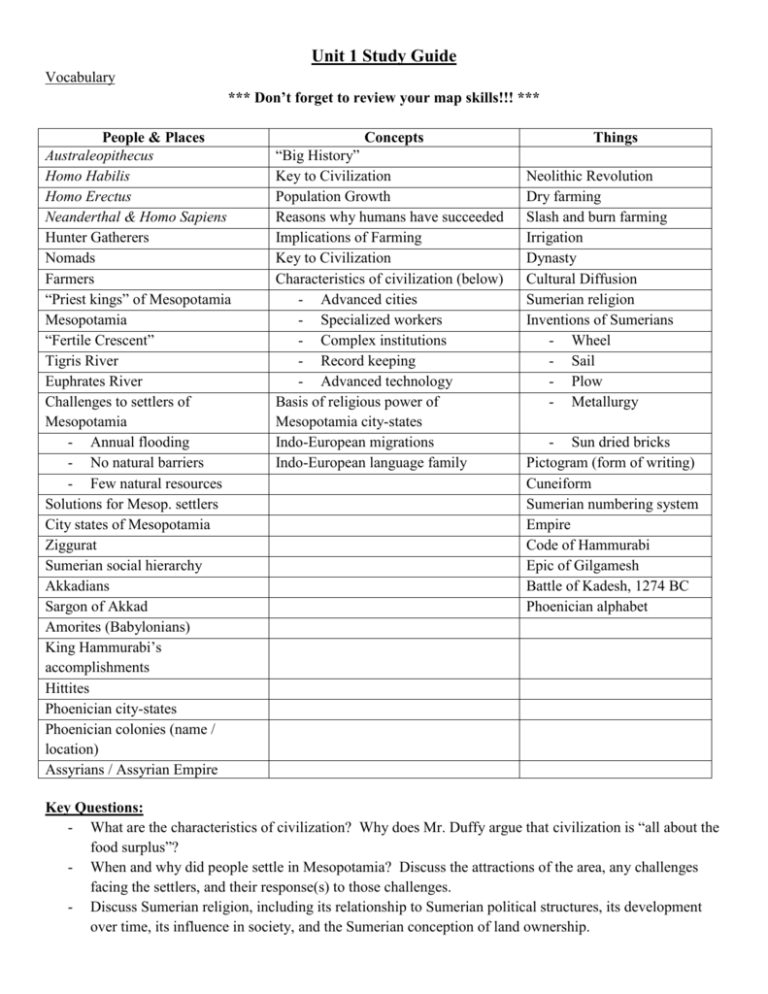 Unit 1 Study Guide
Vocabulary
*** Don't forget to review your map skills!!! ***
People & Places
Australeopithecus
Homo Habilis
Homo Erectus
Neanderthal & Homo Sapiens
Hunter Gatherers
Nomads
Farmers
"Priest kings" of Mesopotamia
Mesopotamia
"Fertile Crescent"
Tigris River
Euphrates River
Challenges to settlers of
Mesopotamia
- Annual flooding
- No natural barriers
- Few natural resources
Solutions for Mesop. settlers
City states of Mesopotamia
Ziggurat
Sumerian social hierarchy
Akkadians
Sargon of Akkad
Amorites (Babylonians)
King Hammurabi's
accomplishments
Hittites
Phoenician city-states
Phoenician colonies (name /
location)
Assyrians / Assyrian Empire
Concepts
"Big History"
Key to Civilization
Population Growth
Reasons why humans have succeeded
Implications of Farming
Key to Civilization
Characteristics of civilization (below)
- Advanced cities
- Specialized workers
- Complex institutions
- Record keeping
- Advanced technology
Basis of religious power of
Mesopotamia city-states
Indo-European migrations
Indo-European language family
Things
Neolithic Revolution
Dry farming
Slash and burn farming
Irrigation
Dynasty
Cultural Diffusion
Sumerian religion
Inventions of Sumerians
- Wheel
- Sail
- Plow
- Metallurgy
- Sun dried bricks
Pictogram (form of writing)
Cuneiform
Sumerian numbering system
Empire
Code of Hammurabi
Epic of Gilgamesh
Battle of Kadesh, 1274 BC
Phoenician alphabet
Key Questions:
- What are the characteristics of civilization? Why does Mr. Duffy argue that civilization is "all about the
food surplus"?
- When and why did people settle in Mesopotamia? Discuss the attractions of the area, any challenges
facing the settlers, and their response(s) to those challenges.
- Discuss Sumerian religion, including its relationship to Sumerian political structures, its development
over time, its influence in society, and the Sumerian conception of land ownership.