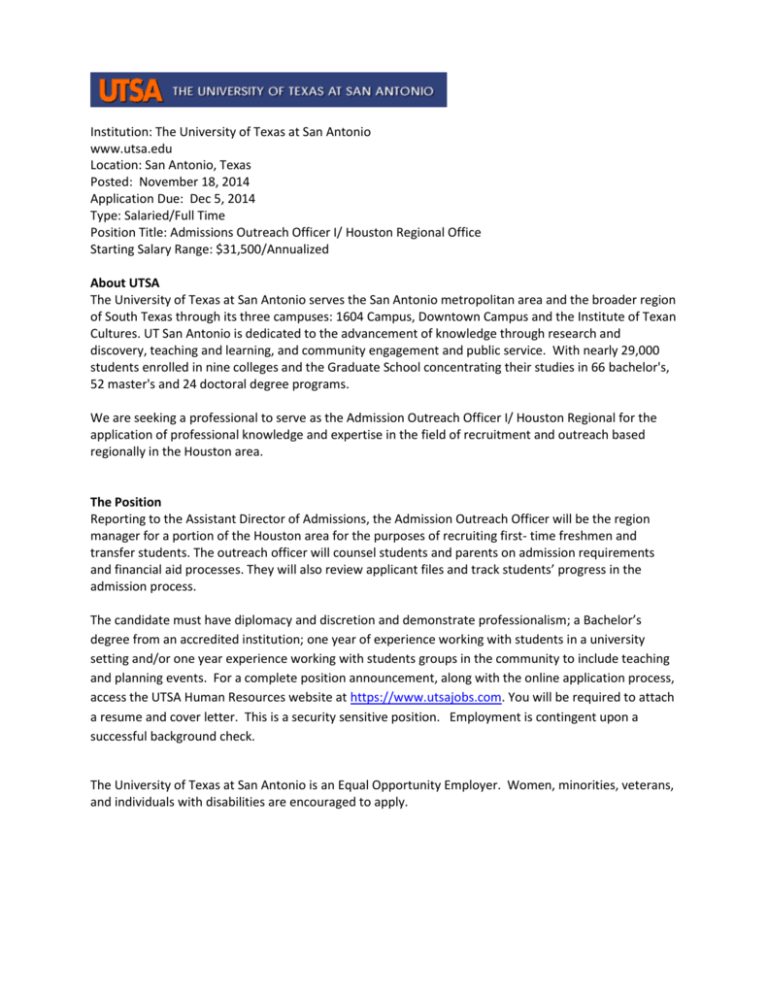 Institution: The University of Texas at San Antonio
www.utsa.edu
Location: San Antonio, Texas
Posted: November 18, 2014
Application Due: Dec 5, 2014
Type: Salaried/Full Time
Position Title: Admissions Outreach Officer I/ Houston Regional Office
Starting Salary Range: $31,500/Annualized
About UTSA
The University of Texas at San Antonio serves the San Antonio metropolitan area and the broader region
of South Texas through its three campuses: 1604 Campus, Downtown Campus and the Institute of Texan
Cultures. UT San Antonio is dedicated to the advancement of knowledge through research and
discovery, teaching and learning, and community engagement and public service. With nearly 29,000
students enrolled in nine colleges and the Graduate School concentrating their studies in 66 bachelor's,
52 master's and 24 doctoral degree programs.
We are seeking a professional to serve as the Admission Outreach Officer I/ Houston Regional for the
application of professional knowledge and expertise in the field of recruitment and outreach based
regionally in the Houston area.
The Position
Reporting to the Assistant Director of Admissions, the Admission Outreach Officer will be the region
manager for a portion of the Houston area for the purposes of recruiting first- time freshmen and
transfer students. The outreach officer will counsel students and parents on admission requirements
and financial aid processes. They will also review applicant files and track students' progress in the
admission process.
The candidate must have diplomacy and discretion and demonstrate professionalism; a Bachelor's
degree from an accredited institution; one year of experience working with students in a university
setting and/or one year experience working with students groups in the community to include teaching
and planning events. For a complete position announcement, along with the online application process,
access the UTSA Human Resources website at https://www.utsajobs.com. You will be required to attach
a resume and cover letter. This is a security sensitive position. Employment is contingent upon a
successful background check.
The University of Texas at San Antonio is an Equal Opportunity Employer. Women, minorities, veterans,
and individuals with disabilities are encouraged to apply.