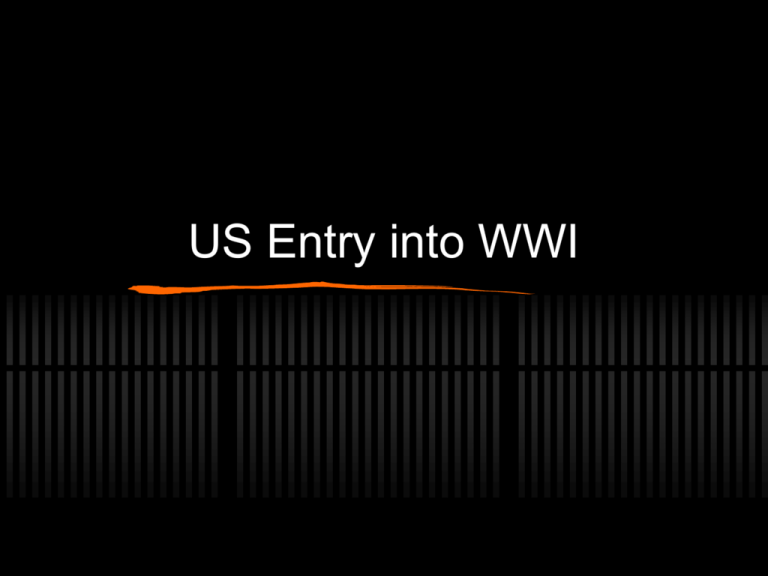 US Entry into WWI
Think. Pair. Share
What is "neutrality"?
What does it mean to be neutral in a time of
war?
Background:
 President during WWI: 1914-1918
 Woodrow Wilson (1912-1920)
 Review:
 Central Powers:
 Germany, Austria-Hungary, Ottoman Turkey
 Allied Powers:
 Britain, France, and Russia
Woodrow Wilson
Academic- history
professor and
governor of Princeton
Won the 1912
election with 42% of
the popular vote
1912 Election
Foreign policy was not a major concern
Major issues: domestic policy
Monroe Doctrine
Introduced by President
James Monroe in his
State of the Union
Address on December
2, 1823.
The US wanted to make
sure that no European
powers would come in
the place of Spain and
Portugal
Became America's official
foreign policy for decades
This meant that the US was emerging as
a power...
Terms of the Monroe
Doctrine
For Europe:
Any further efforts by European
nations to colonize land or interfere
with states in North or South America
would be viewed as acts of
aggression requiring U.S. intervention
For the US:
The U.S. would neither interfere with
existing European colonies nor
meddle in the internal concerns of
European countries.
What did this all mean for WWI?
Policy of Neutrality
But………..
War Events
 British blockade causes starvation in Germany
 Germany responds with U-Boats (Unterseeboot)
 A GERMAN Submarine
 Wilson outraged by sinking of U.S. ships
 In early 1915, U-Boats sank 90 ships, many non-military
 Lusitania a ship sank (May)—124
Americans died, 1200 total casualties
 Wilson convinces Germany to stop unrestricted submarine
warfare-1915
Sinking of the Ship Lusitania
May 7, 1915 – 1,200 people died
Woodrow Wilson
Won the 1916 presidential election with
the slogan "He kept us out of war"
US Remains Neutral
Until….
Unrestricted Submarine Warfare
Continues in 1917
Unrestricted Submarine Warfare
Unrestricted=
 No limits or restrictions
Submarine=
 Underwater boats which could fire
torpedoes
Warfare=
 War…fighting
Your definition?
German Submarine
Built in 1917
Zimmerman
Note
January1917
From the German
foreign Minister
Zimmerman to the
German Minister in
Mexico, Von
Eckhardt.
Zimmerman
Note
January 1917
Decoded
The Zimmerman Telegram-1917
 Intercepted by British agents, from Germany
(Arthur Zimmermann) to Mexico
 Encouraged Mexico to attack U.S. in return for
New Mexico, Texas and Arizona
 One of final straws for Wilson
 Germany restarts unrestricted Submarine warfare Feb
1917
 April 1917, Wilson asks Congress for war with
Germany "to make the world safe for democracy"
 50,000 American troops sent by 1917
A
D
F
G
V
X
A
B
I
3
7
M
U
D
2
9
D
H
O
V
F
E
N
4
8
P
W
G
5
A
F
J
Q
X
V
R
1
6
0
S
Y
X
L
C
G
K
T
Z
FGAFA AAVXA DGAVX VADAD DVDDD VGA VXVDX
DVDDF AFDXG XGDDG AVFDV X VAAFX GDADX VDDXD
AVXXVAAAVD AVXDA VVGDD XAVDG DXGXV XVDVF VVAFD
XAVAF VXDXV DFDAF XAVVV FAVAF VVVVV ADGXV AXAFD
GGXFX AFAVV ADGDF VFAXV DVXXF DAVXG DVAAF XGDAD
XVDVF AVAFV FDGAVAFVXV
DAXAF DGXDA FAFVA AADGV VVVXV VDDFV VGDVD AVVXD
FVDVX DADXA F AAAFA VDFVV VXVDA VFGFG XFDGV
VGDDA DFFXV XVDDF FDDX
Vertical, then horizontal
February 22, 1917
To: von Eckhardt
Mexico City
British crack top secret code. U.S. press may leak
German plot with Mexico. Prepare to leave
embassy on short notice.
-Bernstorff
Washington, D.C
Critical Paragraph: Why did the US enter WWI?
On the back…
Revise Hypothesis 2 to create your thesis
statement for this critical paragraph.
This critical paragraph must include:
 at least 2 pieces of evidence with
interpretation and commentary to back up
your thesis statement.
 a concluding sentence that discusses the
importance of the entrance of the US into
WWI.