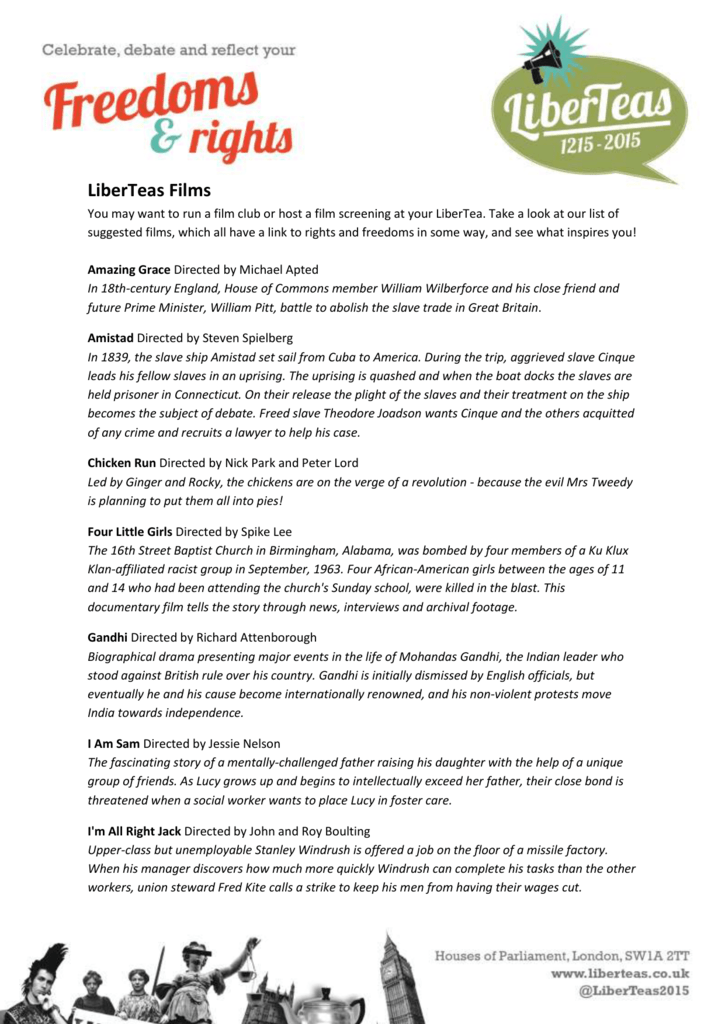 LiberTeas Films
You may want to run a film club or host a film screening at your LiberTea. Take a look at our list of
suggested films, which all have a link to rights and freedoms in some way, and see what inspires you!
Amazing Grace Directed by Michael Apted
In 18th-century England, House of Commons member William Wilberforce and his close friend and
future Prime Minister, William Pitt, battle to abolish the slave trade in Great Britain.
Amistad Directed by Steven Spielberg
In 1839, the slave ship Amistad set sail from Cuba to America. During the trip, aggrieved slave Cinque
leads his fellow slaves in an uprising. The uprising is quashed and when the boat docks the slaves are
held prisoner in Connecticut. On their release the plight of the slaves and their treatment on the ship
becomes the subject of debate. Freed slave Theodore Joadson wants Cinque and the others acquitted
of any crime and recruits a lawyer to help his case.
Chicken Run Directed by Nick Park and Peter Lord
Led by Ginger and Rocky, the chickens are on the verge of a revolution - because the evil Mrs Tweedy
is planning to put them all into pies!
Four Little Girls Directed by Spike Lee
The 16th Street Baptist Church in Birmingham, Alabama, was bombed by four members of a Ku Klux
Klan-affiliated racist group in September, 1963. Four African-American girls between the ages of 11
and 14 who had been attending the church's Sunday school, were killed in the blast. This
documentary film tells the story through news, interviews and archival footage.
Gandhi Directed by Richard Attenborough
Biographical drama presenting major events in the life of Mohandas Gandhi, the Indian leader who
stood against British rule over his country. Gandhi is initially dismissed by English officials, but
eventually he and his cause become internationally renowned, and his non-violent protests move
India towards independence.
I Am Sam Directed by Jessie Nelson
The fascinating story of a mentally-challenged father raising his daughter with the help of a unique
group of friends. As Lucy grows up and begins to intellectually exceed her father, their close bond is
threatened when a social worker wants to place Lucy in foster care.
I'm All Right Jack Directed by John and Roy Boulting
Upper-class but unemployable Stanley Windrush is offered a job on the floor of a missile factory.
When his manager discovers how much more quickly Windrush can complete his tasks than the other
workers, union steward Fred Kite calls a strike to keep his men from having their wages cut.
In the Heat of the Night Directed by Norman Jewison
A small-town Mississippi sheriff is forced to collaborate on a murder investigation with Virgil Tibbs, a
black detective from Philadelphia. At first they find themselves totally at odds with each other, but as
the investigation goes on they learn to respect each other's talents.
Lord of the Flies Directed by Peter Brook
A plane carrying a group of young boys crash lands on a deserted island. With no adult survivors, the
boys are forced to fend for themselves. At first they cooperate, but when they split into two separate
groups, their society falls into disorder, leading to an eerie conclusion.
Made in Dagenham Directed by Nigel Cole
The tale of a group of women who walked out in search of equal pay for their work. Recreating some
of the real-life events surrounding the 1968 strike at the Ford Dagenham car assembly plant, this film
looks at the journey to equal pay for women.
Malcolm X Directed by Spike Lee
A tribute to the controversial black activist and leader of the struggle for black liberation, who was
imprisoned in the 1950s and assassinated in 1965, leaving a legacy of self-determination and racial
pride.
MILK Directed Gus Van Sant
In 1972, Harvey Milk and his lover leave New York for San Francisco, with Milk determined to
accomplish something significant in his life. In 1977 he becomes the nation's first openly gay man
elected to a notable public office when he wins a seat on the Board of Supervisors.
Philadelphia Directed by Jonathan Demme
Lawyer Andrew Beckett hides his homosexuality and HIV status, fearing it would compromise his
career at a powerful Philadelphia law firm. His secret is exposed by a colleague and he is fired shortly
afterwards. Beckett resolves to sue for discrimination, teaming up with Joe Miller, the only lawyer
willing to help.
Pride Directed by Matthew Warchus
At the Gay Pride March in London in 1984, a group of gay and lesbian activists decide to raise money
for the families of the striking miners. The Union seems embarrassed to receive their support, but the
activists are not deterred and go direct to the miners. And so begins the remarkable story of two
communities, seemingly worlds apart, who form a partnership
Selma Directed by Ava DuVernay
An Alabama city becomes the battlefield in the fight for suffrage. Despite strong opposition, Dr.
Martin Luther King Jr. and his followers press forward on an epic march from Selma to Montgomery.
Their efforts conclude with President Lyndon Johnson signing the Voting Rights Act of 1965.
Spartacus Directed by Stanley Kubrick
Thracian Spartacus, born and raised a slave, is sold to Gladiator trainer Batiatus. Spartacus turns on
his owners and leads the other slaves in rebellion. As the rebels travel around different towns, their
numbers expand, as escaped slaves join them. Under the leadership of Spartacus, they make their
way to cross the sea and return to their homes freed.
The Boy in the Striped Pyjamas Directed by Mark Herman
This tale follows an unlikely friendship that forms between Bruno, the son of a Nazi commandant,
and Shmuel, a Jewish boy held captive in a concentration camp. Although the two are separated
physically by a barbed-wire fence, their friendship grows and their lives become extremely
intertwined.
The Kite Runner Directed by Marc Foster
Set in 1975 Afghanistan, this tale follows the tested friendship between two young boys, Amir and
Hassan, and the haunting of their adult selves by what happened to them as children. Amir realises
that he must return to Afghanistan under Taliban rule in order to find redemption.
To Kill a Mockingbird Directed by Robert Mulligan
Set in the 1930s, in a small Alabama town, highly respected lawyer Atticus Finch puts his career on
the line when he agrees to represent Tom Robinson, a black man accused of rape. The trial and the
events surrounding it are seen through the eyes of Finch's six-year-old daughter, Scout.
Wadjda Directed by Haifaa Al-Mansour
Wadjda is a fun-loving 10-year-old girl living in Saudi Arabia. She sees a beautiful green bicycle for
sale that she wants desperately so she can race her friends. But Wadjda's mother won't allow it,
fearing repercussions from a society that sees bicycles as dangerous to a girl's virtue. So Wadjda
decides to try and raise the money herself, by entering a Koran recitation competition.