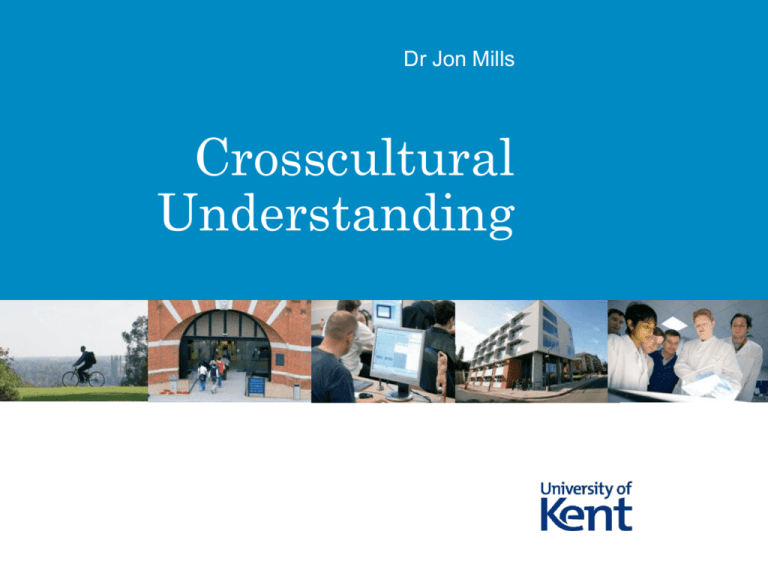 Dr Jon Mills
Crosscultural
Understanding
Cultural Bias
•
Interpreting and judging phenomena by
standards inherent to one's own culture
Cultural Bias
•
For example
 People who read English often assume that it is
natural to scan a visual field from left to right and
from top to bottom.
Cultural Bias
•
For example
 In the United States it is typical for the "on" position
of a toggle switch to be "up", whereas in the UK,
Australia, and New Zealand it is "down."
 In these countries, North is the top of a map,
 Up is usually the larger quantity and better, as well.
Cultural Bias
•
For example
 Japanese do not place an X in a check-box to
indicate acceptance — this indicates refusal.
Discussion
1.Can you think of any more examples of
cultural bias?
2.What misunderstandings do you think might
occur because of such cultural bias?
Stereotyping
•
When someone claims that members of
another culture all share the same, often
inferior or offensive characteristics.
Types of stereotypes
• racial e.g. Red Indians in cowboy films are
seen as bloodthirsty savages
• gender e.g. women are bad drivers
• age e.g. old people are said to be very
forgetful
• religion e.g. Catholics families have a lot of
children
• profession e.g. all lawyers are greedy
The typical Frenchman
Historical basis
The typical Englishman
Basis in fiction
Gender stereotypes in children's movies
http://youtu.be/O4BxGtWvsvo
African Men. Hollywood Stereotypes
Stereotyping Muslims
Different cultural assumptions
•
People may misinterpret each other's motives.
 For example,
• One group may assume that they are simply
exchanging information about what they believe,
• but the other believes that they are negotiating a
change in behaviour.
References
Douglas, Mary (1982) "Cultural Bias," in: Douglas,
M.: In the Active Voice, London: Routledge &
Kegan Paul; 183-254.
Andersen, Margaret L. & Howard Francis Taylor
(2006). Sociology: Understanding a Diverse
Society. Thomson Wadsworth.
Seidner, Stanley S. (1982) Ethnicity, Language,
and Power from a Psycholinguistic Perspective.
Bruxelles: Centre de recherche sur le
pluralinguisme.