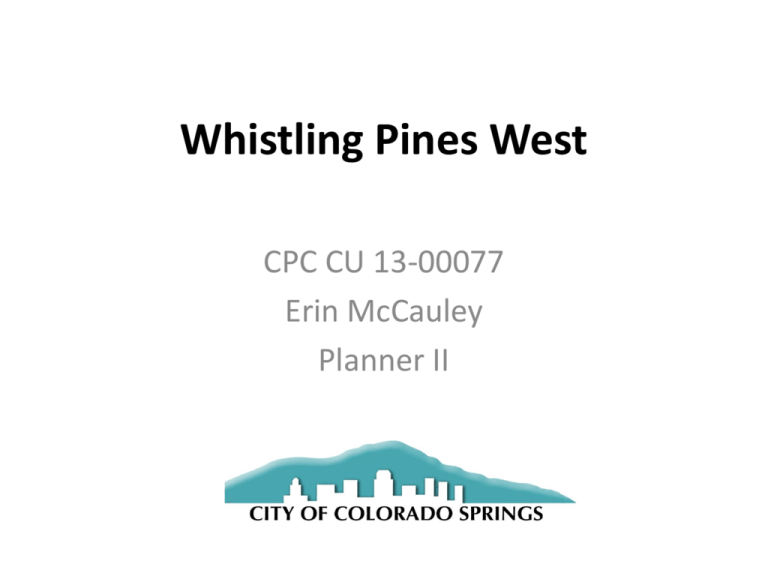 Whistling Pines West
CPC CU 13-00077
Erin McCauley
Planner II
Whistling Pines West
4750 Peace Palace Point
• 2.50 acres
• Zoned PIP-2 HS
• Lot 1 Garden of the Gods
Business Park Fil. No 12
• Adjacent to Douglas Creek
Topography
6628'
6334'
Site, North View
Site, North West View
Site, East View
Whistling Pines West
• Conditional Use
– Indoor Sports and Recreation
– 17-Lane Indoor Shooting Range
• 5 Rifle Lanes
• 12 Pistol Lanes
– 20,719 sq. ft. Building (Gross)
• 6,007 sq. ft. Retail
• 1,272 sq. ft. Office
• 1,728 sq. ft. Storage
Site Design
Site Design
Site Design
Public Process
• Pre-Application Stage (January 2013 – March 2013)
– Meeting between Applicant and Staff
– Meeting amongst HOA Representatives, Applicant, Owner & Staff
• Internal Review (August 2013 – September 2013)
– Public Notification
– Buckslip Agencies
• Neighborhood Meeting (December, 2013)
– Presentation by Applicant, Sound Engineer, Action Target
Representative, Owners
– Q&A Session
Main Post-Neighborhood Meeting
Concerns
• Noise
– Noise Study
– Building Design and Construction
– C.R.S. §25-12-109
• Safety
– Interior Building Design and Armor Systems
– Range Safety Protocols
– Range Rules
• Health Hazards
– Ventilation
– No potential for environmental contamination
Exterior Building Design
•
•
•
•
•
Split-Stone CMU block
Smooth-Face CMU block
Painted Concrete Wall
Standing Seam Metal Roof Panels
Earth Tones
Exterior Building Design
Continued from previous slide
Interior Building Design
•
•
•
•
•
8' Safety Ceiling
Angled Ceiling Baffles
Firing Line Stall Walls
Wall Baffles with Deflectors
8' Rubber Berm Trap
Review Criteria
•
Conditional Use
1.
2.
3.
•
Development Plan
1.
2.
3.
4.
5.
6.
7.
8.
9.
10.
11.
12.
•
Surrounding Neighborhood: That the value and qualities of the neighborhood surrounding the conditional use are not substantially injured.
Intent of the Zoning Code: That the conditional use is consistent with the intent and purpose of this Zoning Code to promote public health, safety and
general welfare.
Comprehensive Plan: That the conditional use is consistent with the Comprehensive Plan of the City.
Will the project design be harmonious with the surrounding land uses and neighborhood?
Will the proposed land uses be compatible with the surrounding neighborhood? Will the proposed development overburden the capacities of existing
streets, utilities, parks, schools, and other public facilities?
Will the structures be located to minimize the impact of their use and bulk on adjacent properties?
Will landscaping, berms, fences and/or walls be provided to buffer the site from undesirable views, noise, lighting or other off site negative influences
and to buffer adjacent properties from negative influences that may be created by the proposed development?
Will vehicular access from the project to streets outside the project be combined, limited, located, designed and controlled to channel traffic to and from
such areas conveniently and safely and in such a manner which minimizes traffic friction, noise pollution and promotes free traffic flow without excessive
interruption?
Will all the streets and drives provide logical, safe and convenient vehicular access to the facilities within the project?
Will streets and drives within the project area be connected to streets outside the project area in such a way that discourages their use by through
traffic?
Will adequately sized parking areas be located throughout the project to provide safe and convenient access to specific facilities?
Will safe and convenient provision for the access and movement of handicapped persons and parking of vehicles for the handicapped be accommodated
in the project design?
Will the design of streets, drives and parking areas within the project result in a minimum of area devoted to asphalt?
Will pedestrian walkways be functionally separated from vehicular traffic and landscaped to accomplish this? Will pedestrian walkways be designed and
located in combination with other easements that are not used by motor vehicles?
Does the design encourage the preservation of significant natural features such as healthy vegetation, drainage channels, steep slopes and rock
outcroppings? Are these significant natural features incorporated into the project design?
Hillside Development Plan
1.
2.
3.
4.
5.
Does the plan meet the spirit and intent of the hillside design manual?
How will the streetscape retain a hillside character after the street is constructed? Is terrain disturbance minimized?
Have visual impacts on off site areas been reduced or reasonably mitigated?
Have the significant natural features and the significant vegetation been placed in preservation area easements?
Have geologic, soil and other natural hazards been identified and evidence of mitigation techniques been provided?
Staff Recommendation
• Approve the Conditional Use for Whistling
Pines West, subject to the following condition:
Prior to the issuance of the Certificate of Occupancy,
noise levels measured in accordance with City Code
Section 9.8.103 shall be demonstrated not to exceed
45 dB(A).
Questions?