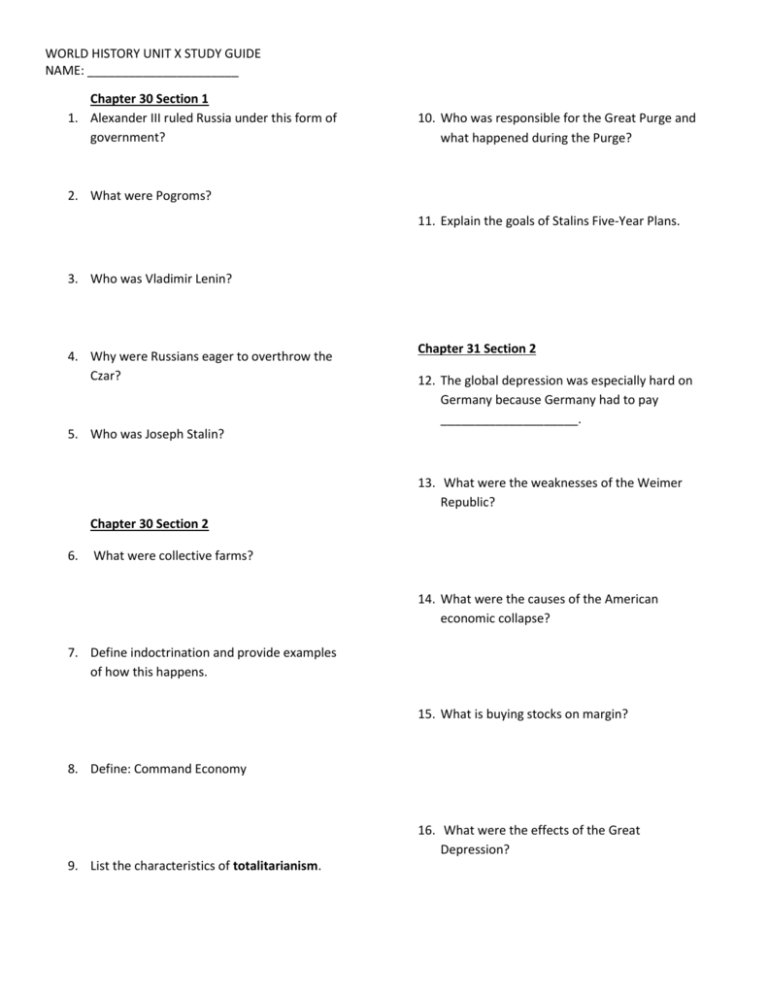 WORLD HISTORY UNIT X STUDY GUIDE
NAME: ______________________
Chapter 30 Section 1
1. Alexander III ruled Russia under this form of
government?
10. Who was responsible for the Great Purge and
what happened during the Purge?
2. What were Pogroms?
11. Explain the goals of Stalins Five-Year Plans.
3. Who was Vladimir Lenin?
4. Why were Russians eager to overthrow the
Czar?
Chapter 31 Section 2
12. The global depression was especially hard on
Germany because Germany had to pay
____________________.
5. Who was Joseph Stalin?
13. What were the weaknesses of the Weimer
Republic?
Chapter 30 Section 2
6.
What were collective farms?
14. What were the causes of the American
economic collapse?
7. Define indoctrination and provide examples
of how this happens.
15. What is buying stocks on margin?
8. Define: Command Economy
16. What were the effects of the Great
Depression?
9. List the characteristics of totalitarianism.
WORLD HISTORY UNIT X STUDY GUIDE
NAME: ______________________
Chapter 31 Section 4
17. How did Germany's postwar economic
problems begin during the war? (p905)
Chapter 31 Section 3
25. The Japanese need for iron and coal led them
to do what in 1931?
26. Why did Mussolini attack Ethiopia?
18. Who was referred to by the title Il Duce and
what does Il Duce mean?
27. How did Hitler defy the Treaty of Versailles?
19. List the characteristics of Fascism.
28. Define: Appeasement
20. How were Fascism and Totalitarianism
different?
29. Who led Spanish rebel troops in Spain's Civil
War?
21. Who wrote the book Mein Kampf? What
does the title mean? What was the book
30. What happened at the Munich Conference?
about?
22. How did Hitler gain power?
31. Explain the nonaggression pact signed by the
Nazis and the Soviets.
23. Who was the leader of the Third Reich?
24. Why did Hitler make Jews a target after WWI?