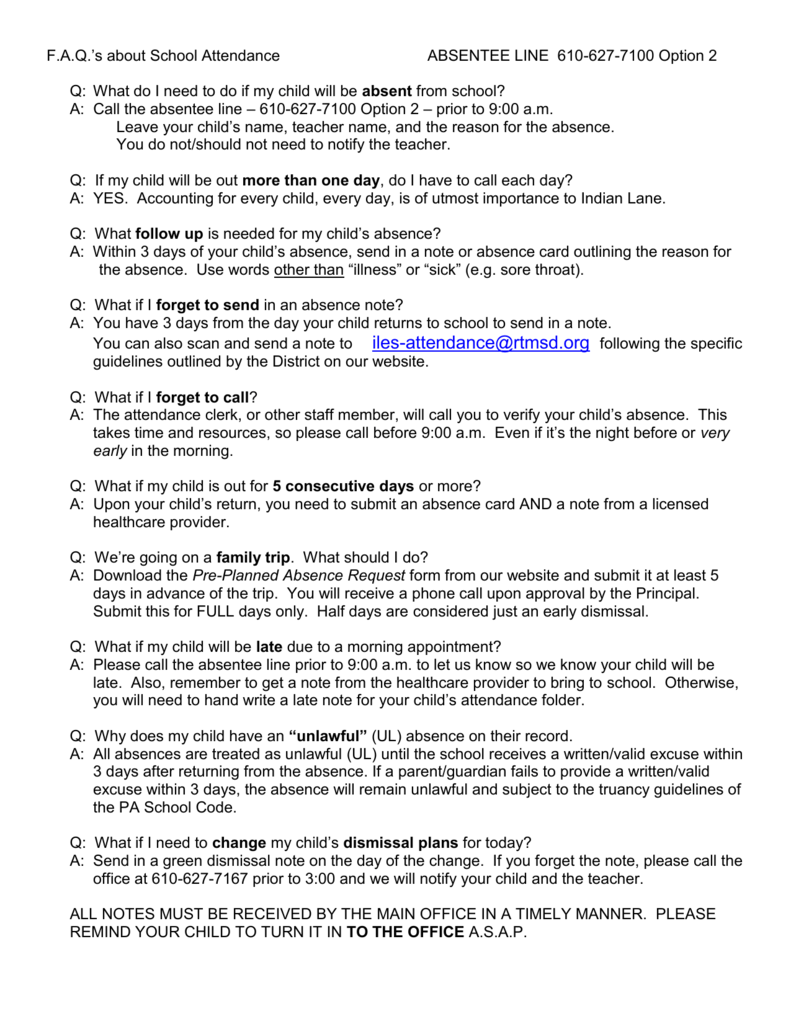 F.A.Q.'s about School Attendance
ABSENTEE LINE 610-627-7100 Option 2
Q: What do I need to do if my child will be absent from school?
A: Call the absentee line – 610-627-7100 Option 2 – prior to 9:00 a.m.
Leave your child's name, teacher name, and the reason for the absence.
You do not/should not need to notify the teacher.
Q: If my child will be out more than one day, do I have to call each day?
A: YES. Accounting for every child, every day, is of utmost importance to Indian Lane.
Q: What follow up is needed for my child's absence?
A: Within 3 days of your child's absence, send in a note or absence card outlining the reason for
the absence. Use words other than "illness" or "sick" (e.g. sore throat).
Q: What if I forget to send in an absence note?
A: You have 3 days from the day your child returns to school to send in a note.
You can also scan and send a note to [email protected] following the specific
guidelines outlined by the District on our website.
Q: What if I forget to call?
A: The attendance clerk, or other staff member, will call you to verify your child's absence. This
takes time and resources, so please call before 9:00 a.m. Even if it's the night before or very
early in the morning.
Q: What if my child is out for 5 consecutive days or more?
A: Upon your child's return, you need to submit an absence card AND a note from a licensed
healthcare provider.
Q: We're going on a family trip. What should I do?
A: Download the Pre-Planned Absence Request form from our website and submit it at least 5
days in advance of the trip. You will receive a phone call upon approval by the Principal.
Submit this for FULL days only. Half days are considered just an early dismissal.
Q: What if my child will be late due to a morning appointment?
A: Please call the absentee line prior to 9:00 a.m. to let us know so we know your child will be
late. Also, remember to get a note from the healthcare provider to bring to school. Otherwise,
you will need to hand write a late note for your child's attendance folder.
Q: Why does my child have an "unlawful" (UL) absence on their record.
A: All absences are treated as unlawful (UL) until the school receives a written/valid excuse within
3 days after returning from the absence. If a parent/guardian fails to provide a written/valid
excuse within 3 days, the absence will remain unlawful and subject to the truancy guidelines of
the PA School Code.
Q: What if I need to change my child's dismissal plans for today?
A: Send in a green dismissal note on the day of the change. If you forget the note, please call the
office at 610-627-7167 prior to 3:00 and we will notify your child and the teacher.
ALL NOTES MUST BE RECEIVED BY THE MAIN OFFICE IN A TIMELY MANNER. PLEASE
REMIND YOUR CHILD TO TURN IT IN TO THE OFFICE A.S.A.P.