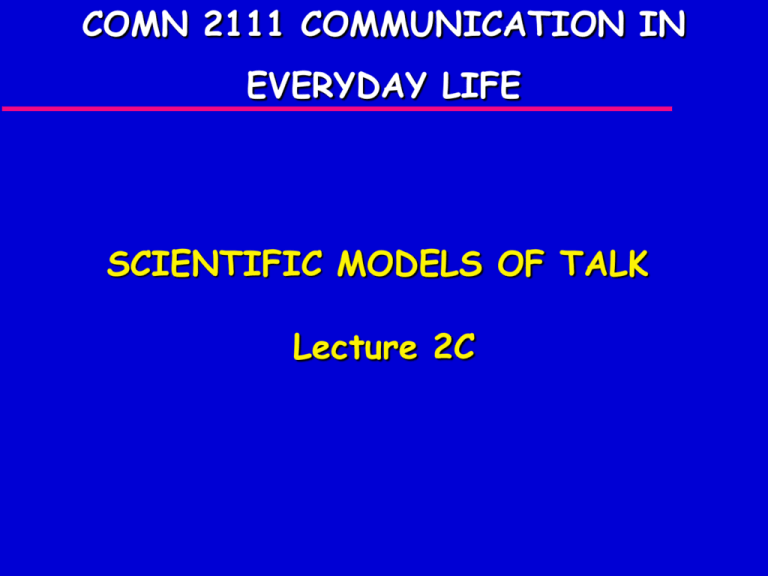 COMN 2111 COMMUNICATION IN
EVERYDAY LIFE
SCIENTIFIC MODELS OF TALK
Lecture 2C
SELF-FEEDBACK LOOP
( THE 2 PERSON RELATIONSHIP MODEL)
SENDER
MESSAGE
RECEIVER
CHANNEL
S's
Self-image
R's
Self-Image
S's
Image of R
S's
Projected
Self-image
R's
Projected
self-image
R's
Image of S
APPARENT CONTRADICTION
• HOW WE THINK ABOUT
COMMUNICATION - TENNIS MATCH
• HOW WE DO COMMUNICATION -
AUTOMATIC PROCESS OF MUTUAL
ADJUSTMENT
COMMUNICATION AS AUTOMATIC
TRANSACTIONS: THE PROCESS
COMMUNICATION AS AUTOMATIC
TRANSACTIONS: IN CONTEXT
INTERPERSONAL COMMMUNICATION
MODEL: TRANSACTION AS COMPETENCE
• LANGUAGE COMPETENCE
• KNOWING THE SOUND SYSTEM
• MEANINGS OF WORDS (NAMING)
• SYNTAX (ORDER OF WORDS)
• COMMUNICATION COMPETENCE
• KNOWING RULES OF COMMUNICATION INTERACTION
• NON-VERBAL RULES OF INTERACTION
• EMOTIONAL COMPETENCE
• For most people these competences are so
deeply learned they are done without
thinking.
THE CONTEXT
• THE ENVIRONMENT IN WHICH THE
COMMUNICATION OCCURS
• HAS PHYSICAL, TEMPORAL AND SOCIAL-
PSYCHOLOGICAL DIMENSIONS
• INFLUENCES THE CONTENT AND FORM OF
COMMUNICATION EVEN THOUGH IT IS
OFTEN IGNORED
SEVEN AXIOMS OF INTERPERSONAL
COMMUNICATION
INTERPERSONAL COMMUNICATION IS:
1. IP communication is inevitable, irreversible
and unrepeatable
2. IP communication is a process of on-going
adjustment over time.
•
IP communication is a system of interconnected elements that
flare part of a dynamically inter-connective flow (axiom one).
We constantly adjust our to each other as we talk.
3. Always contains relationship and content
dimensions.
•
•
The simultaneous exchanges of "mixed messages" - about the
topic of the talk and us as people.
Using "mixed meda" - words and non-verbals.
SEVEN AXIOMS OF INTERPERSONAL
COMMUNICATION
INTERPERSONAL COMMUNICATION IS:
4. Complementary or symmetrical in effect
•
They reflect the exercise of power in the moment or in the on-going relationship,
since one person's behavior may stimulate either symmetrical (equally powerful)
or complementary (different levels of power) responses from another.
5. Is always seen by each participant as a
"series of punctuated events."
•
We organize the seamless flow of an exchange into orderly sequences that
support our view of ourselves, and the world.
6. IP Communication is a transactional process
•
A process of exchanging bits of our sevles while we are exchanging information
about some topic in a process with no clear beginning, endings or exact sameness
from one time to the next.
THE FIRST SIX AXIOMS ARE
ABOUT PROCESS
•
•
•
HOW THE PROCESS OF IP
COMMUNICATION WORKS IN A
UNIVERSAL SENSE
ALL OF THESE FACTORS OPERATE
EVERY TIME WE TALK
BUT WE DON'T SAY THE SAME
THINGS IN EVERY SITUATION
THE SEVENTH AXIOM IS ABOUT
PRAGMATICS
THE PRAGMATICS OF
COMMUNICATION
•
•
•
•
•
The effects of communication on others
The reasons why we say what we do in particular situations
PROBLEM SITUATIONS
Two types (1) something that both parties recognize is "at
arm's length" from the conversation itself because they
think they are communicating quite effectively in the
situation, or (2) an issue about the talk itself – a
"communication breakdown" – where one or both of the
speakers feels misunderstood or unappreciated by the
other.
THE SEVENTH AXIOM
7. In interpersonal communication, when
faced with difference, disagreement, or
disorder, human beings need to be or feel
right.