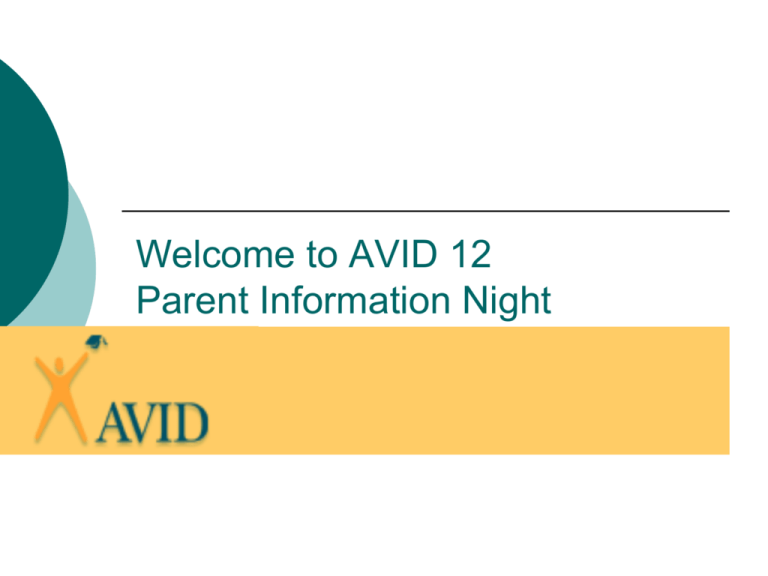 Welcome to AVID 12
Parent Information Night
AVID Elective Teachers
Denise Guzman, Coordinator:
dguzman@murrieta.k12.ca.us
Mary Byun- AVID 12
mbyun-kallevig@murrieta.k12.ca.us
Steve Chavez – AVID 12
schavez@murrieta.k12.ca.us
12th Grade Expectations
12th grade AVID students are expected to:
 Complete A-G requirements
 Achieve highest GPA possible
 Participate in SAT/ ACT preparation (if nec.)
 Participate in college exploration
 Apply to Four-Year Colleges
 Apply for Financial Aid/ Scholarships
 Complete Senior Project (Develop College and
Career Plan)
 Complete Community Service
Tutoring/Intervention


If a student is struggling in a class (grade is
lower than 70%), student is required to get
tutoring.
This consists of two hours a week of mandatory
tutoring in the subject area. If a student has
multiple unsatisfactory grades, he or she should
divide the tutoring time among all needy areas,
but he or she should not exceed four hours of
tutoring.
Admission Profile

Cal State's Eligibility Index:
GPA (10-12) x 800+ SAT CR+ SAT Math
2900 minimum to qualify; target score: 3500+
Reality
SDSU GPA = 3.79 CR= 580 M=590 Index 4202
LB State Index 3850 +
CSUF Index 3550 +
CSUM Index 3300 (local)
Admission Profile

UC Eligibility:
SAT CR, Math, Writing or ACT with Writing
3.0 minimum
Other factors:
-extracurricular activities/involvement/essays/ rigor of academic
schedule
Reality
UC Berkeley GPA = 4.18 CR=665 M=696 W=674
ACT=29
UCR GPA = 3.58 CR= 536 M= 576 W= 576 ACT= 24
Admissions Profile

Private Universities
- qualifications vary: most consider grade
point average, SAT I, SAT II, essay,
extracurricular involvement
- Benefit: Consider the individual, rather
than just numbers, small classes, higher
and quicker graduation rate
Four Year University vs. Community
Colleges

not the same thing!
- Top 12.5 % of all graduates go to
UC system
- Top 35% of all graduates go to
California State System
- Next 30% go to Community
College System (open to all; do not
need to graduate high school)
Four Year University vs. Community
College

2006 Study conducted by National Center for
Education Statistics (NCES) www.nces.ed.gov
- Completion Rate (Obtain Degree)
84% Private 4-Year
83% Public 4-Year
55% Community College
- Intent to Transfer
33% No intent to transfer to 4-Year
67% Enter w/ plan to transfer (of this group
only 61% actually transfer/ 39% never do)
Four Year University vs. Community
College

16% of all community college students
successfully complete coursework and
transfer within 2.5 years

40% continue to work toward transfer

44% gone from system
Four Year University vs. Community
College
Community Colleges may be CHEAPER, but
California State Universities are affordable!
 Cost Breakdown:
CSU- Tuition $5700
MSJC- Tuition $800
Difference: $4900/ 12 months=$408 per month
Part Time Job: $9.00 per hour / 25 hours per week
Earns $225 per week/ $900 per month/ clear
about $700 month
**Make up additional difference by receiving degree at
least one year sooner! (35k starting job)

Senior Year Timeline

Senior year is a challenging time
with many important deadlines.

Available on AVID webpage
Application Process
Cal. States = CSU Mentor (www.csumentor.org)
Apply Online- $55.00
October 1- November 30
University of California (www.ucop.edu/pathways/)
Admissions- Online Application - $60.00
Opens October 5th- File November 1-30
Private Colleges/ Universities
Check with admissions officer or online
Dates and requirements vary
Financial Aid Information
Scholarships/ Grants
Federal $/ State $/ University/
Private Organization and Veterans
Organizations (Must Contact Them)
**Free Money (less than 5%)
Loans- Must be repaid (makes up 60% of all
student aid)
Work (Work Study)
Financial Aid Information

Loan Order: Most Favorable to Least Favorable
Perkins Loan (5% Fixed)
Stafford Loan (6% Fixed)
PLUS Loan (7% +)
Home Equity (Rate may be positive but
long term costs)
Private Lender (Prime +)
*** School or State Loans (may be low interest
but can't always find)
Financial Aid Resources





Local Companies/ Corporate America/
Employers/ Criteria Listing - Search on
internet or direct contact w/ letter.
Check with your employer/union for
scholarships
Fast Web www.fastweb.com
Fed Money www.fedmoney.org
Scholarship 101 www.scholarship101.com
Never Pay Any Money for Scholarship
Information!!!!
Financial Aid


"Average student spends 80 hours trying
to obtain $5000 in scholarship money"
Is it worth your time?
$ 62.50 per hour
Senior Requirement: 4 Scholarships per
semester. Extra Credit for more than 4.
Financial Aid - Parent Information
Must Obtain student and parent PIN
# for FAFSA (www.pin.ed.gov) –
Due December 1st.
 Federal Financial Aid Information
1-800-433-3243
www.studentaid.ed.gov/
www.studentaid.gov/guide
Apply Online at www.fafsa.ed.gov
Due by March 2nd

Documents Needed to Complete the
FAFSA







Social Security #
W-2 forms / 1099 Forms
Completed Tax Forms (ASAP after 1st of
year)
Current Bank Statements
Untaxed Income Records-Social
Security/veterans benefits etc.
Current business and investment
information
Records of stocks/ bonds/ other
investments
Financial Aid Presentations

October 18 6:30-8:00 pm

Finacial Aid Seminar
GPAC

Financial Aid Assistance 5-7 pm
Computer Lab R 114
Questions?