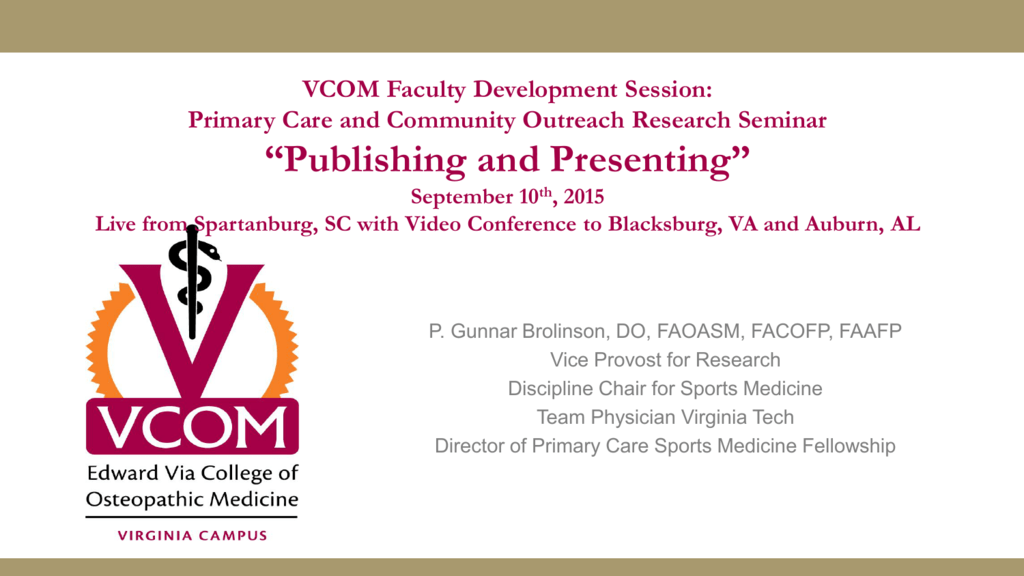 VCOM Faculty Development Session:
Primary Care and Community Outreach Research Seminar
"Publishing and Presenting"
September 10th, 2015
Live from Spartanburg, SC with Video Conference to Blacksburg, VA and Auburn, AL
P. Gunnar Brolinson, DO, FAOASM, FACOFP, FAAFP
Vice Provost for Research
Discipline Chair for Sports Medicine
Team Physician Virginia Tech
Director of Primary Care Sports Medicine Fellowship
Why publishing and presenting
your research is important…
• Biomedical research has grown into a competitive global
enterprise that influences patient care, population health,
public policy, corporate profits, and the global economy.
• The marketplace of medical information is essential, not only
to those who produce it—the researchers, authors, editors,
reviewers, publishers, and funders—but also to the
consumers, practitioners, patients, and policy makers, who
need to trust that published research is sound
science, reported accurately and clearly.
Publishing Medical Research: A Marketplace on the Commons John J. Frey, III, MD, Associate Editor1
and William R. Phillips, MD, MPH, Senior Associate Editor2 Ann Fam Med. 2013 Mar; 11(2): 104–105.
Why Scholarly Activity is
Important…
• The pace of producing and
publishing biomedical science
is picking up and the stakes
are rising
• The popular press reads
journals more regularly than
most clinicians.
• Physicians often hear about
the newest research from
patients before they are able to
read it themselves.
Scholarly Activity in Residency
Training
Three Important Things…
• Your research paper should be
in an area of current interest
and importance
• There should be clear
motivation for the paper (and
this should be made very clear
early on in the paper)
• Thorough review of other work
should have been conducted
Choosing a research area of
current interest or importance
• Do as much background research as you can before
choosing your potential project
• Choose a topic that will be interesting in the future not one that was interesting in the past
• Attend conferences in your area of research. What
topics were covered in last year's conference? What
are the research interests of the technical program
chairs?
• Speak with your professor/mentor and/or colleagues
Provide a Clear Motivation for your paper
• You should be able to answer yes to at least
one of the following questions:
– Do I have significant new results to present?
– Do major assumptions made in previous research
by other groups need to be challenged and
changed? If so, why?
– Does my paper cover significant new aspects not
covered before?
Conduct a thorough Literature Review
• Provide a comprehensive, up-to-date and critical assessment
of what research has been done before
• Cite an adequate number of references (at least fifteen)
• Ensure that the majority of references are from the last five
years
– Cite high-quality papers (in order of importance: journals,
conferences, book chapters, symposia, workshops);
– Cite work by other groups and not just your own work;
– Cite recent work by the editor-in-chief and editorial board of the
journal you plan to publish in.
Utilize our Library Staff…they
are awesome!
• Our medical librarians serve as liaisons to your
academic area of interest and can help you:
– Identify databases for searching in your field of interest.
– Learn to use databases to find out how often you've been
cited.
– Set up article alerts and customized searches
– Manage information (e.g., RefWorks, EndNote)
– Verify citations before publication.
Access to VCOM Library

Access to VCOM eLibrary
 From the VCOM home page in the
upper right choose either "VCOM's
Electronic Public Library" or from the
"Quick Links" tab-Library


Other links to the Library page are found
throughout the VCOM web pages
URL


VCOM home page: http://www.vcom.edu/
Library home page:
http://www.vcom.edu/vcomlibrary/index.ht
ml
How to Log In
 Old system logins no longer valid
 If you have VCOM email, use your VCOM login
username and password
[May see a second prompt for EZproxy login]
 If no VCOM account, e-mail Elaine Powers:
[email protected]
 Clinical site users have organizational accounts
Access to eResources
 From Library home
page
 Click on "Library
Catalog"
 This takes you to main
search page
 Advanced Search
expands options
VCOM Library Contacts
Virginia – Elaine Powers
540-231-3763
[email protected]
Carolinas – Bill Nichols
864-327-9852
[email protected]
Auburn – Jana Schellinger
334-442-4051
[email protected]
"Big Data" and your research
Structuring your research paper
•
•
•
•
•
•
•
•
•
Abstract
Introduction (including related work)
Experiments
Results
Discussion
Conclusion and future work
Acknowledgments
References
Appendix
Abstract
•
The abstract is a one paragraph
summary (150-200 words) of the
entire work described completely
in the article.
– should be a self-contained unit
capable of being understood without
the benefit of the text
– it should contain these four elements
in brief:
•
•
•
•
Motivation (The problem and why it
is important);
Methods (What was done);
Results (what was found);
Discussion (what was concluded).
Introduction
• Identify the problem and
explain why it is important
• Summarize your method(s)
and results
• Summarize how other
research groups have
tackled the problem
• Summarize the structure
and approach of your paper
Work related to your research
•
It is often important that you include a section on related work. Papers with
inadequate references are often rejected. By citing an adequate number of
recent and high quality references you show the editor that:
– You are working in an area of current interest
– You have researched the area thoroughly and put your paper in the context of recent
work
– When citing conference work, cite relevant work from the last two or three conference
proceedings
– When citing journal work, generally cite journal papers published in the last two to five
years
•
Occasionally you may need to cite older work to provide some "historical" perspective or
reference "seminal" work in a particular field
Choosing a peer reviewed journal to
publish your research in
• Identify the research interests of the editor-in-chief
• E-mail/speak to the editor-in-chief and ask them what
topics they would particularly like to see published in
their journal
• Identify the research interests of the editorial board
• Look at the most recent issues of the journal
– What sort of papers has it published?
– What have been the subjects of recent special issues of
the journal?
The "Basics"…publishing 101
• Check the author guide of the journal you are submitting to. All
journals are different, and all publish their author guide on their
homepage.
– You will help your cause by adapting the format and style of your paper
to the journal in question.
• For example, is there a word length restriction? Does the journal have a
preference for US or UK style English? Is there a house style for quantities and
measurements? Do figures need to be to a certain resolution?
• Spell check your paper. There is no excuse for not doing this. A
spelling mistake, especially in the abstract or early in the paper, will
create a poor impression.
Author guidelines
More "Basics"….
• Check your grammar and punctuation. It should make the paper
easier to read, not more difficult. Simplify whenever you can.
– Referees are more likely to recommend rejection if it is very difficult to
read the paper.
• Read the paper through without thinking about the science.
– Treat it almost like a story. Is it well written? If you're not sure, ask a
colleague (ideally one who studies language or English), to review it.
• Your paper is an argument, designed to convince the reader of the
importance of what you have done.
– Is the argument convincing and does it flow well?
Journal "platforms"…
• "Traditional" Journals
– The "gold standard" for many years
• "Open Access" peer reviewed Journals
• "Predatory" Journals
Traditional Journals and the
"peer review" process
•
Peer review and publication are time-consuming
–
–
frequently involving 3-6 months between submission and publication.
The process is highly competitive.
•
•
•
The highly-regarded journal Science accepts less than 8% of the articles it receives
The New England Journal of Medicine publishes just 6% of its submissions
Advantages of peer review
–
–
–
–
A trusted form of scientific communication
Provides significant criticism with the intention that scientists can revise and enhance their papers
before publication.
Enables Journal Editors to select the most important research findings for publication in their
journals, based upon the subject matter and independent reviews of an expert group.
Many fields outside of science use peer review to ensure quality
•
Wine makers judging wine; artists judging art, etc
Open Access Peer Reviewed
Journals
•
Revolutionary changes in publishing over last 10-15 years
– Changes the business model of some top publishing companies
•
"Free and fair" distribution of scientific knowledge
– Especially important in resource poor environments
– Provides space for reporting research in areas that were traditionally
underrepresented
•
•
•
•
Systemic inequality for researches from resource rich versus resource poor environments
Tropical health, Public Health, Mental Health, Global Health, etc
In Psychiatric Health only 6% of the published articles represent 90% of the world's population
Most on line journals require a "publishing fee" from the authors ranging
form $500-1500
Predatory Open Access Journals
•
A newly emerging trend
– Very destructive to the scientific credibility of research reporting
•
•
These journals mostly emanate from South Asia and Africa
Try to lure early career, unsuspecting researchers to submit articles with
false promises of fast reviews and low fees
– The peer review process is flawed or nonexistant
– Editorial board members with "fake" profiles
– Well known authors may receive several emails daily from these journals offering
editorial board memberships and discounted or free publication of materials
•
Always check "The Directory of Open Access Journals"
– An on line guide for high quality OA journals
– "Best Practice" guide for OA publishing
Resources
• http://www.apa.org/monitor/sep02/publish.aspx]
• http://www.canberra.edu.au/library/researchgateway/research_help/publishing-research
• http://www.cs.indiana.edu/how.2b/how.2b.community.html
• http://www.ijser.org/howtopublishpaper.aspx
• http://www.jisc.ac.uk/media/documents/publications/briefingpa
per/2010/bppublishingresearchpapersv1final.pdf
Thank You!