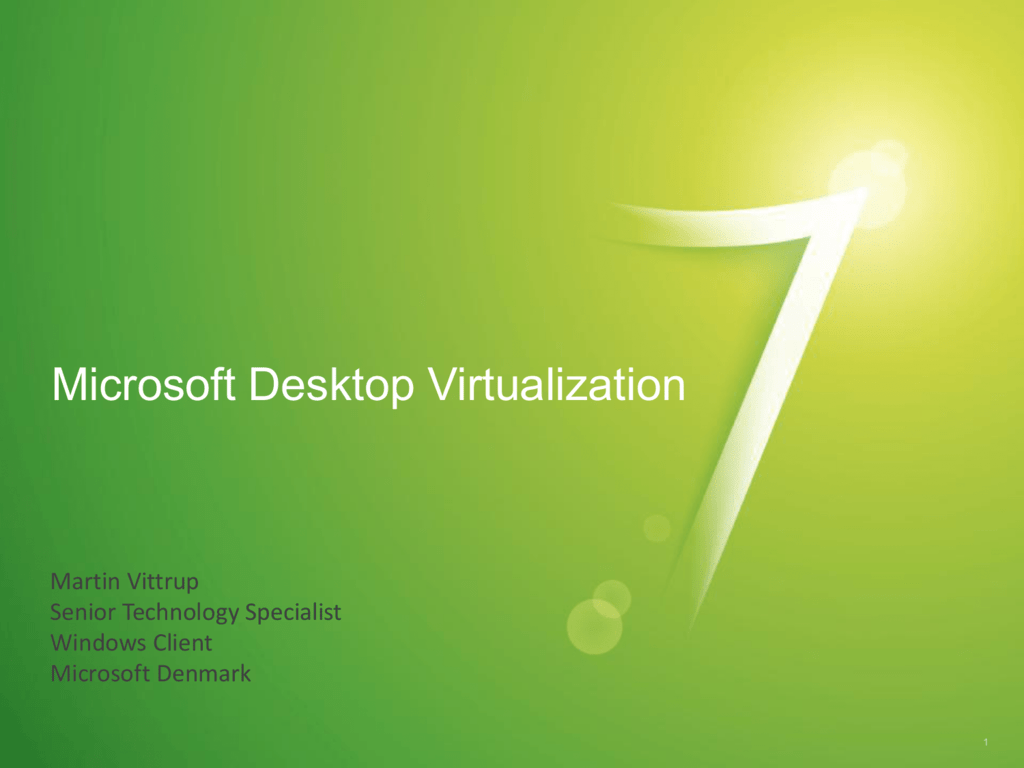 Microsoft Desktop Virtualization
Martin Vittrup
Senior Technology Specialist
Windows Client
Microsoft Denmark
1
Dependencies Create Complexity
Desktop Virtualization Starts Here
Deploy Application and User State Virtualization NOW
Reduce
Desktop
TCO
User data, settings
Applications
Proven, immediate TCO benefits
Applicable for users across all your Windows® desktops
Lay the foundation for future desktop virtualization
deployments: rich-client or thin-client
Desktop Virtualization – What's Next?
Deploy additional Desktop Virtualization technologies
for specific user scenarios
Increase
Flexibility
OS
Rationalize and use where flexibility is the main driver
Migration to a new Windows version
Corporate resource access from unmanaged desktops
MED-V and Windows XP Mode
Migrate to Windows 7 now – run older productivity applications
inside a Windows XP virtual machine
Non IT-Managed: Use Windows 7 Pro "Windows XP Mode"
IT-Managed: Use MED-V to add delivery, policy-based provisioning and
centralized management for virtual Windows XP images
"…when migrating from XP to
Windows 7, [MED-V] is a solution that
is fast, simple, cost-effective and most
importantly, non-disruptive to
business users"
Microsoft Enterprise Desktop Virtualization
Friday, March 18, 2016
7
What is Desktop Centralization ?
Virtual machinebased Remote
Desktops (VDI)
Session-based
Remote Desktops
(fka Terminal
Services)
Centralized Desktop Options
Session based Remote Desktops
Pooled Virtual Machine based
Personal Virtual Machine
(formerly TS)
Desktops (VDI)
based Desktop (VDI)
• Low cost image management
• Easiest admin management
• Least resources required
• High cost image management
• Easier admin management than
• Administrator access (user can
Personal VM Desktops
• Good compatibility for legacy
apps
• Medium cost image managmt.
install programs)
• Less Resources than personal
• High Resource cost
• Better compatibility for legacy
• Better Compatibility for legacy
apps
apps
Mix & match options - based on end user needs
Kasse
Rådgiver
Centralized Desktop
Remote App
VECD
for
Large scale
XenDesktop
Small scale
OR
Connection Broker Options
11
Large scale deployments: Microsoft + CITRIX technology
Small scale deployments: Microsoft only technology
Virtual Environments and Licensing
What Virtualization Demands:
Licensing Flexibility
Ability to run Windows Client OS on servers
Unrestricted movement of VMs across
hardware platforms
Value
Added Value: Software Assurance
Upgrade / Downgrade rights for OS
Access to Enterprise editions of OS
Reassignment rights after 90 days.
Access to technology such as MDOP and WinFLP
Support and training from Microsoft
Basic Value: OEM License
Pre-installed OS
Bound to hardware
No reassignment rights
Flexibility
VDI suite components
Simple Licensing for Microsoft Infrastructure and Management
VDI Premium Suite
VDI Suite
Application
Delivery
Desktop Delivery
Management
Use rights for System Center
components restricted to the
VDI scenario
Virtualization
Platform
(Restricted to
VDI scenario
only)
(Unrestricted use
rights)
Next Steps
Empowering both workers and IT with
The Optimized Desktop Vision
Reduce Desktop 1. Start Here!
TCO
Virtualize
User data, settings
2. To Control Cost
Virtualize
Applications
Increase
Business
Flexibility
3. Evaluate For Some User Scenarios
Virtualize desktops on PCs
and in the datacenter
Streamline IT
Management
© 2009 Microsoft Corporation. All rights reserved. Microsoft, Windows, Windows Vista and other product names are or may be registered trademarks and/or trademarks in the U.S. and/or other countries.
The information herein is for informational purposes only and represents the current view of Microsoft Corporation as of the date of this presentation. Because Microsoft must respond to changing market
conditions, it should not be interpreted to be a commitment on the part of Microsoft, and Microsoft cannot guarantee the accuracy of any information provided after the date of this presentation.
MICROSOFT MAKES NO WARRANTIES, EXPRESS, IMPLIED OR STATUTORY, AS TO THE INFORMATION IN THIS PRESENTATION.