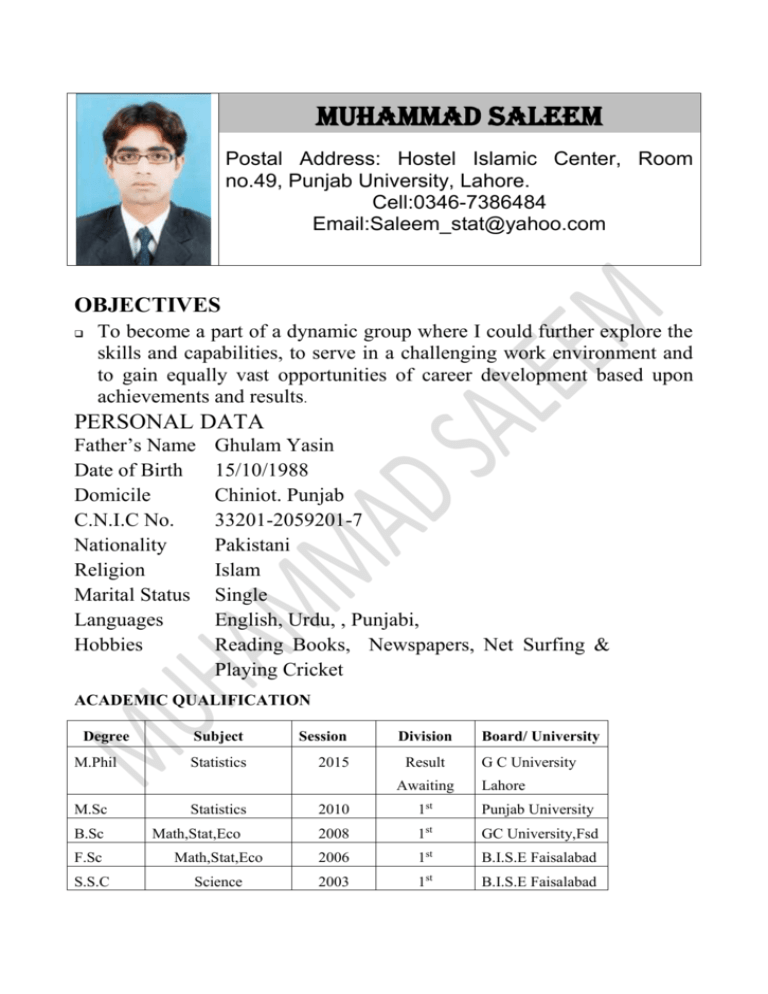 MUHAMMAD SALEEM
Postal Address: Hostel Islamic Center, Room
no.49, Punjab University, Lahore.
Cell:0346-7386484
Email:Saleem_stat@yahoo.com
OBJECTIVES

To become a part of a dynamic group where I could further explore the
skills and capabilities, to serve in a challenging work environment and
to gain equally vast opportunities of career development based upon
achievements and results.
PERSONAL DATA
Father's Name
Date of Birth
Domicile
C.N.I.C No.
Nationality
Religion
Marital Status
Languages
Hobbies
Ghulam Yasin
15/10/1988
Chiniot. Punjab
33201-2059201-7
Pakistani
Islam
Single
English, Urdu, , Punjabi,
Reading Books, Newspapers, Net Surfing &
Playing Cricket
ACADEMIC QUALIFICATION
Degree
M.Phil
Subject
Session
Statistics
2015
Division
Result
Awaiting
M.Sc
B.Sc
Statistics
Math,Stat,Eco
Board/ University
G C University
Lahore
2010
1st
Punjab University
2008
1st
GC University,Fsd
F.Sc
Math,Stat,Eco
2006
1st
B.I.S.E Faisalabad
S.S.C
Science
2003
1st
B.I.S.E Faisalabad
MAJOR SUBJECTS IN M.SC STATISTICS:
Probability, Statistical Inference, Statistical Method, Econometrics,
Statistical Design,
C++, Statistical Packages (SPSS, Minitab) Population Studies, Linear
Algebra & Numerical Analysis, Multivariate analysis, sampling & survey
method.
EMPLOYMENT HISTORY

Serving as "Statistical Assistant" in Punjab Bureau of Statistics, Lahore
w.e.f 23-04-2012 to 15-06-2015

Serving as "Senior School Teacher of Mathematics & Statistics"
in Khayaban Public School International, Lahore.

National University of Modern Languages (NUML) Lahore
Campus.
Designation: Lecturer (Statistics and Mathematics).Feb2012-May2012

Served as "Lecturer of Statistics and mathematics" at inter,
bachelor, master level in King's college Lahore.

Served as "Teacher of Mathematics& statistics" in New vision
Academy Muslim town Lahore.
OTHER COURSES

C/C++, SPSS, Minitab, Fortran, R Language,
REFERENCE
Reference will provide on demand.