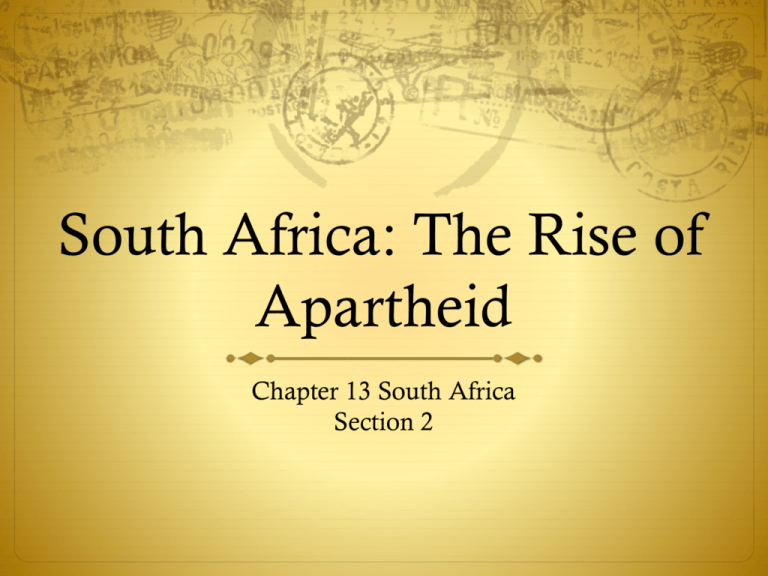 South Africa: The Rise of
Apartheid
Chapter 13 South Africa
Section 2
Apartheid Through out the
Decades

After gaining independence from
England, Afrikaner National
Party gained majority in 1940s

1948-National Party-invented
apartheid to establish white
domination and separate races
further

1950s – "Petty Apartheid"
established – "classification and
registration of Black and
Coloured South Africans"

1960s- "Grand Apartheid"
established - "territorial
separation and police repression"
1948 Elections

The national Party represented
the white Afrikaners

The won the election base on the
slogan of Apartheid

White South Africans wished to
have a country that was separate
from black South Africans.

They created the system of
Apartheid that was meant to
segregate against other races and
eventually have them live in
separate areas of the country.
Population Registration
Act
 1950-Population
Registration Act

-Divided South Africans
into white, black (Africans),
and colored (mixed descent)

-Based on appearance,
social acceptance, and
descent

-Blacks-forced to carry
"pass books" holding
fingerprints, photograph,
and information on access to
non-black areas
1950 Group Areas Act

Created basis for ethnic
government in African
reserves or "homelands"

Each race was assigned a
different homeland

Black political rights
restricted to designated
homeland, but had no
rights in South African
Parliament, which had
complete control over the
homelands
District 6
Sophiatown
Mixed Marriages Act
 In 1949 South African
officials banned mixed
marriages and relationships
between different races.
 White South Africans
believe that their race should
be pure and non-diverse
 This devastated many
families that were
considered to be of mixed
race
Apartheid and Education
 Just as it was in the United
States during the 'separate
but equal" laws, South
Africa had segregated
schools during Apartheid
 Black schools were
dramatically inferior to
those of whites
 Black college students were
not allowed to attend white
schools and black schools
prepared them to become
laborers
Apartheid and Women
 Women were extremely
segregated against during
Apartheid
 They were denied land,
schools, rights to vote and
jobs.
 Their marriages and
children were controlled by
the government in an effort
to control black populations
Activity
 Sheet A – South African Apartheid Legislation
 Complete the questions
 Complete the Objective
 You may work in pairs
 Due on Friday
South Africa and the
Homelands
Bantustans
 Between 1960 and 1985, 3.5 million Africans were moved by
force
 Ten homelands were located to different black ethnic groups
within the race:









Lebowa
QwaQwa
Bophuthatswana
KwaZulu
KaNgwane
Transkei and Ciskei
Gazankulu
Venda
KwaNdebele
Bantustans
Homelands and
Restrictions
 During the 1960s-1980s, South African government
created a system of resettlement to remove other races
from "white areas"
 Each territory had a chief that worked for the Afrikaner
government. Many of these "leaders" were politically
corrupt and greedy.
 Homelands were located in the most poverty-stricken
and isolated regions of South Africa.
 Mostly populated by women and children, since men
were the only ones allowed to live in the city.
Homelands and
Restrictions
 Anyone that belonged to a homeland, had their South African
citizenship removed. Legally they had no rights under the
South African government
 Homelands controlled their own systems of education, police,
and healthcare. However, these were underfunded by the
government
 Public services and amenities were segregated, and very often
where not available in black homelands (i.e. movies)
 Churches were segregated and could forbid the entrance of
black South Africans as well
Independence and
Territories
Independence of
Bantustans
 White South Africans removed black rights and citizenship on
purpose.
 Apartheid government after separating races into territories, gave
them the option of becoming independent from South Africa and
creating their own nation.
 These "nations" would have no funding or support from the South
African government (although they did benefit from black labor)
 Members of annexed homelands would have to carry passports into
South Africa
 Independent homelands were never recognized as nations by the
global community or the continent of Africa
1953- Public Safety Act and
Criminal Law Amendment Act

Gave government power to
declare states of emergency,
increasing punishments for
protesting against or
supporting repeal of a law:
fines, imprisonment, whippings

1960-Government declared
state of emergency when
large group of blacks in
Sharpeville refused to carry
their passes

Emergency lasted for 156
days, 69 people dead and 187
people wounded
Who does Apartheid
Benefit?
A revolution was
beginning…
Activity
 Complete sheet B and study for South Africa Section 2
quiz
 You must complete the questions and the challenge
activity
 You may work in pairs
 Both Sheet A and B are due Friday.