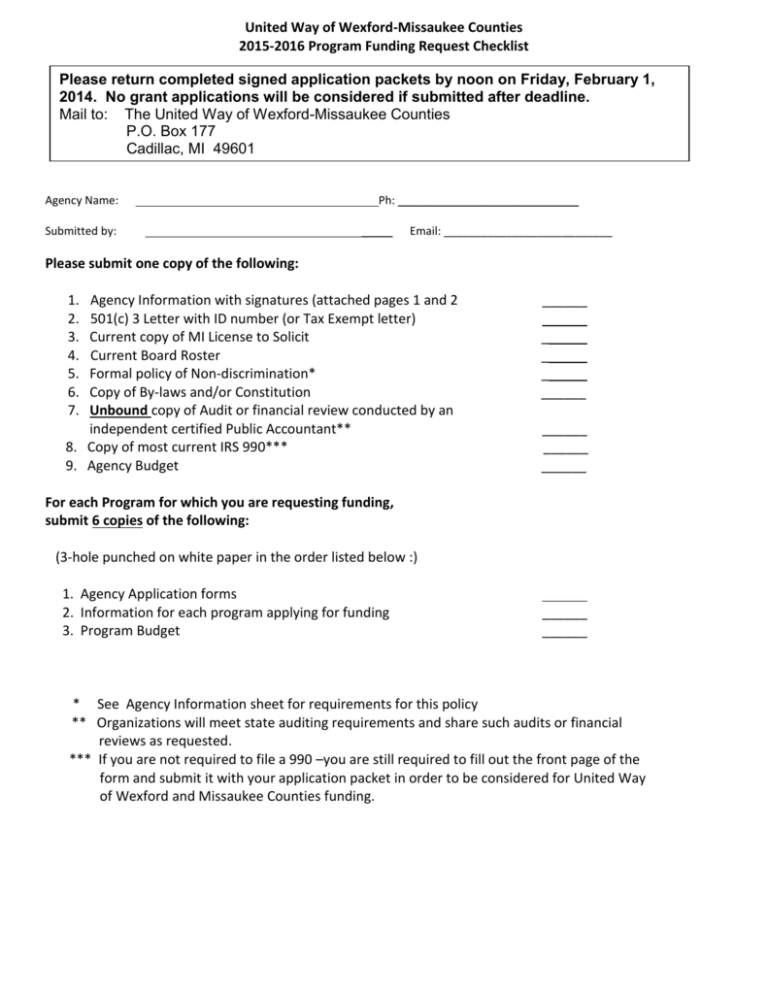 United Way of Wexford-Missaukee Counties
2015-2016 Program Funding Request Checklist
Please return completed signed application packets by noon on Friday, February 1,
2014. No grant applications will be considered if submitted after deadline.
Mail to: The United Way of Wexford-Missaukee Counties
P.O. Box 177
Cadillac, MI 49601
Agency Name:
Submitted by:
Ph: _____________________________
_____
Email: ___________________________
Please submit one copy of the following:
1.
2.
3.
4.
5.
6.
7.
Agency Information with signatures (attached pages 1 and 2
501(c) 3 Letter with ID number (or Tax Exempt letter)
Current copy of MI License to Solicit
Current Board Roster
Formal policy of Non-discrimination*
Copy of By-laws and/or Constitution
Unbound copy of Audit or financial review conducted by an
independent certified Public Accountant**
8. Copy of most current IRS 990***
9. Agency Budget
______
_
_
_
______
______
______
______
For each Program for which you are requesting funding,
submit 6 copies of the following:
(3-hole punched on white paper in the order listed below :)
1. Agency Application forms
2. Information for each program applying for funding
3. Program Budget
______
______
* See Agency Information sheet for requirements for this policy
** Organizations will meet state auditing requirements and share such audits or financial
reviews as requested.
*** If you are not required to file a 990 –you are still required to fill out the front page of the
form and submit it with your application packet in order to be considered for United Way
of Wexford and Missaukee Counties funding.
Page 2015-16 Agency Information
(Revised 11/13)
The Mission of the United Way is to help build a better community
that improves the quality of life by meeting the critical human needs of Wexford and Missaukee Counties
Section I – Agency Information
Agency Name:
Federal Tax ID#:
Mailing Address:
Street Address:
City/State/Zip:
Director's Name:
Director's Title:
Phone:
Fax:
Email:
Agency Summary Application Form
A. Agency mission statement (found in your bylaws, articles of incorporation or subsequent board adopted mission statements):
B.
Funding application summary Information (list only those programs for which you are seeking funding):
Program Title
Funding Request
$
$
$
$
Total (if more space is needed for specific programs
attach a separate listing but grand total must appear
here):
$
Page 2
C.
General description agency services (be brief and include geographic area served):
D. Administration and overhead expenses (expressed as percent of total budget – also known as management and general,
that portion of your expenses not dedicated solely to program or services. If asked, be able to explain it. If applying for
United Way funding, you must figure the administrative expense directly from your 990. If you are not required by law to
submit a 990, you must still prepare the first page of the form 990 and submit it to United Way. This is a requirement for
receiving funds from the State and Federal employees' campaign as well.)
% * (required)
E.
Describe interagency collaboration (briefly describe other agencies which you share or cosponsor services or programs.
May include sharing of staff, facilities, equipment or program materials.):
F.
Authorization (executive director and board president signatures are both required, authorized by the agency's board of
directors):
The undersigned certify that authority to submit this application was properly provided by the agency's board of directors.
Executive Director
Board President
Date
Date
I. ANTI-TERRORISM COMPLIANCE MEASURES
In compliance with the USA PATRIOT Act and other counter terrorism laws, the United Way of
Wexford and Missaukee Counties requires that each agency certify the following:
"I hereby certify on behalf of _____________________________________________ [ name
of grantee] that all United Way funds and donations will be used in compliance with all
applicable anti-terrorist financing and asset control laws, statutes and executive orders."
Print Name: _______________________________________
Signature: _________________________________________
Title: _________________________________
Date: _________________________________
Section II – Program Application
Complete this portion for each program for which you seek funding. You may duplicate as needed.
Agency Name:
___
Program Name:
The United way of Wexford-Missaukee Counties will be assessing programs with regard to their unique value in addressing one of
the identified priorities in the Community Impact Agenda. (See attached)
Please list below which outcome/objective your program addresses, followed by a statement supporting such.
What is the objective:
What is the plan to reach this objective
Total Program Cost:
a.
Requested Funds: $_____
How will this program be affected if United Way funds cannot be provided as requested?
b. Service Statistics for United Way funded program (s):
Program Cost
Wexford County
Last Year
Actual
Missaukee County
Last Year
Actual
______________
______________
Number of Units Served
Cost per unit
Number of Clients Served
Staffing:
Full Time Equivalent (FTE)
Volunteer Hours
What difference did this program make? to society? to families? to individual clients? Choose one of the program's outcomes that
you want to illustrate in a success story. State this outcome below as you would want it communicated to the public. Please include
actual data. Provide a success story to be used in public media messages.
Example: an addiction recovery center where 50 clients were assisted in leading a drug or alcohol-free life. They received an
understanding of their addiction, increased self-esteem, a philosophy to live by and a support group. Families experienced
less economic deprivation, increased safety when with clients, and reduced domestic violence. Employers received less drugrelated illness, more accuracy and better attitude. Society as a whole benefited from all of the above. Be as clear and concise
as possible. Services and programs are not fundable unless there are identifiable benefits.