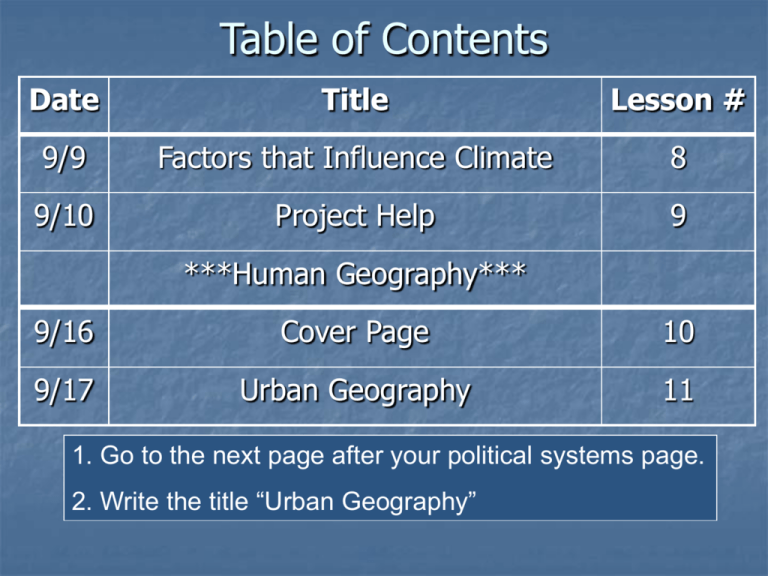 Table of Contents
Date
Title
Lesson #
9/9
Factors that Influence Climate
8
9/10
Project Help
9
***Human Geography***
9/16
Cover Page
10
9/17
Urban Geography
11
1. Go to the next page after your political systems page.
2. Write the title "Urban Geography"
Where are major cities located?
1. Why is Houston
located here?
2. What are the
major benefits of
its location?
Task – Answer
both questions on
your Urban
Geography page
The Ship Channel
3. What do the
locations of the
largest US
cities have in
common?
U.S. at Night
4. What do the Singapore and New
York City have in common?
Singapore
New York City
Record these
notes
Cities

Why do people go
downtown?
 Work
 Entertainment
 School (College)
 Court
Land Use
in a City

How is land
used in a city?



Houses
(Residential)
Factories
(Industrial)
Central
Business
District
Use p. 89 to define
Central Business
District in your
notebook.
Record these
notes
Land Use Central Business District
Land Use - Residential
Land Use - Factories
Record these
notes
How is land used
in a city?
-Residential
-Factories
-Skyscrapers - CBD
City Diagrams – Sketch your own city diagram.
1. Put it next to water.
2. Include the three ways land is used in a city.
3. Include a key like the ones you saw on the previous 3 slides.