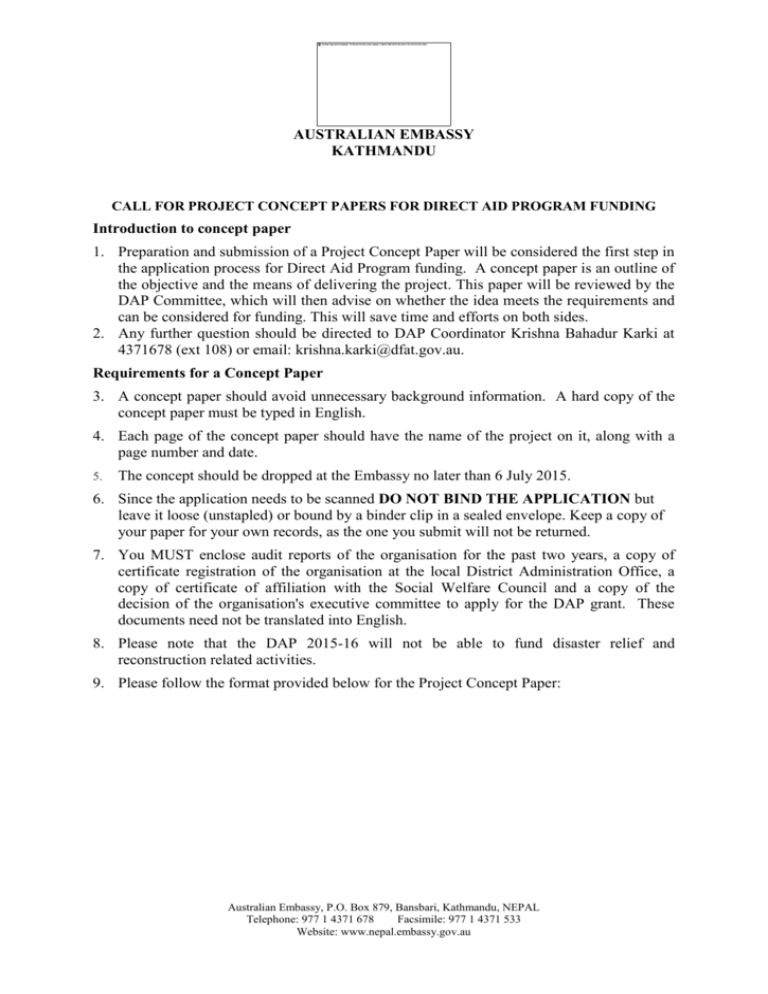 AUSTRALIAN EMBASSY
KATHMANDU
CALL FOR PROJECT CONCEPT PAPERS FOR DIRECT AID PROGRAM FUNDING
Introduction to concept paper
1. Preparation and submission of a Project Concept Paper will be considered the first step in
the application process for Direct Aid Program funding. A concept paper is an outline of
the objective and the means of delivering the project. This paper will be reviewed by the
DAP Committee, which will then advise on whether the idea meets the requirements and
can be considered for funding. This will save time and efforts on both sides.
2. Any further question should be directed to DAP Coordinator Krishna Bahadur Karki at
4371678 (ext 108) or email: krishna.karki@dfat.gov.au.
Requirements for a Concept Paper
3. A concept paper should avoid unnecessary background information. A hard copy of the
concept paper must be typed in English.
4. Each page of the concept paper should have the name of the project on it, along with a
page number and date.
5.
The concept should be dropped at the Embassy no later than 6 July 2015.
6. Since the application needs to be scanned DO NOT BIND THE APPLICATION but
leave it loose (unstapled) or bound by a binder clip in a sealed envelope. Keep a copy of
your paper for your own records, as the one you submit will not be returned.
7. You MUST enclose audit reports of the organisation for the past two years, a copy of
certificate registration of the organisation at the local District Administration Office, a
copy of certificate of affiliation with the Social Welfare Council and a copy of the
decision of the organisation's executive committee to apply for the DAP grant. These
documents need not be translated into English.
8. Please note that the DAP 2015-16 will not be able to fund disaster relief and
reconstruction related activities.
9. Please follow the format provided below for the Project Concept Paper:
Australian Embassy, P.O. Box 879, Bansbari, Kathmandu, NEPAL
Telephone: 977 1 4371 678
Facsimile: 977 1 4371 533
Website: www.nepal.embassy.gov.au
PROJECT CONCEPT
General Information:
Project title:
Project site: (Please also
attach a map leading to
the project site)
District:
VDC:
Ward No:
Tole:
Name of organisation,
address, registration
details, email, phone,
fax, and contact
person/s
Total Project Cost AUD
and NPR:
NPR
A$
Funding Amount
Requested A$ and NPR
(below A$ 40,000):
NPR
A$
Local Contribution
Cash NPR
Cash A$
Kind
Kind
Cash NPR
Cash A$
Kind
Kind
Cash or Kind:
Other Co-financing
Project Duration
(should not exceed 18
months):
Has your organisation
ever received DAP
funds earlier? (If Yes:
Project name, amount,
status and funded year)
Project Description:

OUTCOMES of the project

OUTPUTS of the project

What resources are required? Budget sheet and time sheet should be filled in.

Who would be the community/target group who will benefit (ie: numbers, livelihoods,
location, other important considerations)
NGO/CBO Background

Describe your organisation's mission, history, membership, general activities, and
successful outcomes to date. Also please provide details of all Executive Committee
members.

Who will support the project besides the DAP?

Describe activities that will be funded by co-financing.