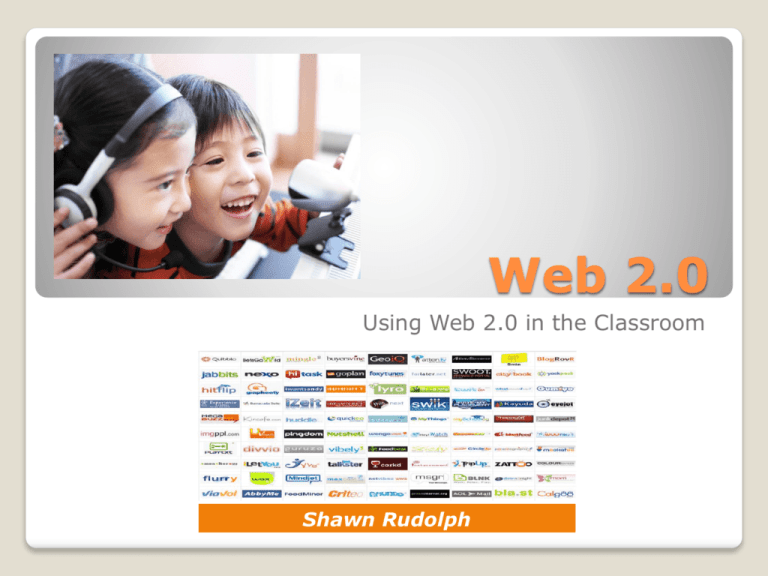 Web 2.0
Using Web 2.0 in the Classroom
Shawn Rudolph
Connected Classrooms Project
Overview
The Connected Classrooms Program will bring to DET a capability to
deliver and sustain a standard set of technology learning capabilities
across the State.
The Connected Classrooms Program has three projects:
1
2
3
• Interactive Classrooms Project
• Learning Tools
• Next Generation Education Network (NGEN).
Learning Tools Project
Regional contacts – Learning Systems – Shawn Rudolph and
Dean Finch
The project will provide tools that support the ability to create, store, edit,
reuse, manage, view and deliver digital learning content from collections and
repositories to staff and students across NSW
Specifically it will provide:
1
2
3
4
• A secure individual online working space for all students and teachers
• Upgraded email to approximately 1.2 million schools and TAFE students.
•Online access to student reports for parents/caregivers
• A collaborative environment for the discovery and sharing of digital learning content.
Laptops 4 Learning
L4L
The Commonwealth Government's Digital Education Revolution includes an
element called the National Secondary School Computer Fund. The
Commonwealth and NSW Governments have agreed to work together to
provide a wirelessly enabled specialist educational laptop to every NSW public
school student in years 9 to 12 by June 2012.
The Web 2.0 Journey
2007
2005
1990's
• A place for
viewers to
retrieve
information
• Websites were
mostly built by
experts.
• Birth of new web
tools allowed
users to add
content to the
web.
• People with no
programming
skills developing
content
• A second
generation of the
web is becoming
more popularWeb 2.0
Read/Write Web
• Students are
creating,
collaborating and
showcasing their
work to a global
audience.
Beyond
• Internet Speeds
are increasing
• Mobile
Technologies
means always
being connected
What is Web 2.0?
Web 2.0
Web 2.0 is a term used
to describe a trend in the
world wide web that
focuses on content that
is able to be both
consumed and user
created. It is used to
create a means of
communication, secure
information sharing and
collaboration.
Popular Web 2.0 tools
The most utilised Web 2.0 tools are for social networking. Many
students use these tools to communicate with friends, share photos,
video's and their interests.
DET Policy

Info to allow Wiki and Blog sites
Web 2.0 - Wikis
Wiki
A wiki is a page or
collection of Web pages
designed to enable anyone
who accesses it to
contribute or modify
content. Wikis are often
used to create
collaborative websites and
to power community
websites. Wikipedia is one
of the best-known wikis.
Wiki Applications
Wikispaces
 PBWiki
 Pikiwiki
 Wikidot

[www.wikispaces.com]
[www.pbwiki.com]
[www.pikiwiki.com]
[www.wikidot.com]
Wiki Examples
Wikis in Education
http://penrithpslibrary.pbwiki.com/
http://nutmeg2008.wikispaces.com/
http://wsricpnetwork.wikispaces.com/
Web 2.0 - Blogs
Blog
A blog is a shortened
version of weblog and
represents a website that
is easily created and
updated. Blogs are written
about just about any
subject.
Web 2.0 - Blogs
Blog in Education
http://www.boysbloggingbooks.blogspot.com/
http://mrsmcsclass.blogspot.com/
Web 2.0 Blogs
www.blogger.com
 www.edublog.com

Podcasts
Podcasting
A podcast is a series of digital
media files, usually digital audio
that is made available for download
via Web syndication. Like the term
broadcast, podcast can refer either
to the content itself or to the
method by which the content is
syndicated; the latter is also called
podcasting. A podcaster is the
person who creates the content.
Podcasts
Podcasts in Education
Radio WillowWeb
www.mpsomaha.org/willow/radio
EdPod
http://www.abc.net.au/rn/edpod/
RSS
RSS Feeds
RSS, also know as Rich Site
Summary or Really Simple
Syndication, is a format for
distributing content on the Web. It
is also known as syndication. RSS
can be used with Blogs, Wikis and
Podcasts.
SWOT
Strengths
Weaknesses
Opportunities
Threats
Web 2.0 in Education
BECTA
In a series of reports recently released by BECTA (the government agency leading the
UK drive to ensure the effective and innovative use of technology throughout learning)
on Web 2.0 technologies for learning the report carried out on students between the
ages of 11-16 found
1
2
3
•64% of the respondents have wired internet access at home and 70% have
wireless access.
•78% reported having uploaded pictures, video, or music to the web with 50%
having done so in the previous week of being asked
•74% reported that they had at least one social networking site account.
Source: http://partners.becta.org.uk/
Web 2.0 in Education (cont)
How and to what extent are young people using Web 2.0
technologies outside of education and how does this compare to
their experience in schools?
What are the potential benefits, opportunities and issues around
using Web 2.0 approaches for learning and teaching?
How are schools currently using Web 2.0 technologies and what
are the barriers and issues to effective implementation?
What are the e-safety/child protection issues around the use of
Web 2.0 technologies? How aware are learners, schools, parents
and teachers of the risks and how can Web 2.0 be used safely?