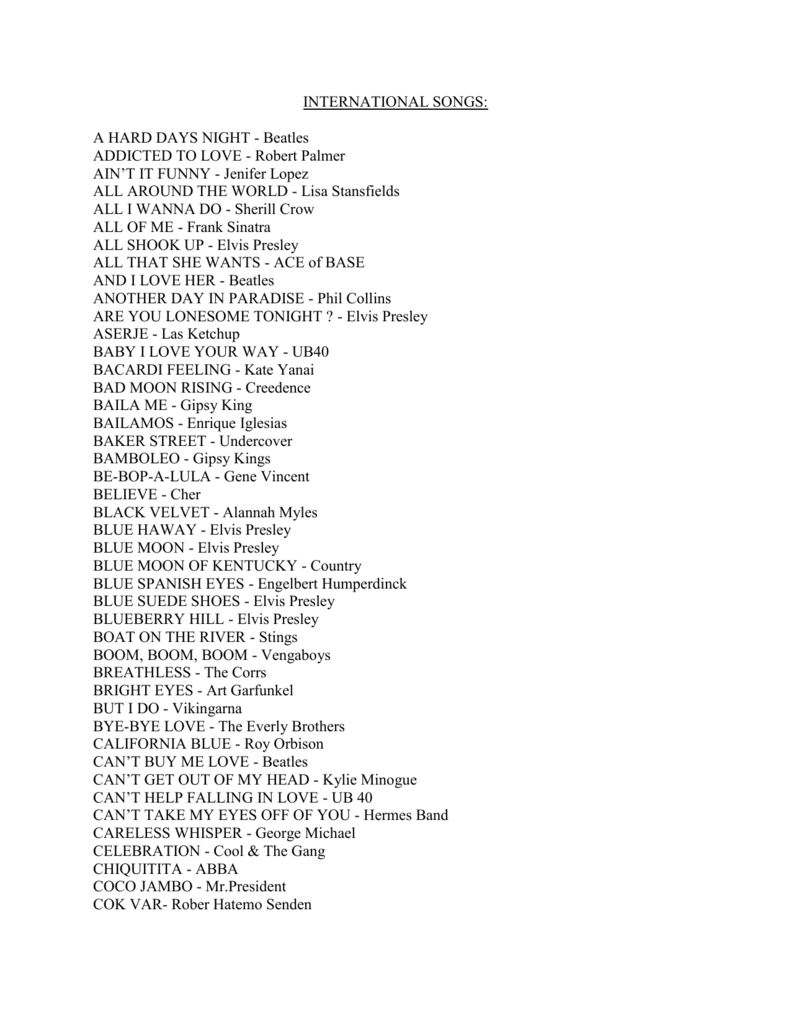 INTERNATIONAL SONGS:
A HARD DAYS NIGHT - Beatles
ADDICTED TO LOVE - Robert Palmer
AIN'T IT FUNNY - Jenifer Lopez
ALL AROUND THE WORLD - Lisa Stansfields
ALL I WANNA DO - Sherill Crow
ALL OF ME - Frank Sinatra
ALL SHOOK UP - Elvis Presley
ALL THAT SHE WANTS - ACE of BASE
AND I LOVE HER - Beatles
ANOTHER DAY IN PARADISE - Phil Collins
ARE YOU LONESOME TONIGHT ? - Elvis Presley
ASERJE - Las Ketchup
BABY I LOVE YOUR WAY - UB40
BACARDI FEELING - Kate Yanai
BAD MOON RISING - Creedence
BAILA ME - Gipsy King
BAILAMOS - Enrique Iglesias
BAKER STREET - Undercover
BAMBOLEO - Gipsy Kings
BE-BOP-A-LULA - Gene Vincent
BELIEVE - Cher
BLACK VELVET - Alannah Myles
BLUE HAWAY - Elvis Presley
BLUE MOON - Elvis Presley
BLUE MOON OF KENTUCKY - Country
BLUE SPANISH EYES - Engelbert Humperdinck
BLUE SUEDE SHOES - Elvis Presley
BLUEBERRY HILL - Elvis Presley
BOAT ON THE RIVER - Stings
BOOM, BOOM, BOOM - Vengaboys
BREATHLESS - The Corrs
BRIGHT EYES - Art Garfunkel
BUT I DO - Vikingarna
BYE-BYE LOVE - The Everly Brothers
CALIFORNIA BLUE - Roy Orbison
CAN'T BUY ME LOVE - Beatles
CAN'T GET OUT OF MY HEAD - Kylie Minogue
CAN'T HELP FALLING IN LOVE - UB 40
CAN'T TAKE MY EYES OFF OF YOU - Hermes Band
CARELESS WHISPER - George Michael
CELEBRATION - Cool & The Gang
CHIQUITITA - ABBA
COCO JAMBO - Mr.President
COK VAR- Rober Hatemo Senden
COMMENT CAVA
CONGA - Gloria Estefan
COTTON FIELDS - Beach Boys
COULD YOU BE LOVED - Bob Marley
CRAZY - Patsy Cline
CRAZY LITTLE THING CALLED LOVE - Queen
CRUEL SUMMER – Bananarama
CRUSH - Jennifer Paige
D.I.S.C.O.-Village People
DAN SANDO LAMBADA - Kaoma
DANCING QUEEN - ABBA
DE TU AMOR
DOES YOUR MOTHER KNOW - ABBA
DON'T CHA - Pussy Cat Dolls
DON'T IT MAKE MY BROWN EYES BLUE - C.Gayle
DOWN BY THE RIVER SIDE-Maceo Parker
DRAGOSTEA DIN TEI - O - Zone
DREAMING - Shania Twain
EL TALISMAN-Rosana
ETERNAL FLAME - Bangles
EVERY LITTLE THING - Carlene Carter
EVERYBODY LOVES SOMEBODY - Ken Lane
EVERYTHING I DO, I DO IT FOR YOU - Bryan Adams
EVERYWAY THAT I CAN - Sertab Erener
EVERYWAY THAT I CAN - Sertab Erener
FASCINATION - Nat'King'Cole
FEEL - Robbie Williams
FEELINGS - Morris Albert
FELICITA - Albano & Romina Power
FLASHDANCE...WHAT A FEELING - Irene Cara
FLY ME TO THE MOON - Frank Sinatra
4 MINUTES - Madonna feat.Timberlake&Timbaland
GET THIS PARTY STARTED - Pink
GIMME HOPE JO'ANNA - Eddy Grant
GIVE ME ONE REASON - Tracy Chapman
GO WILD - Carlen Carter
GOOD LUCK CHARM - Elvis Presley
GUANTANAMERA - Sandpipers
HANDS UP - Ottawan
HANKY PANKY - Madonna
HASTA MANANA - ABBA
HAVE YOU EVER REALLY LOVED A WOMAN
HAVE YOU EVER SEEN THE RAIN - Creedence
HAY, HAY – Nazan Oncel
HELLO,DOLLY - Louis Prima
HELLO,MARU LOU- Ricky Nelson
HELP ME MAKE IT THROUGH THE NIGHT-Willie Nelson
HIT THE ROAD JACK - Ray Charles
HOLIDAY - Madonna
HORRAY! IT'S A HOLIDAY - Boney M
HOSGOR SEN - Ajda Pekkan
HOT STUFF - Donna Summer
HOTEL CALIFORNIA - The Eagles
HOUND DOG - Elvis Presley
HUNG UP - Madonna
I DO, I DO - ABBA
I DON'T KNOW MUCH ABOUT LOVE-Hanne Boel
I DON'T WANNA GO ON WITH YOU LIKE THAT-Elton John
I JUST CALLED TO SAY I LOVE YOU - St. Wonder
I LOVE ROCK'N'ROLL - Britney Spears
I SHOT THE SHERIFF - Eric Clapton
I WILL SURVIVE - Gloria Gaynor
I'LL MEET YOU AT MIDNIGHT - Smokie
I'M I BITHC - Meredith Brookes
I'M GONNA GETCHA - Shania Twain
I'M IN THE MOOD FOR LOVE-Kenny G
I'M OUTTA LOVE - Anastacia
I'M STILL IN LOVE WITH YOU - No Angels
I'M STILL STANDING - Elton John
I'M SO EXCITED - Pointer Sisaters
I'M WALKING ON SUNSHINE-Katrina & The Waves
IF YOU LEAVE ME NOW - Chicago
IN THE SUMMERTIME - Mungo Jerry
IS THIS THE WAY TO AMARILLO - Tony Christie
ISYANKAR - Mustafa Sandal
IT'S A HERTACHE - Bonie Tyler
IT'S MY LIFE - Bon Jovi
IT'S NOW OR NEVER - Elvis Presley
IT'S RAINING MAN - Geri Halliwell
ITSY BITSY TEENIE WEENIE YELLOW POLKADOT BIKINI - Bryan Kontini
JAILHOUSE ROCK - Elvis Presley
JAMBALAYA - Carpenters
JOHNNY B. GOODE - Chuck Berry
JUST A GIGOLO - Louis Prima
KALIMBA DE LUNA - Boney M
KILLING ME SOFTLY WITH HIS SONG - N.Gimbel
KNOCKING ON THE HEAVENS DOOR - Eric Clapton
Kusha las payas - Las Ketchup
LA BAMBA - Los Lobos
LA CAMISA NEGRA - Juanes
LA COLEGIALA-Silvestre Dangon
LA COPA DE LA VIDA ( ALE ALE ) - Ricky Martin
LA ISLA BONITA - Madonna
LADIES NIGHT - Atomic Kitten
LADY - Modjo
LADY IN RED - Chris De Burgt
LAMBADA - Kaoma
LAY DOWN SALLY - Eric Clapton
LEMON TREE - Fool's Garden
LET THE PICTURE - Rodney Crowell
LET'S GET LOUD - Jennifer Lopez
LET'S GO DANCING - Cool & The Gang
LET'S TWIS AGAIN - Chubby Checker
LIFE - Des'ree
LIFE IS LIVE - Hermes House Band
LIVING LA VIDA LOCA - Ricky Martin
LIVING NEXT DOOR TO ALICE - Smokie
LONG TRAIN RUNING - Traks
LOST IN THE TANGO-Jorn Hoel
LOVE - Natalie Cole
LOVEFOOL - Cardigans
LOVE IS ALL AROUND - Wet Wet Wet
LOVE IS GONE - David Guetta
LOVE OF THE COMMON PEOPLE - Paul Young
LUCKY LIPS - Cliff Richard
M'AGAPAS - Greek song
MAMBO N 5 - Lou Bega
MAMMA MARIA - Ricchi E Poveri
MAMMA MIA - ABBA
MAN! I FEEL LIKE A WOMAN - Shania Twain
MASAL - Deniz Seki
MEET ME IN STOKHOLM
MEXICAN GIRL – Smokie
MISSISSIPI - Pussycat
MONEY FOR NOTHING - Dire Straits
MOONLIGHT SHADOW - Mike Oldfield
MOVING ON UP - M People
MY HEART WILL GO ON - Celine Dion
MY NUMBER ONE-Helena Papazizou
MY WAY - Frank Sinatra
NEEDLES AND PINS - Smokie
NEY NAH NEH NAH - Via Con Dios
NIGHT AND DAY - Frank Sinatra
NOTORIOUS - Duran Duran
OBJECTION - Shakira
OB-LA-DI,OB-LA-DA - Marmalade
OH, CAROL - Paul Anka
OH,CAROL - Smokie
OH,SUSANNA - Country
ON THE ROAD AGAIN - W.Nelson
ON THE SUNNY SIDE OF STREET - Louis Armstrong
ONE-WAY TICKET-Eruption
ONLY YOU - Platters
OVER MY SHOULDER - Michael & Mechanics
OYE MI CANTO - Gloria Estefan
PALOMA BLANCA - George Baker Selection
PLEASE DON'T WORRY-Grand Funk
PLEASE RELEASE ME - Engelbert Humperdinck
PRETTY WOMAN - Roy Orbison
PROUD MARY - Tina Turner
QUANDO - Sandpipers
QUE SERA - Doris Day
RAINDROPS KEEP FALLING ON MY HEAD
RAMONA - Louis Armstrong
REGGAE NIGHT - Jimmy Cliff
RHYTHM IS GONNA GET YOU - Gloria Estefan
ROCK & ROLL MUSIC - Beatles
ROCK AROUND THE CLOCK - Bill Haley
ROSE GARDEN - Lynn Anderson
ROUTE 66 - Nat King Cole
SAMBA DE JANEIRO-Bellini
SAVE YOUR KISSES FOR ME - Brother Of Man
SAY IT RIGHT - Nelly Furtado
SEALED WITH THE KISSES - Bria Hyland
SEE YOU LATER ALLIGATOR - Billy Haley
SEMPRE SEMPRE - Albano & Romina Power
SENTIMENTAL JOURNEY - L.Brown
SEXBOMB - Tom Jones
SHA LA, LA, LA - Vengaboys
SHAKE YOUR BOOTY - K.C. & Sunshine Band
SHE BANGS - Ricky Martin
SHE WORKS HARD FOR THE MONEY - D.Summer
SHE'S GOT THE LOOK - Roxette
SHUT UP AND DRIVE - Rihanna
SIDE BY SIDE-Brenda Lee
SIKO HOREPSE SIRTAKI - Greek Song
SING IT BACK - Moloko
SMOOTH - Santana
SMOOTH OPERATOR – Sade
SOLDIER OF FORTUNE - Deep Purple
SOMETHING STUPID - Frank Sinatra
SORRY SEEMS TO BE THE HARDEST WORD
STAND BY YOUR MAN - Tammy Wynette
STAYING ALIVE - Bee Gees
STEAMY WINDOWS - Tina Turner
STRANGERS IN THE NIGHT - Frank Sinatra
STRONG ENOUGH - Cher
STUMBLIN' IN - Chris Norman
STUPID CUPID-Neil Sedaka
SUGAR BABY LOVE - Rubettes
SUMMERTIME BLUES - Eddi Cochran
SUNSHINE REGGAE - Laid Back
SWAY - Michael Buble
SWEET HOME ALABAMA-Lynyrd Skynyrd
SWEET NOTHING - Brenda Lee
SWEET, SWEET SMILE - Carpenters
TAKE A CHANCE ON ME - ABBA
TAKE ME HOME COUNTRY ROADS - Dean Martin
TEA FOR TWO - cha-cha
TENNESSEE WALTZ - Alma Cogan
TEQUILA SUNRISE - Eagles
THANK YOU FOR THE MUSIC - ABBA
THAT DON'T IMPRESS ME MUCH - Shania Twain
THAT'LL BE THE DAY - Buddy Holly & Crickets
THAT'S THE WAY I LIKE IT - K.C. & Sunshine Band
THE CANDYMAN - Christina Aguilera
THE GAMES PEOPLE PLAY - Inner Circle
THE GIRL FROM IPANEMA - Elvis Costello
THE LAST WALTZ - Engelbert Humperdinck
THE LUCKY ONES - Carlene Carter
THE RIVERS OF BABILON - Boney M
THE SWEET ESCAPE - Gwen Stefani
THINGS - Robbie Williams
THIS LOVE - Maroon 5
TIDE IS HIGH - Atomic Kitten
THOSE WERE THE DAYS-Hermes Band
TI AMO - Gina G
TIC TIC TAC - Carrapicho
TIE A YELLOW RIBBON 'ROUND THE OLE OAK TREE - Dawn
TOP OF THE WORLD - Carpenters
TU EST FOUTO - Ingrid
TUTTY FRUTTY - Pat Boone
UN DOS TRES MARIA - Ricky Martin
UNCHAINED MELODY - Jimmy Young
UNCLE JOHN FROM JAMAICA - Vengaboys
UPSIDE DOWN – Diana Ross
URGENT - Foreigner
VENUS - Shocking Blue
VOLARE - Gipsy King
WAKE ME UP BEFORE YOU GO GO - George Michael
WAKE UP LITTLE SUSIE - The Everly Brothers
WALK OF LIFE - Dire Strais
WATERLOO – Abba
WE ARE FAMILY - Pointer Sisters
WHAT'S UP - 4 Non Blond
WHATEVER YOU WANT - Status Que
WHEN I NEED YOU - Leo Sayer
WHENEVER WHEREVER - Shakira
WHERE BLUE BEGIN-Shane
WHOSE BED HAVE YOUR BOOTS BEEN UNDER-Shania Twain
WONDERFUL TONIGHT - Eric Clapton
Y VIVA ESPANIA - Sylvia
Y.M.C.A. - Village People
YES SIR I CAN BOOGIE - Baccara
YOU ARE MY SUNSHINE - Ray Charles
YOU CAN'T HURRY LOVE - Phil Collins
YOU GOT IT - Roy Orbison
YOU'RE MY HEART, YOU'RE MY SOUL - Modern Talking
YOU'RE THE ONE THAT I WANT - Travolta & John
GERMAN SONGS:
ABER DICH
AN DER NORDSEEKUSTE
CAPUCCINO
CHERIO CHERIO
EIN SCHLOSS AM WORTERSEE
EINE ROTE ROSE
ES GEHT MIR GUT
GUTE NACHT FREUNDE
HERZILEIN
KEINE ANGST
NO NO ES IST NICHT PASSIERT
NO NO MARLEN
OLE OLE MASPALOMAS
ROTE LIPPEN SOLL MAN KUSSEN
SIEBEN TAGE
SIERRA MADRE del SUR
STIMUNG
TANZ MIT MIR KORINA
UND HEUT' ABEND HAB' ICH KOPFWHE
GREEK SONGS:
ALOTHI
ASTADOS POLI
EGO KLAPSI
EGO KSENOS
ENA LEPTO PERIPTERA
EPI MENO
FRANGOSIRIANI
I ZOI MOU OLI ATHIO PORTOKOLI
IA THA LEFTA TA KANIS OLA
JA THA MATHIA TOU KOSMU
KAPRIOLE
KE PAO
M'AGAPAS
MARIA METAKITRINA
MUSTAFA
OTI KE NA LEO
POTE POTE
POULOVER
SIKO HOREPSE SIRTAKI
SUSTA
THA CIGARATA
THA PETHIA TOU PIREA
THEN PAO BOUTHENA
THI-THI
TO MORO
TO OREOTERO PLASMA TOU KOSMU
ZORBA THE GREEK
INSTRUMENTAL'S LIST:
'' A '' TRAIN
ADIOS MUCHACHOS - tango
AMOR AMOR - Engelbert Humperdinck
AS TIME GOES BY - Dooley Wilson
BALADE FUR ADELAIDE - Kleiderman
BASSIN STREET
BIMBO - Ruby Wright
BLACK ORFEOUS
BLUE DUNAY
BLUE TANGO -Ray Martin
BRAZIL - Cryspy & Company
CAN'T HELP FALLING IN LOVE - Kleiderman
CELEBRATION - Robert Miles
CHARLESTON
CHEROKEE
CHICAGO- Frank Sinatra
COMMENT CA VA
COPACABANA - Lolita
COPMARSITA - tango
DOLANNES - Kleiderman
EL CUMBACK
FLY ME TO THE MOON
HOW NIGHT
IN THE MOOD - Glen Miller
IT WAS ONE TIME IN AMERICA - Ennio Morricone
JA-DA - Johnny & The Hurricanes
JAMES LASS ( medley )
JUST THE WAY YOU ARE - Barry White
KILLING ME SOFTLY WITH HIS SONG - Roberta Flack
KING OF THE ROAD - Riger Miller
LA PALOMA - tango
LA TRAVIATA - Verdy
LES FEULES MORTES - Nat'King'Cole
LOVE IS BLUE - Kleiderman
MACK THE KNIFE - Louis Armstrong
MARSH – Beetchoven
MARSH - Mozart
MISHELLE - Beatles
MS.ROBINSON
NIGHT AND DAY - Frank Sinatra
OVER THE RAINBOW
OXIGEN - Jean Michel Jarre
PASSO DOBLE POPCORN - Hot Butter
RENDEZIT - Jean Michel Jarre
ROM & COCA COLA
SIR DUCK - Stevie Wonder
SMOKE GETS IN YOUR EYES - Platters
SOMETHING STUPID - Frank Sinatra
SONG FOR GUY - Elton John
SORENTO ( SURENDER ) - Elvis Presley
SUMMERTIME - Billy Stewart
SWING - medley
TAKE 5 - Northside
TANGO ARGENTINA
THE ENTERTAINER - Marvin Hamlish
THE GIRL FROM IPANEMA - Stan Getz & Joao Gilberto
THE SHADOW OF YOUR SMILE
TICO TICO
VEBER
WALTZ ( G dur ) - Brams
WALTZ PART ONE ( medley )
WALTZ PART TWO ( medley )
WESTERN
WHEN THE SAINTS GO MARSHING IN
YESTERDAY
and many more........