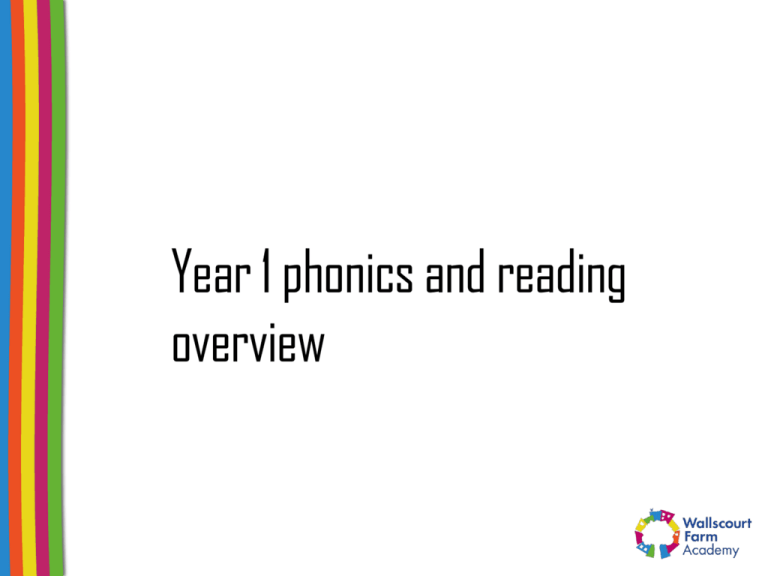 Year 1 phonics and reading
overview
ES
Revise
ES
Sound mats
ES
Keywords
•
•
•
•
Exception words- words which are not phonetically spelt
Bug club refer to key/exception words as 'tricky words'
Learn by sight not sound
As children become more confident readers they will start to spot alternative sounds
in their keywords
IM
Alien Words
• Pseudo words – made up words which have to be sounded and blended to
be read
• Have a go….
• Year 1 – Phonics Screen
ES
Teach
ES
igh
Say it
Write it
IM
ie, i_e
ie
Other common ways to
Write the 'igh' sound
Different sounds the
letters 'ie' can make
ie
i_e
/igh/
Different ways to make
the /igh/ sound
ES
Practise
ES
igh
• Blending words with the new sound
• Reading words from flash cards
• Modelled sentence, reading sentence.
. .
night
IM
ES
Apply
•
•
•
•
•
Children then write a sentence at the end of their phonics session that include:
the 'sound of the day'
Previously learnt sound
keywords.
practise author skills -
C
.?!
• igh – high, sigh night,
• igh - I can go as high as the moon at night.
• /igh/ - I tried to fly high in the sky but my tie hit me in the eye.
Links to home learning – Supporting children's
reading at home
•
•
•
•
•
•
•
•
•
•
•
Reading for pleasure
Sound spotting
Picture decoding
Keywords
Punctuation
Expression
Re-read for fluency.
Questions – factual and inferential.
Predicting and summarising.
Word choice
Time / pages
IM
IM
Questions: What's the super hero's name? Where is the story's
setting? Which characters are in the book? Is this a non-fiction
book? How do you know?
recap / summarise
predict
Questions: How do you think Jazz is feeling? Why are the police
in the story? How would you save the day? Why might people
rob a bank?