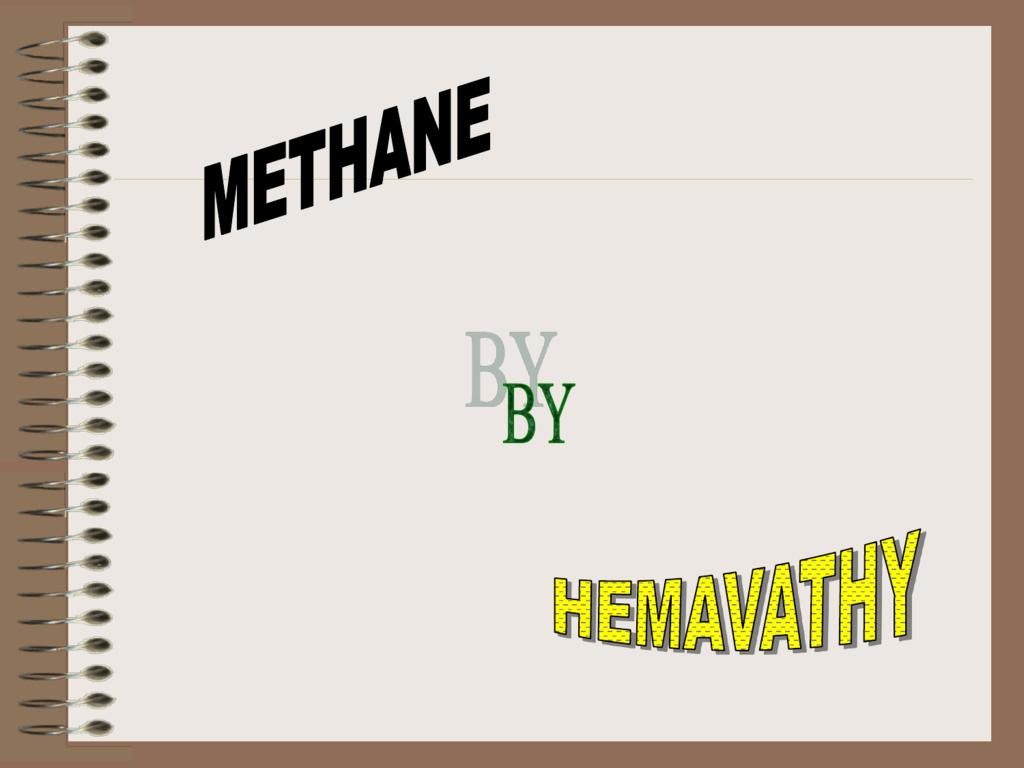 CHEMISTRY OF METHANE
INTRODUCTION
Molecular formula = CH4
Molecular mass = 16
Empirical formula = CH4
Empirical formula mass = 16
State: Gas at room temperature.
Occurance: marsh, stagnant ponds.
It is the major constituent of
natural gas. Natural gas contains
94.6% methane.
STRUCTURE OF METHANE
Composition of methane molecule:
Methane molecule consists of one
carbon and four hydrogen atoms (CH4).
Geometry
of
methane:
Methane molecule is
tetrahedral in structure in which
carbon is central atom and four
H-atoms are
surrounding it in
three-dimensions.
Bond Angles:
HCH-bond angles are 109.5o.
Bond Length:
All C-H bonds are 1.09Ao.
METHOD OF PREPARATION OF METHANE
BY THE CATALYTIC REDUCTION OF METHYL
IODIDE:
CH3-I + H2 CH4 +HI
BY THE HYDROLYSIS OF ALUMINIUM CARBIDE:
In laboratory methane can be prepared by boiling
aliminium carbide with water.
Al4C3 + 12H2O 3CH4 +Al (OH)3
CHEMICAL PROPERTIES
OF METHANE
COMBUSTION REACTION:
Combustion of methane is an exothermic reaction in which a large amount of
energy is liberated. Due to this property, methane is used as a domestic and
industrial fuel.
CH4 + 2O2 CO2 + 2H2O
HALOGENATION:
Replacement of halogen atom with H-atom of an organic compound is called
Halogenation. It is a substitution reaction.This reaction occurs in the presence
of sun light.It is a free radical mechanism reaction.The reaction will continue
till the replacement of all four hydrogen atoms of methane with chlorine.
CHLORINATION:
CH4 + Cl2
CH3Cl + Cl2
CH2Cl2 + Cl2
CHCl3 + Cl2
CH3Cl + HCl (chloro methane)
CH2Cl2 +HCl (dichloro methane)
CHCl3 + HCl (chloroform)
CCl4 +HCl (carbon tetra chloride)
OUTPUT:
Since it is a chain reaction, therefore, it gives a mixture of different
compounds.
PHYSICAL PROPERTIES
OF METHANE
Methane is a colorless, odourless and nonpoisonous gas.
Melting point = -182.5oC.
Boling point = -169.5oC.
Its molecule is symmetrical.
It is lighter than air.
It is slightly soluble in water but fairly
soluble in ether and alcohol.
USES OF METHANE
Domestic and industrial fuel.
Shoe polish.
Printing ink.
Tyre manufacturing.
Manufacture of methyl alcohol.