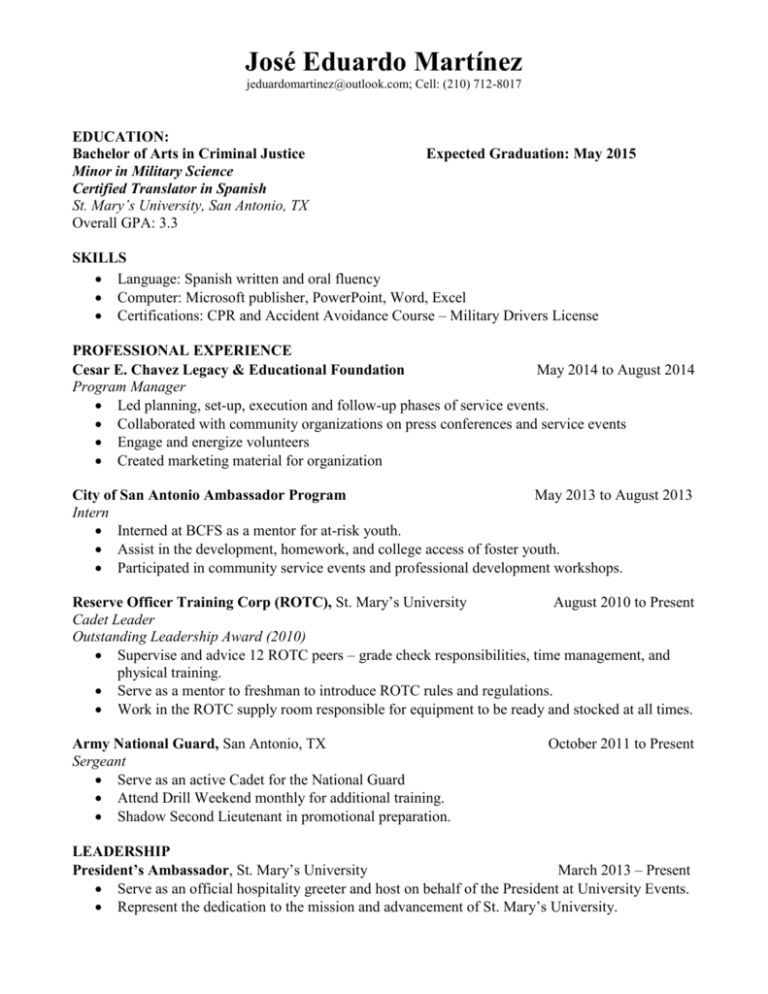 José Eduardo Martínez
jeduardomartinez@outlook.com; Cell: (210) 712-8017
EDUCATION:
Bachelor of Arts in Criminal Justice
Minor in Military Science
Certified Translator in Spanish
St. Mary's University, San Antonio, TX
Overall GPA: 3.3
Expected Graduation: May 2015
SKILLS
 Language: Spanish written and oral fluency
 Computer: Microsoft publisher, PowerPoint, Word, Excel
 Certifications: CPR and Accident Avoidance Course – Military Drivers License
PROFESSIONAL EXPERIENCE
Cesar E. Chavez Legacy & Educational Foundation
May 2014 to August 2014
Program Manager
 Led planning, set-up, execution and follow-up phases of service events.
 Collaborated with community organizations on press conferences and service events
 Engage and energize volunteers
 Created marketing material for organization
City of San Antonio Ambassador Program
May 2013 to August 2013
Intern
 Interned at BCFS as a mentor for at-risk youth.
 Assist in the development, homework, and college access of foster youth.
 Participated in community service events and professional development workshops.
Reserve Officer Training Corp (ROTC), St. Mary's University
August 2010 to Present
Cadet Leader
Outstanding Leadership Award (2010)
 Supervise and advice 12 ROTC peers – grade check responsibilities, time management, and
physical training.
 Serve as a mentor to freshman to introduce ROTC rules and regulations.
 Work in the ROTC supply room responsible for equipment to be ready and stocked at all times.
Army National Guard, San Antonio, TX
Sergeant
 Serve as an active Cadet for the National Guard
 Attend Drill Weekend monthly for additional training.
 Shadow Second Lieutenant in promotional preparation.
October 2011 to Present
LEADERSHIP
President's Ambassador, St. Mary's University
March 2013 – Present
 Serve as an official hospitality greeter and host on behalf of the President at University Events.
 Represent the dedication to the mission and advancement of St. Mary's University.
José Eduardo Martínez
jeduardomartinez@outlook.com; Cell: (210) 712-8017

Serve as a student body representative to showcase the benefits of St. Mary's University in the
community.
Student Veteran Organization
February 2013 to Present
Co-founder
 Attend bi-weekly meeting to discuss different ways to incorporate veterans into our campus
and making our campus veteran friendly.
University Programming Council
January 2013 to Present
Program Assistant
 Plan and implement various events across campus that are social, cultural, and academic.
 Attend weekly meetings to discuss new ideas and upcoming events.
COMMUNITY SERVICE/ EXTRACURRICULAR ACTIVITIES
Texas Organizing Project, San Antonio, Texas
August 2014 – Present
Community Organizer
 Identify, recruit and develop grassroots leaders through ongoing training.
 Organize and drive turnout to events including neighborhood meetings, press conferences,
town halls, and forums on at least a bi-weekly basis.
 Conduct grassroots lobbying activities including petition drives, letter writing campaigns and
meetings with local elected officials.
 Help develop and execute neighborhood organizing plans; map out key community and
constituent targets; and identify and implement effective strategies to engage impacted
communities.
Meals on Wheels
January 2013
 Delivered more than 50 breakfast and lunch meals to low-income seniors at their homes.
Extravadanza, Northwest Vista
January 2011 to December 2011
Performer
 Taught and led a team of 30 dancers in our various performances/competitions
ADDITIONAL WORK EXPERIENCE
T&J Translations
August 2014 to Present
Certified Translator
 Assist in translating documents such as birth certificates, diplomas, marriage license, and
business documents from Spanish into English.
Cook
August 2009 to August 2012
Logan's RoadHouse, Phoenix, AZ
 Prepared the meals for all entrees served at the restaurant.
 Assisted other servants and managers in kipping of facilities.
Cook
June 2008 to June 2009
House of Pizza, San Antonio, TX
 Prepared food for the pasta, steak, salads, and hamburger stations
 Assisted in washing the dishes and maintaining appearance of the restaurant.