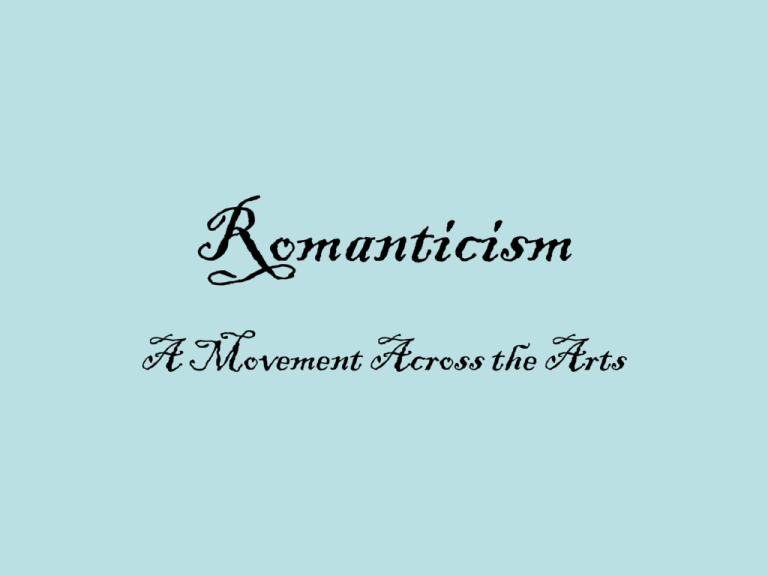 Romanticism
A Movement Across the Arts
Definition
Romanticism refers to a movement in art,
literature, and music during the 19th
century.
Romanticism is characterized by the 5 "I"s
Imagination
Intuition
Idealism
Inspiration
Individuality
Imagination
Imagination was emphasized over
"reason."
This was a backlash against the
rationalism characterized by the
Neoclassical period or "Age of Reason."
Imagination was considered necessary for
creating all art.
British writer Samuel Taylor Coleridge
called it "intellectual intuition."
Intuition
Romantics placed value on "intuition," or
feeling and instincts, over reason.
Emotions were important in Romantic art.
British Romantic William Wordsworth
described poetry as "the spontaneous
overflow of powerful feelings."
Idealism
Idealism is the concept that we can make
the world a better place.
Idealism refers to any theory that
emphasizes the spirit, the mind, or
language over matter – thought has a
crucial role in making the world the way it
is.
Immanuel Kant, a German philosopher,
held that the mind forces the world we
perceive to take the shape of space-andtime.
Inspiration
The Romantic artist, musician, or writer,
is an "inspired creator" rather than a
"technical master."
What this means is "going with the
moment" or being spontaneous, rather
than "getting it precise."
Individuality
Romantics celebrated the individual.
During this time period, Women's Rights
and Abolitionism were taking root as
major movements.
Walt Whitman, a later Romantic writer,
would write a poem entitled "Song of
Myself": it begins, "I celebrate myself…"
Origins
Romanticism began to take root as a
movement following the French
Revolution.
The publication of Lyrical Ballads by
William Wordsworth and Samuel Taylor
Coleridge in 1792 is considered the
beginning of literary Romanticism.
The Arts
Romanticism was a movement across all
the arts: visual art, music, and literature.
All of the arts embraced themes prevalent
in the Middle Ages: chivalry, courtly love.
Literature and art from this time depicted
these themes. Music (ballets and operas)
illustrated these themes.
Shakespeare came back into vogue.
Visual Arts
Neoclassical art was
rigid, severe, and
unemotional; it
hearkened back to
ancient Greece and
Rome
Romantic art was
emotional, deeplyfelt, individualistic,
and exotic. It has
been described as a
reaction to
Neoclassicism, or
"anti-Classicism."
Visual Arts: Examples
Romantic Art
Neoclassical Art
Music
"Classical" musicians
included composers
like Wolfgang
Amadeus Mozart and
Franz Josef Haydn.
Romantic musicians
included composers
like Frederic Chopin,
Franz Lizst, Pyotr
Il'yich Tchaikovsky
Music: Components
1730-1820.
Classical music
emphasized internal
order and balance.
1800-1910.
Romantic music
emphasized
expression of feelings.
Literature
In America, Romanticism most strongly
impacted literature.
Writers explored supernatural and gothic
themes.
Writers wrote about nature –
Transcendentalists believed God was in
nature, unlike "Age of Reason" writers like
Franklin and Jefferson, who saw God as a
"divine watchmaker," who created the
universe and left it to run itself.
Nathaniel Hawthorne
•Born on the 4th of July in Salem, MA
•Descendent of a prominent Puritan family who
traveled here from Europe to settle the new colony
with John Winthrop
•His great-grandfather was Judge Hathorne of the
Salem witch trials.
•He felt so guilty about his ancestors' persecution of
others that this shaped both his character and his
writing.
•He changed the family name from "Hathorne" to "Hawthorne" in
order to remove himself from the shame he felt about his Puritan
ancestors
•He believed that evil was the dominant force in the world, and his
fiction expresses a gloomy vision of human affairs.
•He chooses to examine the DARK side of human nature (Dark Rom)
The Gothic Romance
• Combines elements of Romanticism with those
of the Gothic Novel.
• type of romantic fiction that predominated in
English literature in the last third of the 18th
century and the first two decades of the 19th
century.
• The Gothic novel, or Gothic romance,
emphasized mystery and horror and was filled
with ghost-haunted rooms, underground
passages, and secret stairways.
Elements of the Gothic Novel
•
•
•
•
•
•
•
•
•
Setting in a castle
Atmosphere of mystery and suspense
Ancient prophecy
Omens, visions
Supernatural or inexplicable events
High, overwrought emotion
Women in distress
Women threatened by powerful, tyrannical male.
Mood of gloom and horror
The Scarlet Letter as a Gothic
Romance
• The novel will have some, but not all, of the
characteristics of Romanticism and the Gothic
Novel.
• The following elements are shown throughout
the novel:
Idealism, Individuality, Intuition, atmosphere of
mystery and suspense, supernatural or
inexplicable events, gloom and horror, women
threatened by powerful, tyrannical male, women
in distress, and overwrought emotion.
Outcasts in Society
• How do outcasts change society's norms?
• How and why do cultural norms change?
• How do the norms of our generation affect our
view of the norms of past civilizations?
• Does society need outcasts?
• What is an individual's responsibility to society?
• What is society's responsibility to outcasts?
• Who are some modern or historical outcasts?
The Scarlet Letter: The Custom House
1850
•Hawthorne worked at the Custom House for two years.
•The Custom House is a preface to the novel that gives us author's
information, explains the history behind the novel, and tells about how
Hawthorne got the idea for this romance novel
•Puritans founded a religious colony, but the religious ideals were devoured by financial greed
and commercialism of the 1700s.
•Hawthorne explains that, although he has a deep connection with both his ancestors and
Salem, he disapproves of the stern rigidity of their Puritan ways.
•He gives his definition of the romance novel and tells of the importance that light plays.
•In certain light, objects "seem to lose their actual substance, and become things of intellect."
•There really is no historical evidence that the finding of this letter is true.
•This was a technique common in his day that gave stories some validity to the
readers.