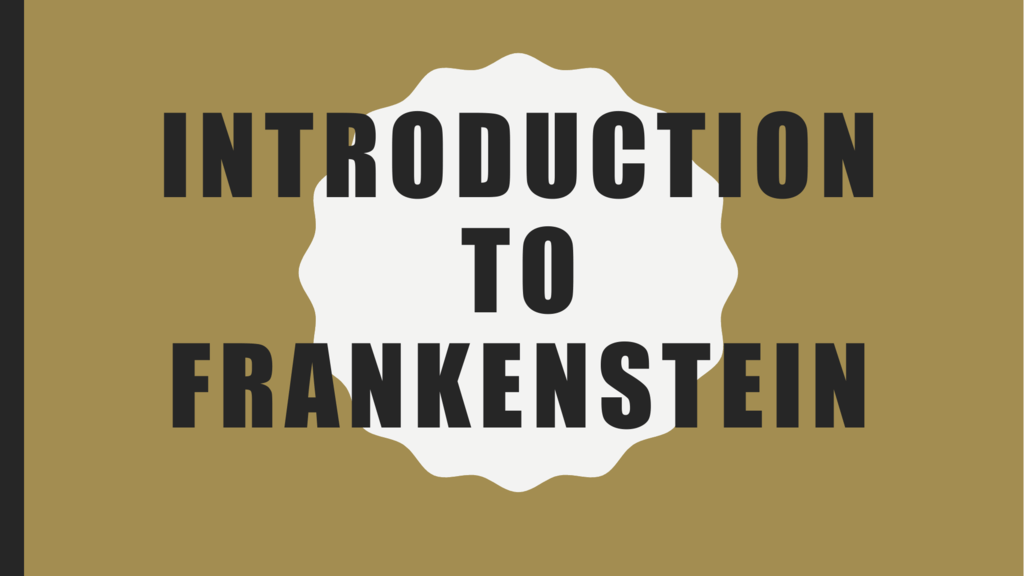 INTRODUCTION
TO
FRANKENSTEIN
WARM-UP
• What do you think the characteristics of Romanticism might be? What about the
characteristics of Gothicism?
ROMANTICISM
A MOVEMENT ACROSS
THE ARTS
DEFINITION
Romanticism refers to a movement in art,
literature, and music during the 19th century.
Reaction against the Age of Reason and
industrialization.
Romanticism is characterized by the 5 "I"s
Imagination
Intuition
Idealism
Inspiration
Individuality
IMAGINATION
Imagination was emphasized over "reason."
This was a backlash against the rationalism characterized by the Neoclassical period or
"Age of Reason."
Imagination was considered necessary for creating all art.
British writer Samuel Taylor Coleridge called it "intellectual intuition."
INTUITION
Romantics placed value on "intuition," or feeling and instincts, over reason.
Emotions were important in Romantic art.
British Romantic William Wordsworth described poetry as "the spontaneous overflow
of powerful feelings."
IDEALISM
Idealism is the concept that we can make the world a better
place.
Idealism refers to any theory that emphasizes the spirit, the mind, or
language over matter – thought has a crucial role in making
the world the way it is.
Immanuel Kant, a German philosopher, held that the mind forces the
world we perceive to take the shape of space-and-time.
INSPIRATION
The Romantic artist, musician, or writer, is an "inspired creator" rather than a
"technical master."
What this means is "going with the moment" or being spontaneous, rather than
"getting it precise."
INDIVIDUALITY
Romantics celebrated the individual
Unique or odd
Brave heroes
Walt Whitman, a later Romantic writer, would write a poem entitled "Song of Myself":
it begins, "I celebrate myself…"
THE DREAMER
GASPAR DAVID FRIEDRICH, 1835
WHAT'S IT ALL ABOUT?
Emotion
Passion
Irrationality
VISUAL ARTS
Neoclassical art was rigid,
severe, and unemotional; it
hearkened back to ancient
Greece and Rome
Romantic art was
emotional, deeply-felt,
individualistic, and exotic.
It has been described as a
reaction to Neoclassicism,
or "anti-Classicism."
VISUAL ARTS: EXAMPLES
Romantic Art
Neoclassical Art
MUSIC: COMPONENTS
1730-1820.
1800-1910.
Classical music
emphasized internal order
and balance.
Romantic music
emphasized expression of
feelings.
https://www.youtube.com/watch?v=1ea90L91eZk
https://www.youtube.com/watch?v=lLjwkamp3lI
IT'S ABOUT:
The Power & Majesty
of Nature
TURNER: "SHIPWRECK"
LION WITH THE RABBIT - EUG È NE
DELACROIX
SUBLIME
• Sensation of awe, often mixed with fear
ROMANTICISM IS ALSO ABOUT:
The Pitfalls of
Science
IT'S ABOUT:
Nationalism
AN OFFICER OF THE IMPERIAL HORSE GUARD
THÉODORE GÉRICAULT, 1814
IT'S ABOUT:
The Romantic Country
Life
FLATFORD MILL – JOHN CONSTABLE, 1817
THE DREAMER
GASPAR DAVID FRIEDRICH, 1835
IT'S ABOUT:
Romanticizing the
Gothic and Medieval
Life
SALISBURY CATHEDRAL FROM THE MEADOWS
JOHN CONSTABLE, 1831
GOTHICISM
Gothic Architecture
• Majestic, unrestrained
architectural style
• Profusion of savage, often
grotesque ornamentation
• Vaulting arches
• Spires reaching to the heavens
MODERN DAY EXAMPLES
• What are some examples of more recent "Romantic" films, books, TV shows, and songs?
• Example: The Lord of the Rings
• Come up with 2-3 ideas in each category.
Books
Films
TV Shows
Music
LITERATURE
In America, Romanticism most strongly impacted literature.
Writers explored supernatural and gothic themes.
Writers wrote to express themselves.
DARK ROMANTICISM
• Reaction to the American Transcendental Movement, which some writers
thought was too optimistic.
– Transcendentalists believed in a perfect spiritual state that could be
reached through intuition
– Dark Romanticists adapted Transcendental ideas to fit their less positive
views
• Ex: Edgar Allen Poe, Emily Dickinson, Nathaniel Hawthorne, etc.
DARK ROMANTICISM (CONT.)
• Common beliefs include:
– Humans are not inherently perfect; they are inclined towards wrongdoing.
– Nature is a mysterious and sometimes evil spiritual force.
– People may try to change the world, but they often fail.
• Overlaps with Gothic fiction
G O T H I C L I T E R AT U R E
MOTIFS
GOTHICISM
Gothic Literature
 Developed as a genre in 18th
century
 It is devoted to tales of horror,
the darker, supernatural forces
MADNESS
• Reflects realities
beyond rational
comprehension
• Mad characters
speak truths we
wish to deny
THE DOPPELGANGER
• A second self or
alternate identity
• Represents opposing
forces in human nature
• Suggests humans have a
double nature
• More Recent Example:
Star Trek
THE FAUST MOTIF:
FORBIDDEN KNOWLEDGE OR
POWER
• Hero attempts to
control supernatural
powers
• Ambition leads to fall
TRAGIC HERO TRAITS...
 Hamartia: weakness that causes the eventual downfall; a fatal flaw
 Hubris: arrogance causing transgression against the gods; pride and overconfidence
 Catharsis: a move from ignorance to knowledge; release of emotions
 Peripeteia: reversal of fortune (fall from grace); unexpected reversal
 Nemesis: fate that cannot be escaped; poetic justice
MONSTER/ SATANIC HERO/
FALLEN MAN
• Fallen Hero becomes a
Monster
• Or, confronts a monster
who is his double
• Like Satan, he defies the
rules of God's universe
• More Recent Example:
Breaking Bad
DEMONS/ DEVILS/ WITCHES/
ANGELS
• Represent conflicting
forces in the human soul
• Hero may be tempted by
evil spirits
• Or, redeemed by good
spirits
• More Recent Example:
Star Wars
GRAVEYARDS / CHURCHES /
RUINS
• Suggest human
confrontation
with infinite
forces
• More Recent
Example: Harry
Potter 4
MULTIPLE NARRATIVE
• Series of secret
manuscripts or multiple
tales
• Narrative spirals inward
to hidden truth
• Narrator compelled to
speak to captive listener
• More Recent Example:
"Found Footage" Movies
PITCH YOUR STORY
• Let's say that you are a screenwriter who is trying to write and sell a script
that falls under the genre of Romanticism, Dark Romanticism, Gothicism, or a
combination.
• What is the story? (1-2 paragraphs)
• How does the story fit its genre? (1-2 paragraphs)
MARY SHELLEY
• https://www.youtube.com/watch?v=E4p96vqI3zA&list=FLhtAEOsRgD8G3ESHYXiBlMQ&index
=6
MARY SHELLEY
• When she was sixteen, she eloped with a poet named Percy Shelley.
• Shelley and her husband eventually moved to Geneva, Switzerland, where they spent a large
amount of time with another famous poet, Lord Byron.
• While living there, the group engaged in a competition as to who could write the best ghost
story. This competition led to the creation of Frankenstein.
• The book was published anonymously in 1818. Reviews were mixed.
• Mary Shelley died in 1851.
CLOSURE
• Summarize what you learned about Romanticism, Dark Romanticism, and Gothicism in three
sentences.