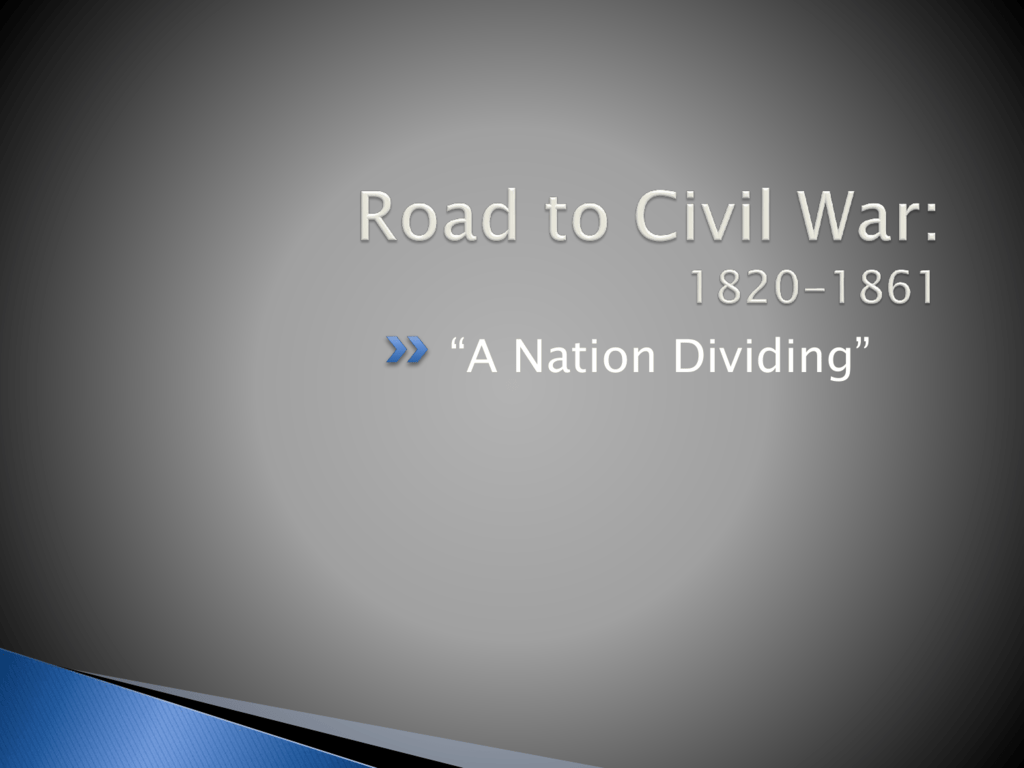 "A Nation Dividing"


Passed as Pt. 5 of
Compromise of 1850
Required all citizens aware of
a fugitive slave to turn them
in
◦ If don't…

◦ Northerners refused to
enforce the law

Southerners thought it would
make north recognize their
rights
 People contributed funds to
help & buy slaves' freedom
◦ But…
 Only convinces more to the evils
of slavery

Slaveholders now stepped up
their efforts to catch and
return runaways
Background
Underground Railroad
◦ System of pathways and
people who would help
slaves escape to the north
 Fined, jailed, or even hanged!!!

In spite of penalties…

Very few northern juries
convicted those accused
of helping fugitive slaves
Resistance to the Law



1852- Franklin Pierce (NH) becomes 14th US President
◦ "doughface"- northerner w/ southern feelings
◦ Intends to enforce Fugitive Slave Act
1854- slavery debate erupts again
Sen. Stephen A. Douglas (IL), author of Compromise of 1850,
writes new plan for compromise
◦ Wants to open up remainder of west
◦ Proposes organizing land west of Missouri and Iowa
 Naming them Kansas and Nebraska
◦ Problem…
 Both are above 36'30"°
 Missouri Compromise says slavery not allowed then
 South wouldn't allow 2 new states as "Free"…
 Throw off balance again in Senate
◦ Douglas proposes abandoning the Missouri Compromise line and let
the people of the territories decide
 Becomes known as Popular Sovereignty

Passage of the Act
◦ Northerners protested
strongly
◦ Breaking Missouri
Compromise meant
slavery in areas that had
been free for 30 yrs!
 North demands bill voted
down
◦ Southern support was
huge
 With southern support and
support of President Pierce…
 The Kansas- Nebraska Act
passes in May 1854

As soon as law passed, both sides
rush support to Kansas
◦ Pro-Slavery & Anti-Slavery groups
tried to take control

1,500 people lived in Kansas
◦ Odd but 6,000 ballots were counted!?!





Pro-Slavery
Rules!!! We're
in charge!!!
Huh???
1,000's of Pro-Slave Missourians crossed
border and voted
Called "Border Ruffians"
Obviously, Pro-Slavery Mvmt. wins
election
Soon after Pro-Slavery laws get
passed
◦ Anti-Slavery refused to obey them and
set up their own gov't claiming to be
the real Kansas Legislature

Both sides wrote constitutions,
held elections, and in Jan. 1856
both sides asked Congress to
recognize them as a state
Anti-Slavery
Rules!!! U Cheated,
we're in charge!!!

Pro and Anti-Slavery forces begin
arming themselves
◦ Violence becomes inevitable

May 1856- 800 slavery
supporters attack and burn town
of Lawrence, Kansas
◦ Anti-Slavery troops soon retaliate

John Brown, extreme abolitionist,
believed God had chosen him to
end slavery
◦ When he heard of the attack…
 He goes nuts and he and his sons
capture and kill 5 pro-slavery
supporters

More violence on both sides
continues for 6 months, earning
the nickname, "Bleeding Kansas"
Captain John Brown

Violence in Kansas spilled over to the rest of the country
as well…
◦ Even into the Congressional Chambers!!!

Abolitionist Sen. Charles Sumner (Mass) gives speech
entitled, "the Crime Against Kansas"
◦ Lashes out against Pro-Slavery Senators, especially Andrew
Butler (SC)

2 days later…
◦ Rep. Preston Brooks (Butler's cousin)
 Walks into Senate Chamber and begins beating Sumner at his desk
w/ his cane!!!
 Beats him so bad, he is knocked unconscious
 Injuries so severe that Sumner did not return to the Senate for 3 years!

"Brooks-Sumner Incident" and "Bleeding Kansas"
revealed rising tensions and hostility b/w North and
South
◦ Soon boil over!