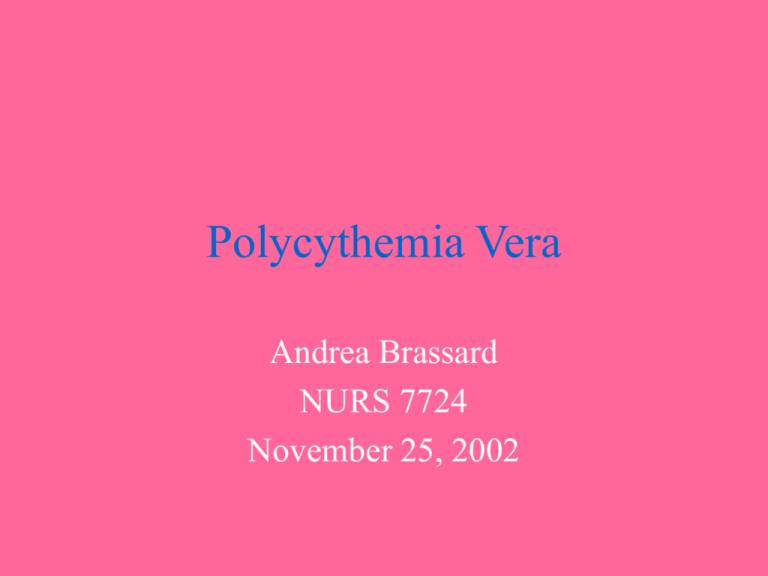 Polycythemia Vera
Andrea Brassard
NURS 7724
November 25, 2002
Objectives
Upon completion of this program the participant will:
1. Define
polycythemia vera (PV).
2. Describe the epidemiology of PV.
3. Identify the symptoms and signs of PV
4. Describe how PV is diagnosed.
5. Identify therapeutic modalities for PV.
6. Identify the complications of PV.
PV: Definition
• A chronic, progressive blood disorder
• Caused by an abnormality in certain
immature cells in the bone marrow
• Stimulates an overproduction of RBCs,
WBCs, & platelets
http://hopkinsafter50.com/html/newsletter/ha0502
PV: Definition
• A neoplastic (clonal) stem cell disorder
• probably arising in a pluripotent
hematopoietic progenator cell
• which leads to excessive production of all
myeloid cell lines
• predominantly red blood cells
(Wasserman, Berk, & Berlin, 1995)
Epidemiology of PV
• Relatively rare disorder
• Annual incidence 0.6 to
1.6 per million per year
• Ages 50 to 70 peak years
• Slightly more prevalent in
males
• More common in Jews,
less common in blacks
• Possible genetic
predisposition
PV: Symptoms
• The symptoms and signs of PV can be
attributed to the expanded total blood
volume and the increased blood viscosity.
• The onset of PV is insidious and symptoms
frequently precede a diagnosis of PV by
several years.
• Patients may be asymptomatic or have
vague or non-specific complaints
Symptoms of PV
A large study of PV revealed the following
symptoms and reported frequency
headache (48%) weakness (47%) pruritus(43%)
dizziness (43%) sweating (33%)
visual disturbances (31%)
weight loss (29%) paresthesias (29%)
dyspnea (26%) joint symptoms (26%)
epigastric distress (24%)
(Wasserman, Berk, & Berlin, 1995)
Signs of PV on Physical Exam
•
•
•
•
•
•
•
Enlarged spleen (70%)
Skin plethora (ruddy cyanosis) (67%)
Conjunctival plethora (59%)
Fundoscopic - engorged vessels (46%)
Enlarged liver (40%)
Systolic B/P > 140 (72%)
Diastolic B/P > 90 (32%)
(Wasserman, Berk, & Berlin, 1995)
Diagnosis of PV
• Elevated hematocrit is first clue
• REFER TO HEMATOLOGIST!
• Additional Diagnostic tests include:
CBC and peripheral smear
Bone marrow aspiration and biopsy
Leukocyted alkaline phosphatase
Abdominal ultrasound and/or CT; IVP
Erythropoetin level; Serum B12; ABG
Laboratory features in PV
•
•
•
•
•
Elevated red cell mass
Red cell morphology
Leukocytosis
Mild basophilia
Mild to moderate thrombocytosis
PV: Typical CBC
WBC
hgb
hct
MCV
Platelets
18
20
62
75
850
[4-11]
[14-18]
[42-51]
[80-100]
[150-450]
Neuts 14 [2-7.5]
Lymphs 2 [1.5-4]
Monos 0.8 [.2-.8]
Eos 0.1 [0-0.7]
Basos 0.5 [0-0.1]
Bone marrow features in PV
Hypercellularity and hyperplasia of
• erythroid
• granolocytic
• megakaryocytic
cell lines
PVSG Criteria for the diagnosis
of Polycythemia Vera
Major criteria
1. Total red cell mass
Male >36
Female >32
2. Arterial oxygen
saturation > 92
3. Splenomegaly
Minor criteria
1. Thrombocytosis
(platelets > 400)
2. Leukocytosis
(WBC > 12)
3. Increased leukocyte
alkaline phosphates
(LAP) score
4. Serum B12 >900
Criteria for diagnosis of PV
According to the Polycythemia
Vera Study Group:
• All 3 major criteria OR
• The first 2 major criteria (increased
red cell mass and O2 >92%) and
two minor criteria.
Treatment of PV
• Treatment approaches based on degree of
thrombosis risk.
• Risk factors include age, platelet count
(>1,500 high risk), and pregnancy.
• Low risk - phlebotomy alone or with lowdose aspirin.
• Intermediate risk - add interferon alpha
• High risk - add hydoxyurea
PV Therapeutic Modalities
•
•
•
•
•
•
•
Phlebotomy
Cytostatic agents
Radioactive Phosphorus
Hydroxyurea
Interferon-alpha
Anagrelide
Stem Cell Transplant
Phlebotomy
•
•
•
•
First choice for erythrocytosis
Target hct <45
Remove 250 to 500 cc of blood q.o.d.
In elderly remove 200 to 300 cc b.i.w.
Phlebotomy
Unfortunately, none of this
blood is donated.
Phlebotomized blood is
discarded!
Phlebotomy alone
will NOT control
• thrombocytosis
• leukocytosis
• painfully enlarging spleen
• hyperuricemia or
• pruritis
Patients treated with phlebotomy alone have
high incidence of fatal or disabling
thrombotic events. (Wasserman, Berk, & Berlin, 1995)
Cytostatic Agents for Myelosuppression
• Leukeran was commonly used.
• But leukeran increased leukemia risk
• Other drugs:
–
–
–
–
melphalan
cyclophosphamide
busulfan
but risk of life-threatening thrombyocytopenia
Radioactive Phosphorus
•
•
•
•
Has been used for more than 50 years
Administered IV
No radiation sickness
Ameliorates abnormal physical findings
– bright red skin color disappears in most
– about 2/3 of enlarged spleens and livers become
non-palpable after treatment
(Wasserman, Berk, & Berlin, 1995)
Hydroxyurea
• Used in patients in whom phlebotomy is
problematic
• Brand name "Droxia"
• Administered p.o.
• Warning! - drug is mutagenic
• Side effects include rash, GI complaints,
oral ulcers, fever.
Recombinant Interferon-alpha
•
•
•
•
•
•
PV is an off-label indication
t.i.w. subcutaneous injection
can reduce frequency of phlebotomy
spleen size reduced
Cost $50 to 150 per injection
Side effects - depression and suicidal
ideation, flu-like symtpomes
Anagrelide
•
•
•
•
•
•
Platelet inhibitor
FDA approved 1997 "Orphan Drug"
Cost $600/month
Usual dose: 0.5 to 1 mg b.i.d. p.o.
Adverse effects - positive inotropic effect
Use caution in heart disease, renal
insufficiency, hepatic dysfunction
Stem Cell Transplant
• Recent study at Fred Hutchinson Cancer
Research Center, Seattle, WA
• 25 patients with advanced essential
thrombocythemia (n=13) or PV (n=12)
received stem cell transplants.
• 64% three year survival rate
PV Complications and Treatment
•
•
•
•
Hyperuricemia - treat with allopurinol
Peptic ulcer disease - conventional Rx
Acute leukemia- poor prognosis
Thromboembolic risk - aspirin use
controversial
• Hemorrhagic complications - blood and/or
platelet transfusions
References
Hobbbrand, A.V., & Pettit, J.E., 1988. Sandoz Atlas of
Clinical Hematology. London: Gower Medical.
Lee, 1999. Wintrobe's Clinical Hematology, 10th Ed.
Philadelphia: Lippincott, Williams, & Wilkins.
Mazza, J.J., 2002. Manual of clinical hematology, 3rd Ed.
Philadelphia: Lippincott, Williams, & Wilkins.
Mosby's Drug Consult, 2002.
Tefferi, A, Solberg, L.A., & Silverstein, M.N., 2000. A
clinical update in polycythemia vera and essential
thrombocythemia. American Journal of Medicine, 109,
(2), 141-149.
Wasserman, L.R., Berk, P.D, & Berlin, N.I., 1995.
Polycythemia Vera and the myeloproliferative disorders.