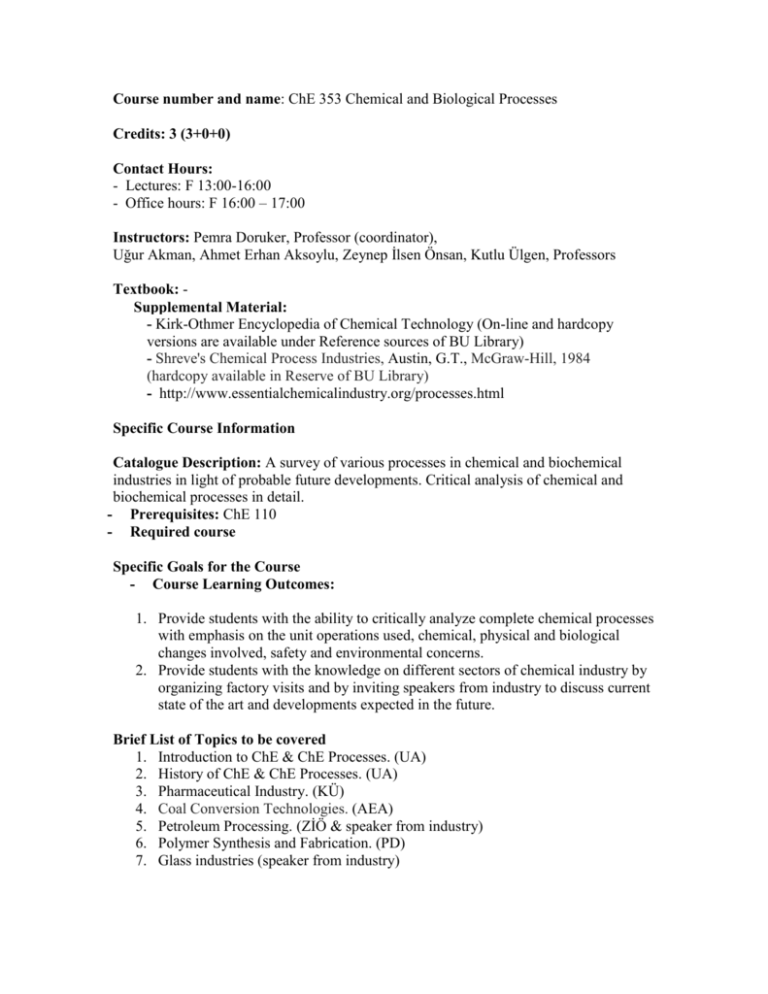 Course number and name: ChE 353 Chemical and Biological Processes
Credits: 3 (3+0+0)
Contact Hours:
- Lectures: F 13:00-16:00
- Office hours: F 16:00 – 17:00
Instructors: Pemra Doruker, Professor (coordinator),
Uğur Akman, Ahmet Erhan Aksoylu, Zeynep İlsen Önsan, Kutlu Ülgen, Professors
Textbook: Supplemental Material:
- Kirk-Othmer Encyclopedia of Chemical Technology (On-line and hardcopy
versions are available under Reference sources of BU Library)
- Shreve's Chemical Process Industries, Austin, G.T., McGraw-Hill, 1984
(hardcopy available in Reserve of BU Library)
- http://www.essentialchemicalindustry.org/processes.html
Specific Course Information
Catalogue Description: A survey of various processes in chemical and biochemical
industries in light of probable future developments. Critical analysis of chemical and
biochemical processes in detail.
- Prerequisites: ChE 110
- Required course
Specific Goals for the Course
- Course Learning Outcomes:
1. Provide students with the ability to critically analyze complete chemical processes
with emphasis on the unit operations used, chemical, physical and biological
changes involved, safety and environmental concerns.
2. Provide students with the knowledge on different sectors of chemical industry by
organizing factory visits and by inviting speakers from industry to discuss current
state of the art and developments expected in the future.
Brief List of Topics to be covered
1. Introduction to ChE & ChE Processes. (UA)
2. History of ChE & ChE Processes. (UA)
3. Pharmaceutical Industry. (KÜ)
4. Coal Conversion Technologies. (AEA)
5. Petroleum Processing. (ZİÖ & speaker from industry)
6. Polymer Synthesis and Fabrication. (PD)
7. Glass industries (speaker from industry)
Plant Visits: Two plant trips are planned during the course. These visits will be on
Fridays. The dates of the plant trips are:
(1) TÜPRAŞ Refinery: December 4, 2015 (Friday)
(2) AkzoNobel (industrial paints): Nov 13, 2015 (Friday)
Transportation from the University to the plant site will be arranged by the University.
The buses will leave the University at 9 a.m. All students enrolled in the course are
required to attend both plant visits. Students are also required to hand in a written report
summarizing the content of the visit and its relation to the course content for each visit.
Web: You are responsible of the announcements posted on the web site of the course and
also for messages sent by the instructors via Moodle.
Grading:
Midterm : 30 %
Plant Trips (2 x 8%): 16% (includes attendance & reports)
Project/ HW/ Quiz: 14%
Final Examination: 40 %
Academic Honesty: Students are bounded by the rules of academic honesty. Cheating is
a violation of academic honesty. The result is an F grade for the course.