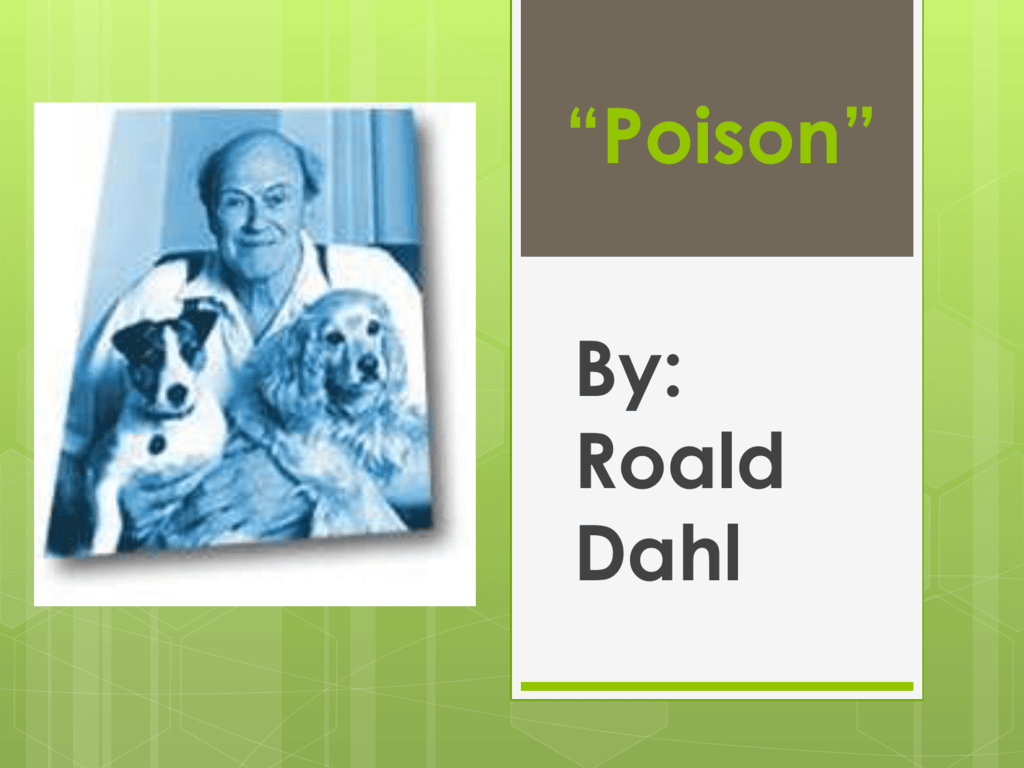 "Poison"
By:
Roald
Dahl
"I haven't been
bitten," he whispered.
"Not yet."
Words to Own
1. The cats were being fed dry food
intravenously during the week.
2. Through the fog, the pilot was just
able to discern the runway lights.
3. She always found hot August days
to be oppressive.
4. Howard's attitude toward money
was frivolous; he rarely spent a dime
unnecessarily.
ROALD DAHL
ROALD DAHL
 Roald
Dahl was born on September
13th 1916 in Llandaff, Wales. His
father and older sister Astri died
when he was just 3 years old and
his mother was left to care for 6
children all by herself.
TRAGEDY
 He
married actress "Pat" Neal and had 5
children; Olivia, Tessa, Theo, Ophelia, and
Lucy.
 His oldest daughter Olivia died from
measles that developed into encephalitis.
(Inflammation of the brain)
 Then, his four month old son Theo was
brain damaged after a road accident.
Roald Dahl
 Roald
wrote about his difficult life as a
child and an adult in two of his books "Boy"
and "Going Solo".
 He was often beaten in his prep school and
never went to a university.
Books
Matilda
Charlie and the
Chocolate Factory
James and the
Giant Peach
Boy
Danny the Champion
of the World
Ghost Stories
Revolting Recipes
Revolting Rhymes
Most Famous Books
 Among
Roald Dahls most famous books were
Charlie and the Chocolate Factory, James
and the Giant Peach, Matilda, and many
more. Adults and children alike love his
timeless stories that will be told for
generations to come.
Add'l Notes
 Roald
Dahl remains the most popular
children's author among 16- 34 year olds
and still tops J.K. Rowling.
 He died of an infection at 75 years old
in Oxford, England on November 23rd
1990.
AWARDS
 1954-
Edgar Allan Poe award and Mystery
Writers of America award.
 1959- Second Edgar Allan Poe Award and
second Mystery Writers of America Award.
 1972- New England Round Table of
Children's Librarians Award
"Poison" cont…
"Poison" cont…
 Setting:
- Colonial India
- Midnight
- WWII
-1930s-1940s
 P.O.V. - 1st person:
Timber Woods is
telling the story
"Poison" cont…

Characters:
Timber Woods:
-Narrator
-British
-Round Character
Harry Pope:
-Racist
-Rude
-British
Dr. Ganderbai:
-Indian
- Kind to help Harry in the
middle of the night
"Poison" cont…
 Symbols:
Snake: represents
racism inside Harry
(evil).
Mother of Pearl:
represents Harry on
the outside (nice).
The Poison: The
hurtfulness of racism
"Poison" cont…
,
In his short story
"Poison," Roald Dahl
indicates that judging a
person by his
appearance can be
dangerous.
 …illustrates that racism is
extremely hurtful.
"Poison"ous Ending
 How
1.
2.
3.
4.
should the story end?
Think of a fitting ending for the story.
Create a 4-paneled comic strip.
Make sure to include the 3 characters.
Each panel should have a dialogue and a
caption.
"Poison"ous Difference
 How
does the radio drama differ from
the original story?
1. Cite 5 differences between the two.
Explain how these were shown.
2. You should focus on the differences
in how the story was carried out.
3. You can also mention something
about the characters.