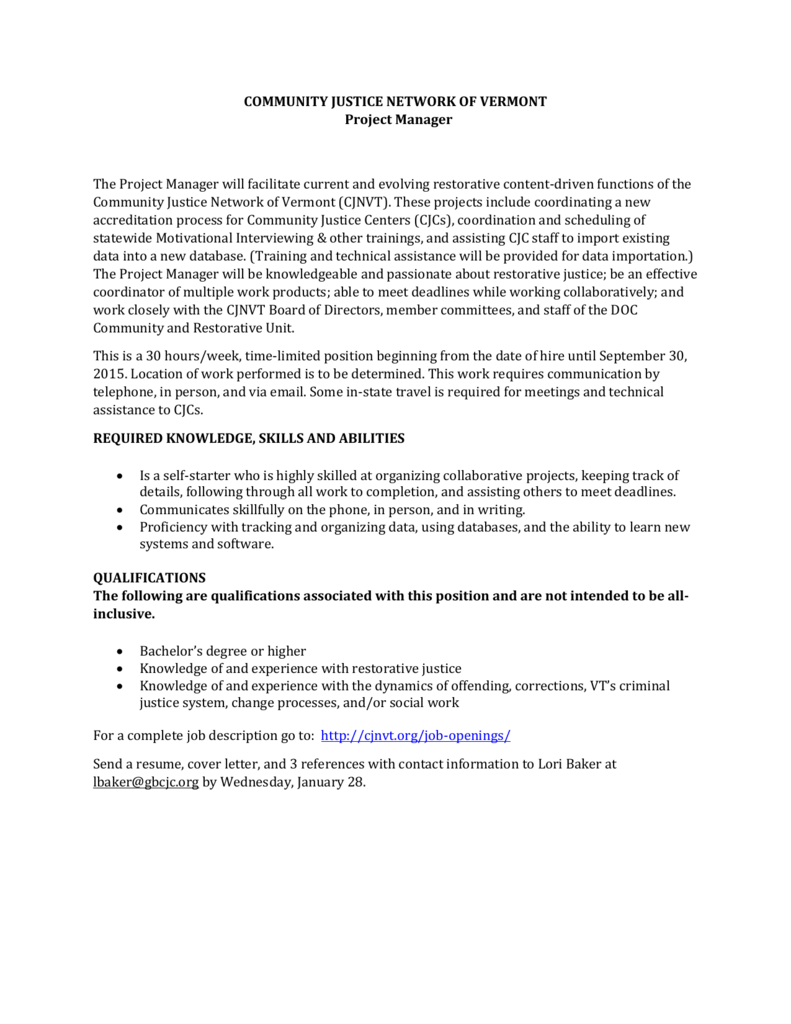 COMMUNITY JUSTICE NETWORK OF VERMONT
Project Manager
The Project Manager will facilitate current and evolving restorative content-driven functions of the
Community Justice Network of Vermont (CJNVT). These projects include coordinating a new
accreditation process for Community Justice Centers (CJCs), coordination and scheduling of
statewide Motivational Interviewing & other trainings, and assisting CJC staff to import existing
data into a new database. (Training and technical assistance will be provided for data importation.)
The Project Manager will be knowledgeable and passionate about restorative justice; be an effective
coordinator of multiple work products; able to meet deadlines while working collaboratively; and
work closely with the CJNVT Board of Directors, member committees, and staff of the DOC
Community and Restorative Unit.
This is a 30 hours/week, time-limited position beginning from the date of hire until September 30,
2015. Location of work performed is to be determined. This work requires communication by
telephone, in person, and via email. Some in-state travel is required for meetings and technical
assistance to CJCs.
REQUIRED KNOWLEDGE, SKILLS AND ABILITIES



Is a self-starter who is highly skilled at organizing collaborative projects, keeping track of
details, following through all work to completion, and assisting others to meet deadlines.
Communicates skillfully on the phone, in person, and in writing.
Proficiency with tracking and organizing data, using databases, and the ability to learn new
systems and software.
QUALIFICATIONS
The following are qualifications associated with this position and are not intended to be allinclusive.



Bachelor's degree or higher
Knowledge of and experience with restorative justice
Knowledge of and experience with the dynamics of offending, corrections, VT's criminal
justice system, change processes, and/or social work
For a complete job description go to: http://cjnvt.org/job-openings/
Send a resume, cover letter, and 3 references with contact information to Lori Baker at
[email protected] by Wednesday, January 28.