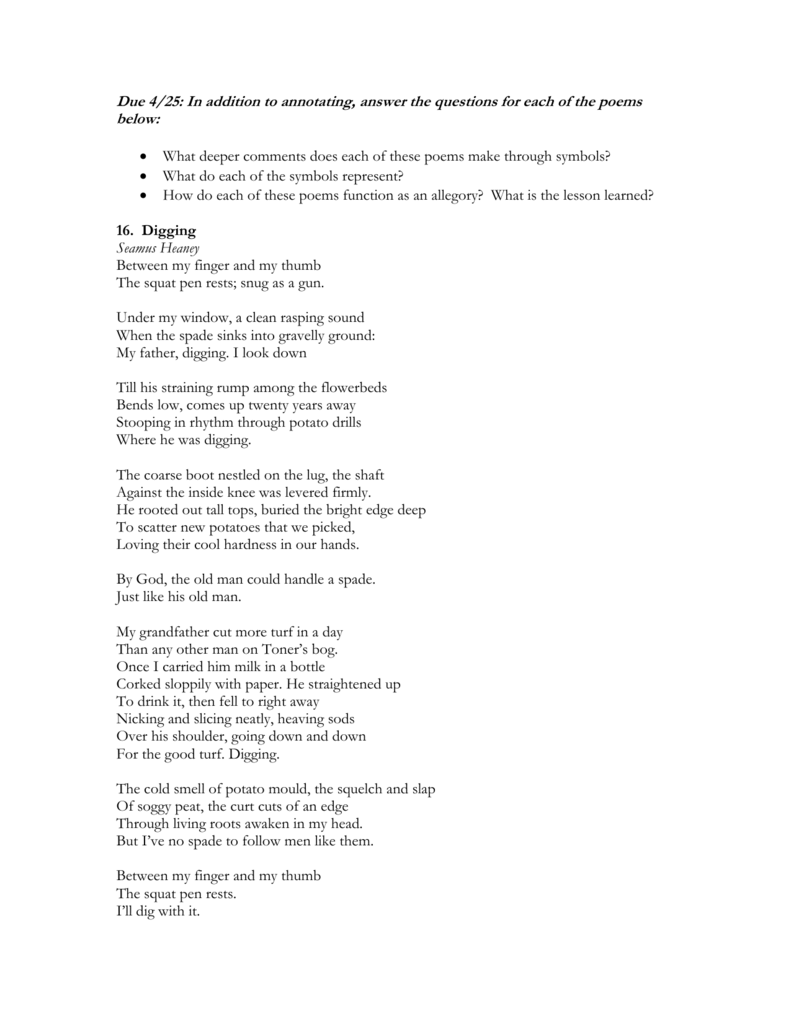 Due 4/25: In addition to annotating, answer the questions for each of the poems
below:



What deeper comments does each of these poems make through symbols?
What do each of the symbols represent?
How do each of these poems function as an allegory? What is the lesson learned?
16. Digging
Seamus Heaney
Between my finger and my thumb
The squat pen rests; snug as a gun.
Under my window, a clean rasping sound
When the spade sinks into gravelly ground:
My father, digging. I look down
Till his straining rump among the flowerbeds
Bends low, comes up twenty years away
Stooping in rhythm through potato drills
Where he was digging.
The coarse boot nestled on the lug, the shaft
Against the inside knee was levered firmly.
He rooted out tall tops, buried the bright edge deep
To scatter new potatoes that we picked,
Loving their cool hardness in our hands.
By God, the old man could handle a spade.
Just like his old man.
My grandfather cut more turf in a day
Than any other man on Toner's bog.
Once I carried him milk in a bottle
Corked sloppily with paper. He straightened up
To drink it, then fell to right away
Nicking and slicing neatly, heaving sods
Over his shoulder, going down and down
For the good turf. Digging.
The cold smell of potato mould, the squelch and slap
Of soggy peat, the curt cuts of an edge
Through living roots awaken in my head.
But I've no spade to follow men like them.
Between my finger and my thumb
The squat pen rests.
I'll dig with it.
17. Curiosity
Alastair Reid
may have killed the cat; more likely
the cat was just unlucky, or else curious
to see what death was like, having no cause
to go on licking paws, or fathering
litter on litter of kittens, predictably.
Nevertheless, to be curious
is dangerous enough. To distrust what is always said, what seems,
to ask old questions, interfere in dreams, leave home, smell rats, have hunches do not endear cats to those doggy circles where well-smelt baskets, suitable wives, good lunches are the order of things, and where prevails much wagging of incurious heads and tails.
Face it. Curiosity will not cause us to die- only lack of it will. Never to want to see the other side of the hill
or that improbable country where living is an idyll (although a probably hell) would kill us all. Only the curious have, if they live, a tale worth telling at all.
Dogs say cats love too much, are irresponsible, are changeable, marry too many wives, desert their children, chill all dinner tables with tales of their nine lives. Well, they are lucky. Let them be nine-lived and contradictory, curious enough to change, prepared to pay the cat price, which is to die and die again and again, each time with no less pain. A cat minority of one is all that can be counted on to tell the truth.
And what cats have to tell on each return from hell
is this: that dying is what the living do, that dying is what the loving do, and that dead dogs are those who do not know that dying is what, to live, each has to do.