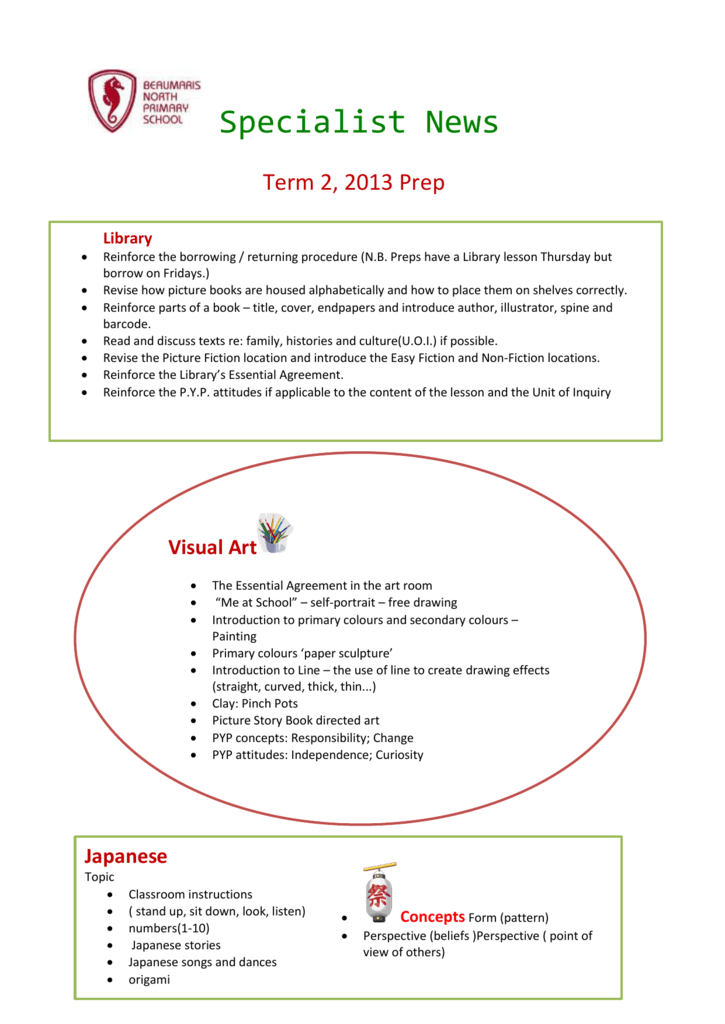 Specialist News
Term 2, 2013 Prep
Library







Reinforce the borrowing / returning procedure (N.B. Preps have a Library lesson Thursday but
borrow on Fridays.)
Revise how picture books are housed alphabetically and how to place them on shelves correctly.
Reinforce parts of a book – title, cover, endpapers and introduce author, illustrator, spine and
barcode.
Read and discuss texts re: family, histories and culture(U.O.I.) if possible.
Revise the Picture Fiction location and introduce the Easy Fiction and Non-Fiction locations.
Reinforce the Library's Essential Agreement.
Reinforce the P.Y.P. attitudes if applicable to the content of the lesson and the Unit of Inquiry
Visual Art







The Essential Agreement in the art room
"Me at School" – self-portrait – free drawing
Introduction to primary colours and secondary colours –
Painting
Primary colours 'paper sculpture'
Introduction to Line – the use of line to create drawing effects
(straight, curved, thick, thin...)
Clay: Pinch Pots
Picture Story Book directed art
PYP concepts: Responsibility; Change
PYP attitudes: Independence; Curiosity

PYP learner profiles: Knowledgeable; Communicator


Japanese
Topic






Classroom instructions
( stand up, sit down, look, listen)
numbers(1-10)
Japanese stories
Japanese songs and dances
origami


Concepts Form (pattern)
Perspective (beliefs )Perspective ( point of
view of others)
Specialist News (cont'd)
Physical Education





Focus: Developing their gross motor skills in bouncing, catching,
rolling and underarm throwing.
Playing a variety of games to develop students understanding of
rules.
Concepts: Function: How does this movement work?
Attitudes: Confidence: Gaining confidence in their ability as
learners.
Learner Profile: Risk Takers: willing to try new skills and learn
from any mistakes made.
Music
WHAT WAS IT LIKE WHEN YOU WERE YOUNG?
 Focus:
 *Becoming familiar with the musical elements of Beat, Pitch and tempo.
 * Learning to read a simple music score and playing it with percussion instruments...their introduction
to written music.
 *Learning to play the chime bars using correct technique.
 *Responding to music creatively and learning a line-dance.
 *Singing fun songs related to the Unit of Inquiry: e.g. 'Today I Feel Older', 'Tadpole Blues', and 'Sunny
Side of Life'.
 Concepts: Change, connection, perspective.
 * Exploring the questions: "How does music connect me to other people?", "How can we change the
way we play or move to convey a different meaning?" and "How has technology changed the way
people listen to music? Using the song "Tadpole Blues" as a stimulus, discuss how the perspectives of
the frog's and tadpole's life, changed.
 Attitudes: Appreciation, Curiosity
 * Listening to music and singing songs their grandparents may have learnt.
 * Listening respectfully to the creative performances of other class groups.
*Learning to appreciate the ideas of others in the class.



Learner Profile: Reflective, Open Minded
* "How can some songs help us understand the past?
* Listening to and singing songs, that sound 'different'...to encourage an open minded attitude to
music from other cultures.