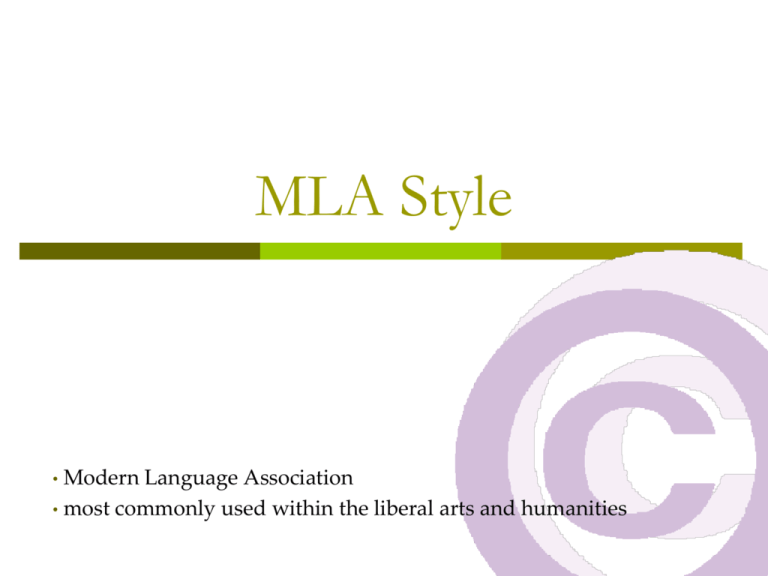 MLA Style
Modern Language Association
• most commonly used within the liberal arts and humanities
•
What is MLA Style
Specifications for essays and reports

Layout of paper

Citing of resources (embedded and
Citation List)
Why Cite
Academic honesty
 Give credit to those who earned it
 Give credibility to your paper
 If you don't cite, you are plagiarising
 Plagiarising is cheating

Plagiarism is:

Copying all or part of another person's work

Paying another person to write your essay or
report

Having another person write your essay or report

Failing to cite another person's ideas

Rewording, summarizing or paraphrasing
another's ideas without giving credit

Stealing another person's essay or report

Copying all or part of another source, such as
information found in a website, without citing the
source
Glenforest's Plagiarism Policy
Zero for the paper
 Plagiarism Workshop completion
 Parents are informed
 Note put in student record
 Repeated offenses:




Meeting with Principal
Suspension
Loss of Credit
You don't need to cite…
• Your own ideas or analysis
• Primary research (e.g. surveys you conducted)
• Commonly known information (i.e.: the earth is
round, we breathe oxygen, Canada has 10
provinces, the prime minister of Canada)
You DO need to cite…








Quotations
Images, art, maps, photographs, charts
Paraphrased information (Note: changing one or
two words is NOT paraphrasing!)
Summarized information
Cartoons
Advertisements
Audio Visual Materials (music, radio, DVD, MP3
files, broadcast etc.)
Statistics
A Typical Paper
• No title page
• Header on all pages
• 1"/2.5cm margins
• double spaced
• 12 point font
• Times New Roman
• every paragraph is
indented 1"/2.5 cm
1st Step for Citing
• New page
• Title is "Works
Cited"
• Entry for every
resource cited in
the paper
• Double spaced
• Hanging indent
• Very specific rules
for each resource
(check Source It!)
• Alphabetical order
by first item in the
list
2nd Step for Citing

Place embedded
citations throughout
your essay wherever
you use someone else's
work (direct quote or
paraphrasing)

refers to an item listed
in your Works Cited
page

For a quotation of five
lines or more, introduce
the passage in your own
words, then indent the
block of quoted text one
inch from the left
margin.
Embedded Citations

place citation in brackets, at the end of the quote
or piece of information being cited

provide the first piece of info from the Works Cited
page (For long titles, the first 2 or 3 words is
fine.)

provide the page number, if available
(Bliss 12)
(14) When author is mentioned in the lead-up,
or subsequent citations for author already cited
("Biography for…")
Sample essay
The Tricky Part: formatting the citations

Citations are different for every type of
resource

Follow the formats and examples for the types
of materials you are using

Use Source It online to find out the formatting
(found under the Library tab, clikc on
Bibliographies and Plagiarism page, scroll down
to MLA)

Use the citation tools within the databases

Use http://www.bibme.org,
www.citationmachine.net or www.easybib.com
or other citation tools on the web to help you
Works Cited: Guiding Principles

Give as much information as possible

Make sure your teacher can acquire the
resource

If something is missing, leave it out

Cite every resource you use

DO NOT cite wikis or search engines
(e.g. Google, Wikipedia, Yahoo)

Use reliable sources only
For your convenience, this PowerPoint and a video
on "How to set up your MLA paper", have been
posted on the Bibliographies and Plagiarism page
on the website under Library.
With thanks to….
The
library staff at Glenforest S. S.
Your teacher for caring enough to bring
you here
Source It!