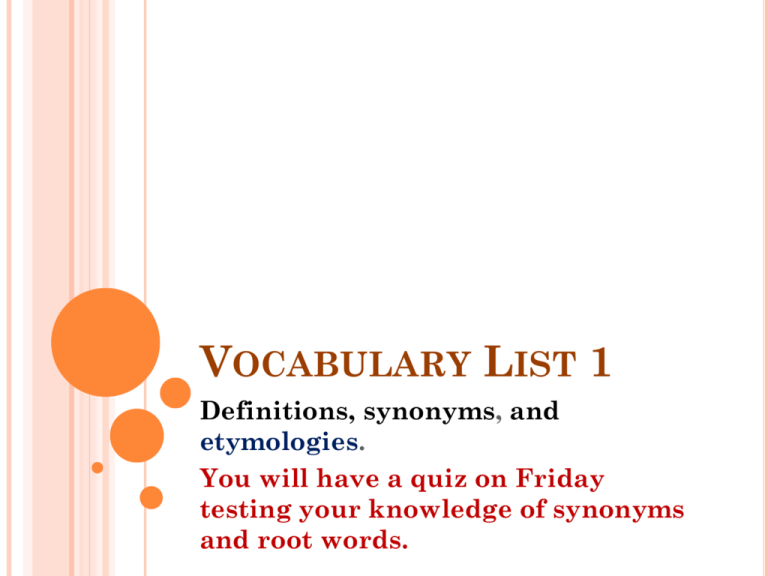 VOCABULARY LIST 1
Definitions, synonyms, and
etymologies.
You will have a quiz on Friday
testing your knowledge of synonyms
and root words.
HERCULEAN (HUR-KYUH-LEE-UN)
Adjective
 tremendous in size strength, difficulty, or effort
 Synonyms: mighty, powerful, massive, immense,
colossal (kuh-LOS-ul)

Greek Mythology: The son of both a mortal
woman and Zeus (King of the gods), Hercules was
forced to perform near impossible tasks to make
amends for being tricked into killing his own
children.
 On your flashcard: write a sentence that
meaningfully uses the vocabulary word

PANDEMONIUM (PAN-DE-MOH-NEE-UM)
noun
 utter confusion or wild uproar
 Synonyms: disorder, chaos, noisy confusion,
tumult (TOO-mult)

In the epic poem Paradise Lost: the name of the
palace built in the middle of Hell, "the high
capital of Satan and all his peers," coined by John
Milton (1608-1674)
 from Greek pan- "all" + Latin daemonium "evil
spirit"

PANDER
(PAN-DER)
verb
 play up to another's desires and weaknesses
 Synonyms: indulge, gratify, cater (Kay-ter)

Character who procured for Troilus the love of
Cressida in Troilus and Creseyde
 Basically, Pander set up "meetings" for these two
in hopes of gaining political favor, so he played to
Troilus's weakness to get what he wanted

CYNICAL
(SIN-IH-KUL)
adjective
 doubting the goodness and sincerity of human
motives
 Synonyms: distrustful, sneering, derisive (dihRYE-siv)

Derives from the Greek word for dog-like and dog
(kynos)
 A group of philosophers who rejected much of
what society told them was proper in order to live
in "virtue of nature"

STIGMA
(STIG-MUH)
noun
 mark of disgrace
 Synonyms: stain, taint (TAINT)

Greek stigma (gen. stigmatos) "mark, puncture,"
especially one made by a pointed instrument,
from root of stizein "to mark, tattoo,"
 Figurative meaning "a mark of disgrace" is from
1610s.

ROOT WORDS

Fid – faith


Fragile; fragment
Mal – bad

Malnutrition; malice
Somn – to sleep

Frag – to break


Fidelity; confidence


Insomnia; somnambulist
(sleepwalker)
Spec – to look

Spectator; retrospect
Root words are building blocks to functioning words. For example:
One would not say he or she has fid in another. (This is silly.)
One would say he or she has confidence in another.