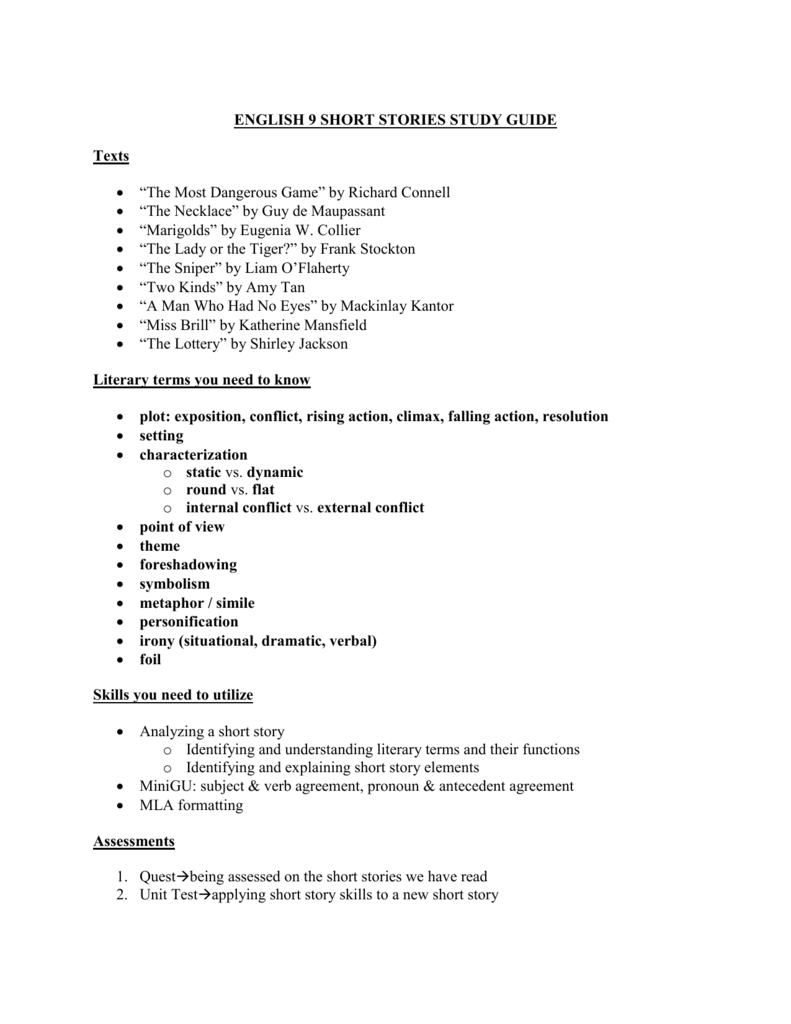 ENGLISH 9 SHORT STORIES STUDY GUIDE
Texts









"The Most Dangerous Game" by Richard Connell
"The Necklace" by Guy de Maupassant
"Marigolds" by Eugenia W. Collier
"The Lady or the Tiger?" by Frank Stockton
"The Sniper" by Liam O'Flaherty
"Two Kinds" by Amy Tan
"A Man Who Had No Eyes" by Mackinlay Kantor
"Miss Brill" by Katherine Mansfield
"The Lottery" by Shirley Jackson
Literary terms you need to know











plot: exposition, conflict, rising action, climax, falling action, resolution
setting
characterization
o static vs. dynamic
o round vs. flat
o internal conflict vs. external conflict
point of view
theme
foreshadowing
symbolism
metaphor / simile
personification
irony (situational, dramatic, verbal)
foil
Skills you need to utilize



Analyzing a short story
o Identifying and understanding literary terms and their functions
o Identifying and explaining short story elements
MiniGU: subject & verb agreement, pronoun & antecedent agreement
MLA formatting
Assessments
1. Questbeing assessed on the short stories we have read
2. Unit Testapplying short story skills to a new short story
Sample Multiple Choice Questions
Circle the answer below that best fits the question or statement provided.
1. What is the significance of the resolution in "A Man Who Had No Eyes"?
A. It identifies the two men as having a similar outlook on life.
B. It makes Markwardt look like a man of his word.
C. It highlights Parsons as a merciful character.
D. It establishes Mr. Parsons as a foil for Markwardt.
2. What was the direct cause of Rainsford falling off the boat?
A. his jumping up on the side of the boat to hear gunshots from the shore
B. his pipe falling into the water
C. his attempt to catch his pipe
D. his loss of footing on the slippery side of the boat
3. Which of the morals below identifies the main moral in "Two Kinds"?
A. Always do your best, no matter what the circumstances.
B. Remember to thank those who have been instrumental in your success.
C. Avoid complaining about something you can change.
D. Do not compare yourself to others.
4. What emotion does Lizbeth experience in "Marigolds" after she damages the garden?
A. hilarity
B. fright
C. guilt
D. anger
5. Why does the author of "The Sniper" avoid using names in the story?
A. to provide an easier read for people not used to Irish names
B. to explain why the sniper did not know who he killed in the end
C. to emphasize that this story can relate to anyone in similar circumstances
D. all of the above
Sample Short Answer Prompts
1. Choose a theme from any of the stories and explain how it is revealed in the plot.
2. Choose a character from any story and identify how the author characterizes him/her.
3. How does the point of view of "Miss Brill" add to the tone of the story?