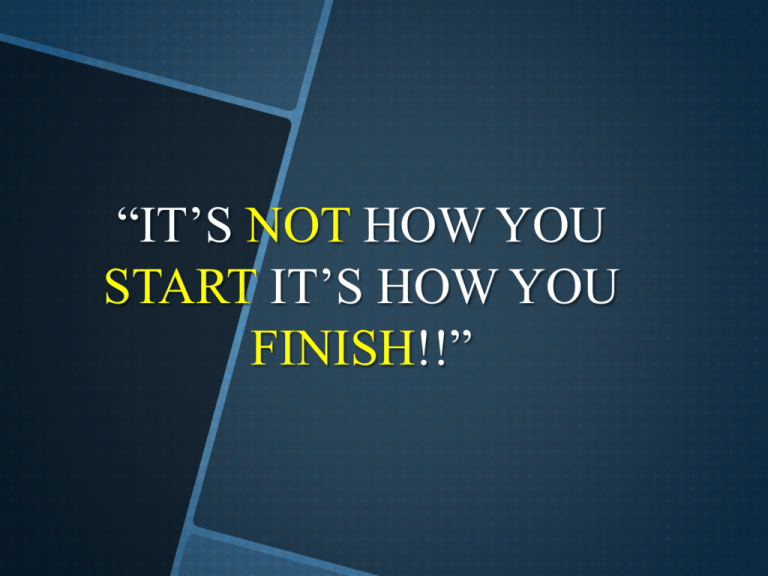 "IT'S NOT HOW YOU
START IT'S HOW YOU
FINISH!!"
How to Read the Schedule of Classes
Course
Title
Course Name & No.
Must be complete
prerequisite before
enrolling in this class
Section number
Corse units
ENGLISH 21 -- ENGLISH FUNDAMENTALS (NDA) – 3 units
Prerequisites: Developmental Communications 21 & 23 or ESL 6A and 6B, or appropriate placement
recommendation based on assessment results and other multiple measures. It introduces the
students to the fundamentals of academic reading, writing, and thinking. Students develop reading
comprehension by studying literary, expository and technical essays, which also provide the subjects
of their essays. Basic grammar, punctuation, sentence structure, as well as diction are taught.
0919
Evening classes
in bold
Means course is
non degree
applicable (NDA)
8:00 – 10:30
MTWTH
AB PRINCE
LL 102
6:30 – 9:00
MTWTH
M ROBERTS
LL110
Evening Classes
4020
Building &
room number
Transferability
symbol
ENGLISH 101 – COLLEGE READING AND COMPOSITION I (UC:CSU) – 3 UNITS
Class time
Prerequisite: English 28 or 31 with a grade of "C" or better, or appropriate placement recommendation based on
assessment results and other multiple measures. Exercises are provided for the student in the writing of college
level compositions and the process of careful critical analysis of college-level readings.
0913
10:40 – 1:10
MW
(8 Week Class – Starts 4/3/2006, Ends 6/5/2006)
Designates a
short-term class
Day(s) class
meets
S TURNER
Course
description
LL 213
Class
instructor's
name
1.Meet with a counselor to determine which classes to take
2.Review the "schedule of classes" and pick the days and time you want to take your
classes
3. The "schedule of classes" will be divided into course disciplines and look like the
picture above
4.Please review this document so you will know how to read the "schedule of classes"
Time to see a counselor
What to bring when I
see the counselor?
1.Your
assessment
scores
(placement
results)
2.Copies of
transcripts from
any other
college(s)
attended –
unofficial
copies are ok
Questions I should ask myself
before seeing the counselor?
1.What do I want to receive from
this college? A degree,
certificate, transfer credits?
2.What do I want to major in?
3.Do I want to transfer to a 4 year
college some day?
4.What is my long term,
educational goal?
I placed into a Basic Skills math or English
course…what does this mean?
These courses are designed for students
who need to further develop their English
and/or math skills before they should take
college level courses.
Do not delay taking these courses because
you will only delay your progress towards
meeting your educational goals
Can I take college level courses at the
same time I complete basic skills classes?
The answer is yes, but not just any class is
recommended.
You should see a counselor for more
information about basic skills courses
What Matters
to you??