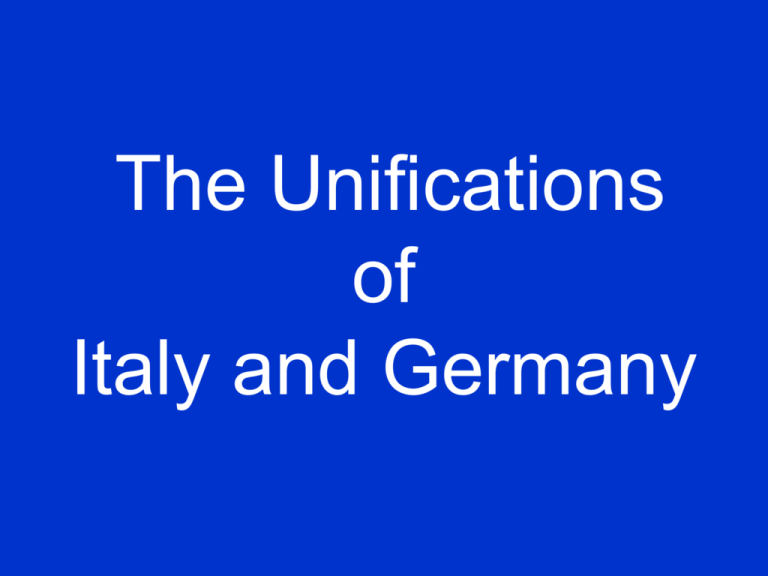 The Unifications
of
Italy and Germany
Why Did Italy Unite
• The Spread of
Nationalism
• Revolutions of 1848:
Liberalism and
Nationalism Split
• Defeat of Russia in
Crimean War
• Isolation of Austria
• Re-emergence of France
under Napoleon III
Italy Becomes a Nation-State
• Giuseppe Mazzini
(1805-1872)
• Revolutionary
democrat
• Republican
Maps
Giuseppe Garibaldi (1807-1882)
•
•
•
•
Republican
Revolutionary
Military leader
guerilla fighter
Count Camillo Benso di Cavour
(1810-1861)
• Sardinian nobleman
• Prime minister of
Sardinia-Piedmont
• King Victor
Emmanuel II (18491861)
• Conservative
• Ambitious
• Pragmatic
Before and After
Napoleon III, Emperor of France
(1808-1873; r. 1848-1870)
•
•
•
•
Nephew of Napoleon
Re-emerging French Empire
Sounded democratic
Believed in personal rule
and a centralized state
• Made a deal with Cavour:
• France promised Nice and
Savoy (from Piedmont)
• Sardinia promised
Lombardy and Venetia (from
Austria)
Unification Of Italy Timeline
1859
1860
1860
May
1860
1861
Austria goes to war against SardiniaPiedmont (and France)
Napoleon bails, but Austria cedes
Lombardy
Plebescites in Tuscany, Parma, and
Modena
Garibaldi and thousand Red Shirts go to
Sicily
Kingdom of Italy declared (King Victor
Emmanuel)
Massimo d'Azeglio
• First speaker of
the new Italian
Parliament:
"We have made
Italy, now we
must make
Italians!"
1.5 page essay
• What makes an American different from a
citizen of another nation? What makes an
American have that national identity?
• Is nationalism good or bad? Why?
• What's the purpose of nationalism? When
can it be constructive? When can it be
destructive?
Unification of Germany, 1864-1871
• Otto von Bismarck
(1815-1898)
• Junker
• Brilliant diplomat
• "Blood and iron"
• Not revolution
• 1862 became
Minister-President
More on Bismarck
• Social Security and Employee
Welfare
• Able to unify the state by promising
improved economic opportunities
• Leaves office when Kaiser Wilhelm
II takes power
The German Confederation 1815
Unification of Germany (cont.)
• William I, King of
Prussia (r. 1861-1888)
• Schleswig-Holstein
(1864)
– Two disputed
territories (Denmark)
• Austro-Prussian war
of 1866
– The Seven Weeks' War
• Austria had been the rival
for the goal of German
Unification
Franco-Prussian War of 1870-71
• January 18, 1871:
Second German
Empire (Reich)
declared in the
Palace of Versailles,
Hall of Mirrors
Unification of Germany
Conference of Berlin
• 1884
• European leaders met together to divide
up Africa peacefully
• Africans had no say in the agreement
• Only 2 African countries were not
colonized by 1914.