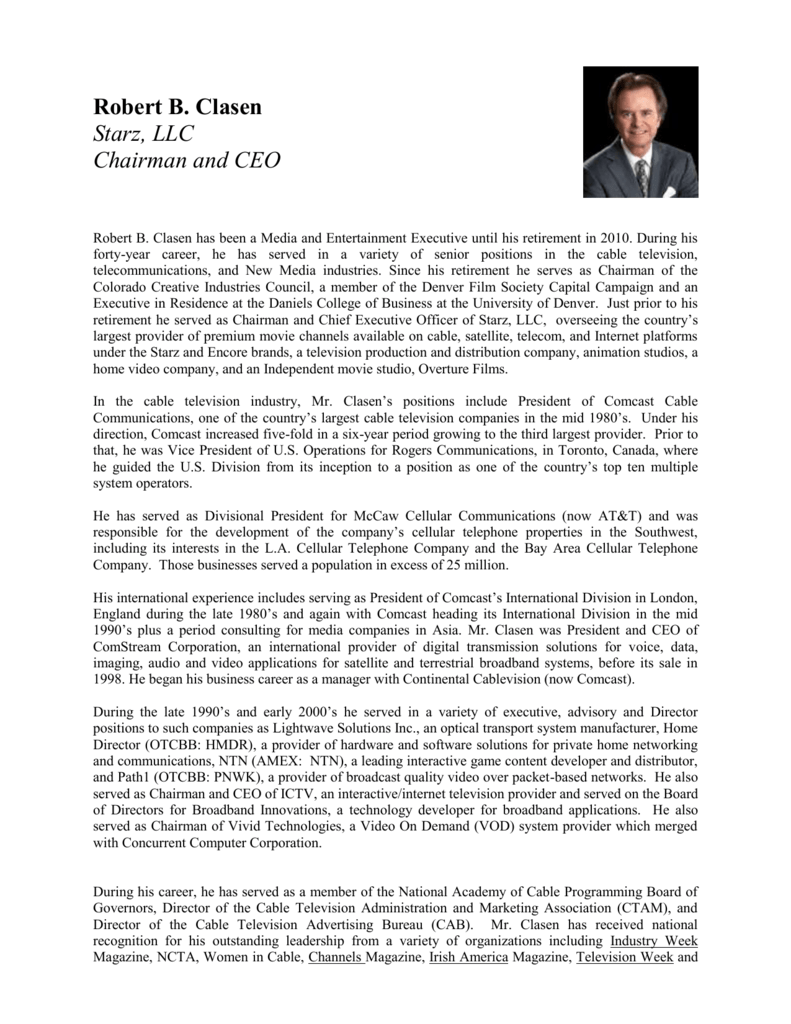 Robert B. Clasen
Starz, LLC
Chairman and CEO
Robert B. Clasen has been a Media and Entertainment Executive until his retirement in 2010. During his
forty-year career, he has served in a variety of senior positions in the cable television,
telecommunications, and New Media industries. Since his retirement he serves as Chairman of the
Colorado Creative Industries Council, a member of the Denver Film Society Capital Campaign and an
Executive in Residence at the Daniels College of Business at the University of Denver. Just prior to his
retirement he served as Chairman and Chief Executive Officer of Starz, LLC, overseeing the country's
largest provider of premium movie channels available on cable, satellite, telecom, and Internet platforms
under the Starz and Encore brands, a television production and distribution company, animation studios, a
home video company, and an Independent movie studio, Overture Films.
In the cable television industry, Mr. Clasen's positions include President of Comcast Cable
Communications, one of the country's largest cable television companies in the mid 1980's. Under his
direction, Comcast increased five-fold in a six-year period growing to the third largest provider. Prior to
that, he was Vice President of U.S. Operations for Rogers Communications, in Toronto, Canada, where
he guided the U.S. Division from its inception to a position as one of the country's top ten multiple
system operators.
He has served as Divisional President for McCaw Cellular Communications (now AT&T) and was
responsible for the development of the company's cellular telephone properties in the Southwest,
including its interests in the L.A. Cellular Telephone Company and the Bay Area Cellular Telephone
Company. Those businesses served a population in excess of 25 million.
His international experience includes serving as President of Comcast's International Division in London,
England during the late 1980's and again with Comcast heading its International Division in the mid
1990's plus a period consulting for media companies in Asia. Mr. Clasen was President and CEO of
ComStream Corporation, an international provider of digital transmission solutions for voice, data,
imaging, audio and video applications for satellite and terrestrial broadband systems, before its sale in
1998. He began his business career as a manager with Continental Cablevision (now Comcast).
During the late 1990's and early 2000's he served in a variety of executive, advisory and Director
positions to such companies as Lightwave Solutions Inc., an optical transport system manufacturer, Home
Director (OTCBB: HMDR), a provider of hardware and software solutions for private home networking
and communications, NTN (AMEX: NTN), a leading interactive game content developer and distributor,
and Path1 (OTCBB: PNWK), a provider of broadcast quality video over packet-based networks. He also
served as Chairman and CEO of ICTV, an interactive/internet television provider and served on the Board
of Directors for Broadband Innovations, a technology developer for broadband applications. He also
served as Chairman of Vivid Technologies, a Video On Demand (VOD) system provider which merged
with Concurrent Computer Corporation.
During his career, he has served as a member of the National Academy of Cable Programming Board of
Governors, Director of the Cable Television Administration and Marketing Association (CTAM), and
Director of the Cable Television Advertising Bureau (CAB). Mr. Clasen has received national
recognition for his outstanding leadership from a variety of organizations including Industry Week
Magazine, NCTA, Women in Cable, Channels Magazine, Irish America Magazine, Television Week and
was selected by Cable Television Business as Executive of the Year in 1988 and as a Convergence
Pioneer by Cable World in 2000. He was inducted in to the Cable Pioneers in 2001.
Mr. Clasen is a graduate of Bowling Green State University in Ohio where he earned his graduate degree
in Counseling Psychology and was selected for the 100 Years/100 People honor in 2010. He resides in
Denver, Colorado with his wife, Liane, and has three grown children.