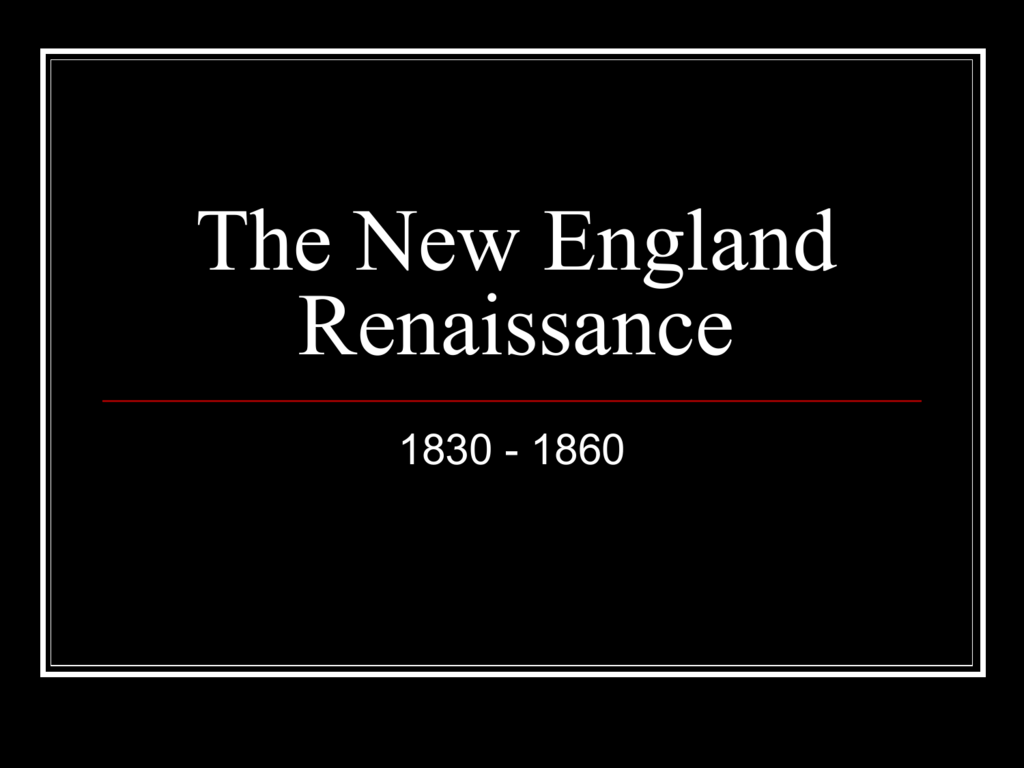 The New England
Renaissance
1830 - 1860
ROMANTICISM

A literary and artistic movement of the 18th
and 19th centuries that placed value on
emotion or imagination over reason, the
individual over society, nature and wildness
over human works, the country over the
town, common people over aristocrats, and
freedom over control or authority.
ROMANTICISM

Focused on a "higher reasoning" which was
the ability to grasp metaphysical truths in
the physical world.

Metaphysical: abstract concepts such as being,
knowing, cause, identity, time, and space.
ROMANTIC WRITERS

Edgar Allan Poe





The Tell-tale Heart
The Pit and the Pendulum
The Raven
The Fall of the House of
Usher






The House of the Seven
Gables
The Scarlet Letter
Rappaccini's Daughter


Moby Dick
Bartleby the Scrivener
Charles Dickens

Nathaniel Hawthorne

Herman Melville
A Tale of Two Cities
A Christmas Carol
Harriet Beecher Stowe

Uncle Tom's Cabin
EDGAR ALLAN POE

Accomplishments




Co-created the modern short story (along with Nathaniel
Hawthorne)
Invented detective fiction
Wrote lyric poetry
Pioneered the psychological horror story.

Modern-day psychological horror stories:
 The Sixth Sense
 Silence of the Lambs
ROMANTICISM

The most famous outcome of the Romantic
Era was TRANSCENDENTALISM
TRANSCENDENTALISM


Transcend: be or go beyond the range or
limits of
Transcendentalism was a belief in a realm
of spiritual or transcendent truths beyond
sense perception and material existence.
TRANSCENDENTALISM

Transcendentalist Values

Spiritual over material success


Opposed materialism, or the desire for increased
wealth (which had already become the core of
American values)
Dismissed tradition and social convention--any
authority beyond that of the individual
conscience.

It is more important to be true to your own
convictions than to those of society
TRANSCENDENTALIST WRITERS

Ralph Waldo Emerson


Self-Reliance
Henry David Thoreau

Walden
NEW ENGLAND
RENAISSANCE POETRY

A group of poets during this era became
known as The Fireside or Schoolroom
Poets because their work was quite popular
among families reading in the evening
around the fire and because their work
came to be recited and memorized widely
in American schoolrooms.
FIRESIDE/SCHOOLROOM POETS





Henry Wadsworth Longfellow
James Russell Lowell
John Greenleaf Whittier
Oliver Wendell Holms
Their most popular poems were songlike,
containing regular rhymes that made the poems
easy to recite and remember. These poets
offered mostly idealized, romantic, morally
uplifting views of the nation and its past, in lyric
and narrative verse.
EMILY DICKINSON

Dickinson's style was completely different
from that of the Schoolroom Poets'

Dickinson's poetry does not follow the regular
rhythmic patterns of the Schoolroom poets; it is
full of interrupted thoughts and sudden bursts of
awareness, often jarring the reader through irony
and paradox into a wholly different, more
unsettling view of the world.