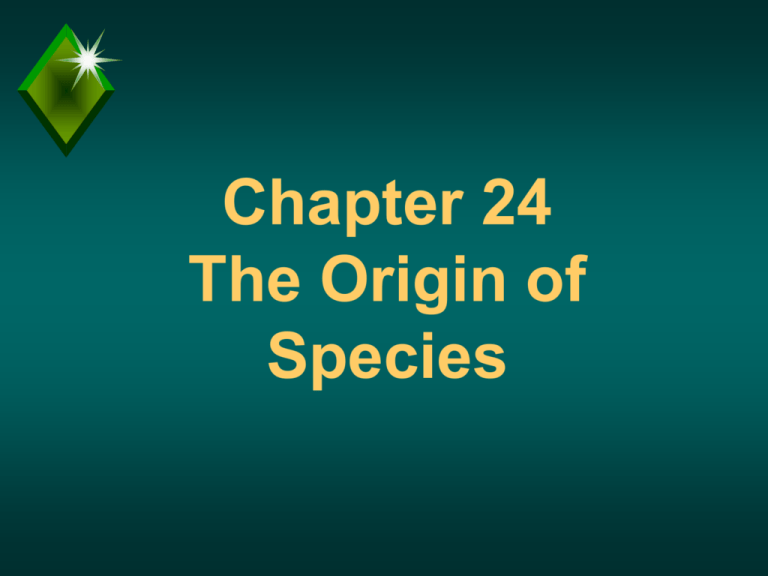 Chapter 24
The Origin of
Species
Question?
What
is a species?
Comment - Evolution theory
must also explain how
species originate.
Two Concepts of
Species
Morphospecies
Problem
Where
does extensive
phenotype variation fit?
Two Schools
Biological Species
Key Points
Heaven Scent
an F1 hybrid between
2 species, but sterile.
Speciation Requires:
Reproductive Barriers
Main Types of Barriers
Prezygotic - Types
Habitat Isolation
Behavioral Isolation
Temporal Isolation
Mechanical Isolation
Gametic Isolation
Postzygotic Types
Reduced Hybrid
Viability
Reduced Hybrid
Fertility
Hybrid Breakdown
Modes of Speciation
Allopatric Speciation
Example
Another Example
Conditions Favoring
Allopatric Speciation
Conditions Favoring
Allopatric Speciation
Result
Adaptive Radiation
Mechanism
When the Environment
Saturates
Sympatric Speciation
Plants
Polyploid Types
Autopolyploid
Allopolyploid
Animals
Gradualism Evolution
Gradualism Predicts:
Problem
Punctuated Evolution
Punctuated Equilibrium
Predictions
Predictions
Possible Mechanism
Comment
Origin of Evolutionary
Novelty
Ex - Homeosis
Gene Duplications
Future of Evolution ?
Look
for new theories and
ideas to be developed,
especially from new fossil
finds and from molecular
(DNA) evidence.
Evolutionary Trends
Evolution
is not goal
oriented. It does not produce
"perfect" species.
Remember – species survive
because of their adaptations.
They don't adapt to survive.
Summary
Be
able to discuss the main
theories of what is a
"species".
Know various reproductive
barriers and examples.
Summary
Know
allopatric and
sympatric speciation.
Be able to discuss
gradualism and punctuated
equilibrium theories.
Summary
Recognize
various ideas
about the origin of
evolutionary novelties.