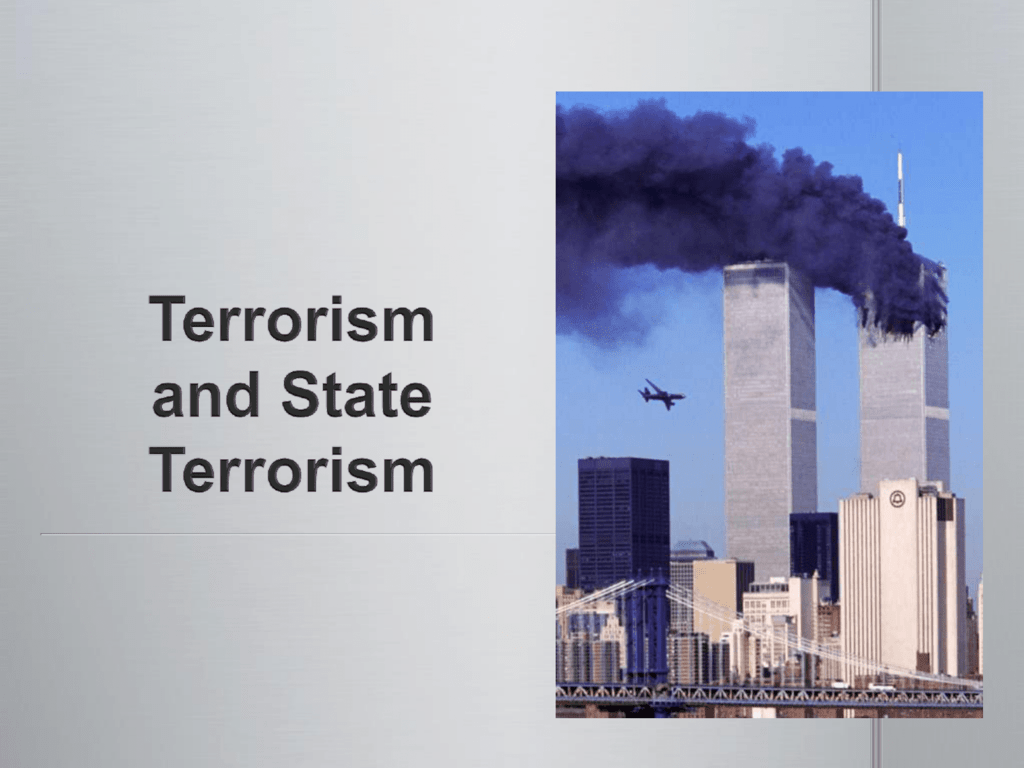 What is terrorism?
What are the social and political
effects of terrorism?
Why do non-state groups
choose terrorism as a form of
political action?
Why do states use terrorism?
 Definitions: What is terrorism?
 Non-state terrorist groups and their
aims
 Who gets labelled a terrorist? Who
doesn't?
 The efficacy of terrorism
 State-sponsored terrorism
"The state is
an entity
which claims
a monopoly
on the
legitimate use
of violence."
(Max Weber)
 Rejects the notion that only states can
legitimately use violence.
 Is the use of violence to achieve political
objectives
 Different from other forms of violence
because it's never aimed just at the
people it harms
 Designed to have far-reaching
psychological effects
 Terrorist attacks
are designed to
gain maximum
publicity.
 Media coverage
amplifies
psychological
effect.
 Targets are
often symbolic
or iconic: the
goal is to gain
attention for a
cause and
destroy what
the target
stands for, not
to eliminate the
object itself.
 Example: The
Terrorism is often
a tool of nonstate groups
who do not
control armies
or vast
armories.
It is cost-effective
violence for
small groups.
Sendoro Luminoso
FARC: Revolutionary Armed Forces of Colombia
Islamic
Non-Islamic
 Al-Qaeda
 ETA
 Hamas
 Red Brigades
 Hezbollah
 FARC
 Shining Path
 KKK
 Weather
Underground
 Often formed in
refugee camps
 Can be organized
around religion or
political ideology
(eg Marxism,
nationalism)
Soldier in a FARC poppy field
 Narcotics
 Remittances
 Natural resources
 Covert State
Funding
Soldier in a FARC poppy field
 Terrorism is a technique, not a property
intrinsic to groups.
 The label "terrorist" is meant to label
some people's use of violence illegitimate
(while others' use of violence is made
legitimate.)
 States often label non-state groups
terrorists, while claiming their own violent
action is an acceptable use of force.
 The label itself is a political tool.
Hamas Controversy
 US has put Hamas
on official list of
terrorist groups.
 Hamas is now the
democratically
elected government
of the Gaza Strip.
 Should the US be
willing to have
diplomatic relations?
B
 Can create chaos and discord in society
 Can weaken political institutions
 Can force the state to incur huge costs to
prevent terrorism




Police
Intelligence
Disaster preparedness
US wars in Afghanistan and Iraq=$4 trillion
 Often creates
citizen support for
the state
 Can strengthen the
resolve of target
governments
 Fosters a powerful
backlash against
the non-state group
 Arab Spring and the
irrelevance of alQaeda.
 The attempt by a state to use violence
against civilians to win political conflict with
non-state groups.
 Practiced byauthoritarian states and in
breakaway regions.
 Can be state-sponsored terrorism against
third countries
 Example: Libya and the Lockerbie bombing
 1700s—absorbed into Russian empire
 1930s—Stalinist purges kill many
 1944—entire Chechen population deported
 1957—allowed to return
 1992—Chechen declaration of
independence
 1994 and 1999—Chechen wars
 Today—ongoing kidnappings and shootings
Terrorism is a political tool
It can be used by both state
and non-state actors
The monopoly of legitimate
violence is being challenged
in the post Cold War World.