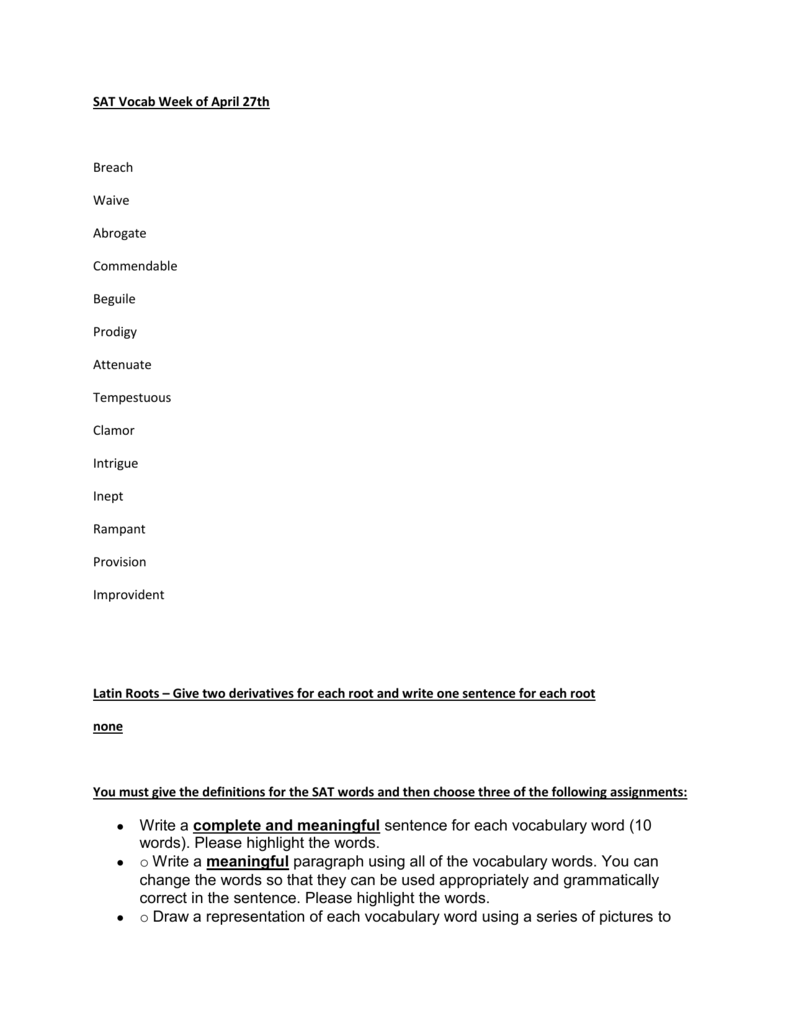 SAT Vocab Week of April 27th
Breach
Waive
Abrogate
Commendable
Beguile
Prodigy
Attenuate
Tempestuous
Clamor
Intrigue
Inept
Rampant
Provision
Improvident
Latin Roots – Give two derivatives for each root and write one sentence for each root
none
You must give the definitions for the SAT words and then choose three of the following assignments:
●
Write a complete and meaningful sentence for each vocabulary word (10
words). Please highlight the words.
● o Write a meaningful paragraph using all of the vocabulary words. You can
change the words so that they can be used appropriately and grammatically
correct in the sentence. Please highlight the words.
● o Draw a representation of each vocabulary word using a series of pictures to
describe the word.
● o List 2 synonyms and 1 antonym for each word. Be creative with your answers
so that there are no blank spaces.
● o Design a crossword puzzle using the words as the answers and the definitions
as the clues. It's OK to do it online. Please provide a solution to your puzzle.
● o Write out the adverb, adjective, verb, and noun form of each vocabulary word.
Some words may not fit every category, or they may repeat categories.