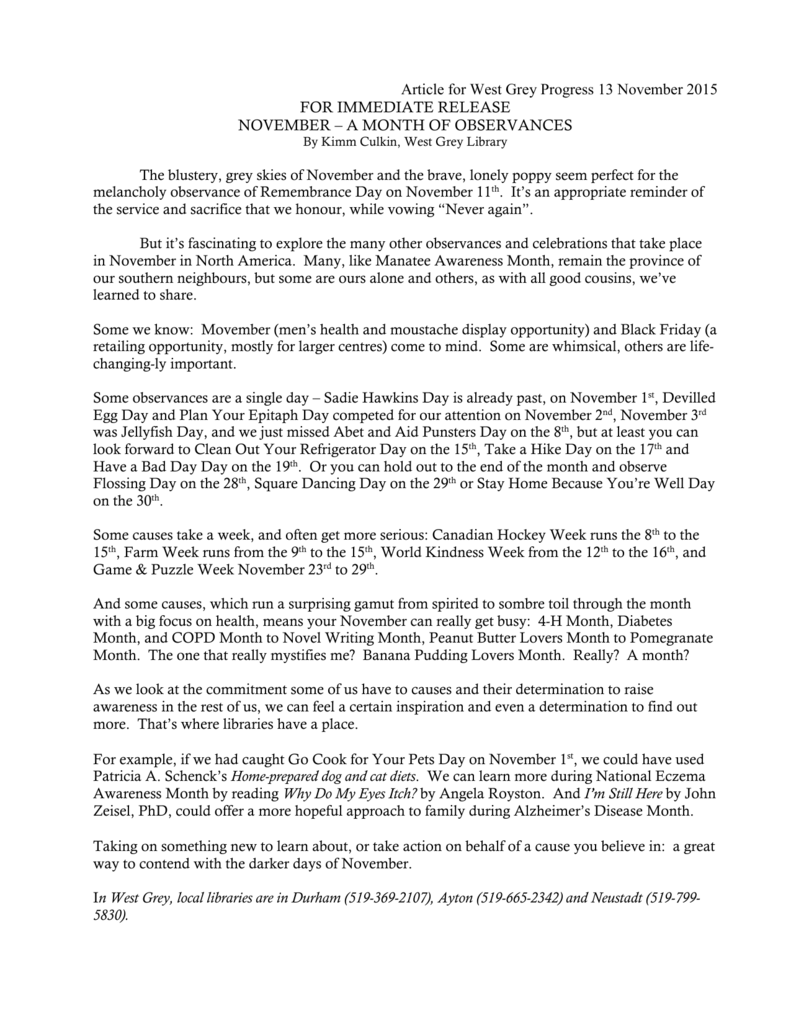 Article for West Grey Progress 13 November 2015
FOR IMMEDIATE RELEASE
NOVEMBER – A MONTH OF OBSERVANCES
By Kimm Culkin, West Grey Library
The blustery, grey skies of November and the brave, lonely poppy seem perfect for the
melancholy observance of Remembrance Day on November 11th. It's an appropriate reminder of
the service and sacrifice that we honour, while vowing "Never again".
But it's fascinating to explore the many other observances and celebrations that take place
in November in North America. Many, like Manatee Awareness Month, remain the province of
our southern neighbours, but some are ours alone and others, as with all good cousins, we've
learned to share.
Some we know: Movember (men's health and moustache display opportunity) and Black Friday (a
retailing opportunity, mostly for larger centres) come to mind. Some are whimsical, others are lifechanging-ly important.
Some observances are a single day – Sadie Hawkins Day is already past, on November 1st, Devilled
Egg Day and Plan Your Epitaph Day competed for our attention on November 2nd, November 3rd
was Jellyfish Day, and we just missed Abet and Aid Punsters Day on the 8th, but at least you can
look forward to Clean Out Your Refrigerator Day on the 15th, Take a Hike Day on the 17th and
Have a Bad Day Day on the 19th. Or you can hold out to the end of the month and observe
Flossing Day on the 28th, Square Dancing Day on the 29th or Stay Home Because You're Well Day
on the 30th.
Some causes take a week, and often get more serious: Canadian Hockey Week runs the 8th to the
15th, Farm Week runs from the 9th to the 15th, World Kindness Week from the 12th to the 16th, and
Game & Puzzle Week November 23rd to 29th.
And some causes, which run a surprising gamut from spirited to sombre toil through the month
with a big focus on health, means your November can really get busy: 4-H Month, Diabetes
Month, and COPD Month to Novel Writing Month, Peanut Butter Lovers Month to Pomegranate
Month. The one that really mystifies me? Banana Pudding Lovers Month. Really? A month?
As we look at the commitment some of us have to causes and their determination to raise
awareness in the rest of us, we can feel a certain inspiration and even a determination to find out
more. That's where libraries have a place.
For example, if we had caught Go Cook for Your Pets Day on November 1st, we could have used
Patricia A. Schenck's Home-prepared dog and cat diets. We can learn more during National Eczema
Awareness Month by reading Why Do My Eyes Itch? by Angela Royston. And I'm Still Here by John
Zeisel, PhD, could offer a more hopeful approach to family during Alzheimer's Disease Month.
Taking on something new to learn about, or take action on behalf of a cause you believe in: a great
way to contend with the darker days of November.
In West Grey, local libraries are in Durham (519-369-2107), Ayton (519-665-2342) and Neustadt (519-7995830).