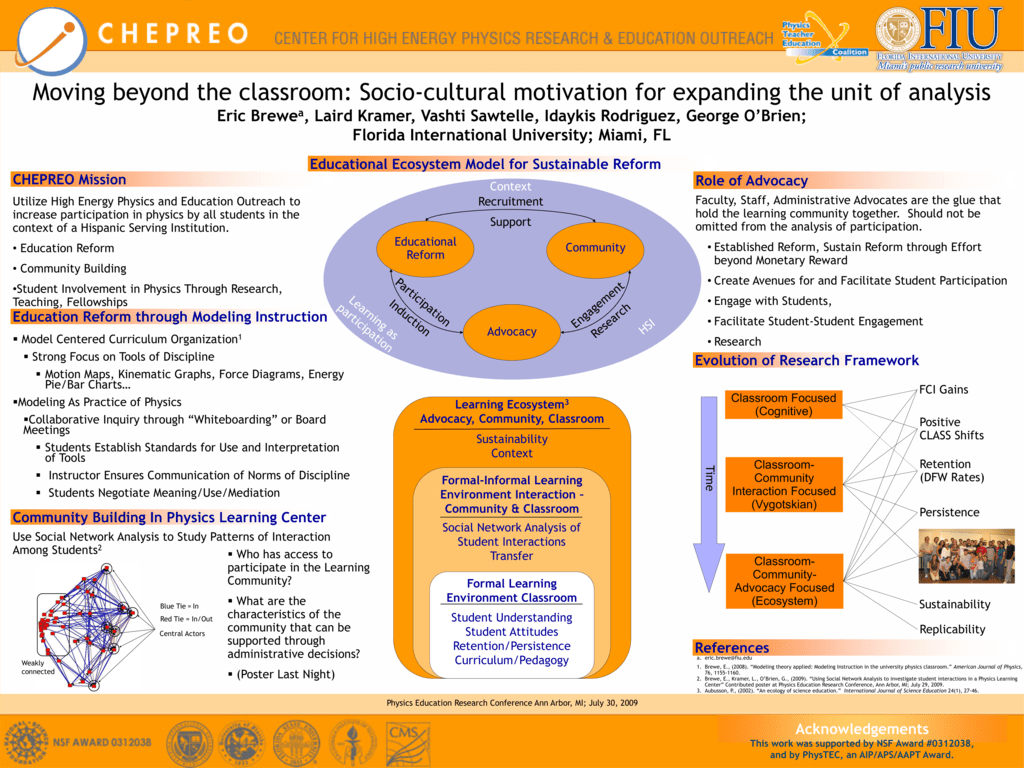 Moving beyond the classroom: Socio-cultural motivation for expanding the unit of analysis
Eric
a
Brewe ,
Laird Kramer, Vashti Sawtelle, Idaykis Rodriguez, George O'Brien;
Florida International University; Miami, FL
Educational Ecosystem Model for Sustainable Reform
CHEPREO Mission
Context
Recruitment
Utilize High Energy Physics and Education Outreach to
increase participation in physics by all students in the
context of a Hispanic Serving Institution.
Faculty, Staff, Administrative Advocates are the glue that
hold the learning community together. Should not be
omitted from the analysis of participation.
Support
Educational
Reform
• Education Reform
Role of Advocacy
Community
• Community Building
• Create Avenues for and Facilitate Student Participation
•Student Involvement in Physics Through Research,
Teaching, Fellowships
Education Reform through Modeling Instruction
Organization1
Community Building In Physics Learning Center
Use Social Network Analysis to Study Patterns of Interaction
Among Students2
 Who has access to
participate in the Learning
Community?
Blue Tie = In
Red Tie = In/Out
Central Actors
Weakly
connected
 What are the
characteristics of the
community that can be
supported through
administrative decisions?
• Engage with Students,
Advocacy
• Facilitate Student-Student Engagement
• Research
Evolution of Research Framework
Classroom Focused
(Cognitive)
Ecosystem3
Learning
Advocacy, Community, Classroom
Sustainability
Context
Formal-Informal Learning
Environment Interaction –
Community & Classroom
Social Network Analysis of
Student Interactions
Transfer
Formal Learning
Environment Classroom
Student Understanding
Student Attitudes
Retention/Persistence
Curriculum/Pedagogy
 (Poster Last Night)
Time
 Model Centered Curriculum
 Strong Focus on Tools of Discipline
 Motion Maps, Kinematic Graphs, Force Diagrams, Energy
Pie/Bar Charts…
Modeling As Practice of Physics
Collaborative Inquiry through "Whiteboarding" or Board
Meetings
 Students Establish Standards for Use and Interpretation
of Tools
 Instructor Ensures Communication of Norms of Discipline
 Students Negotiate Meaning/Use/Mediation
• Established Reform, Sustain Reform through Effort
beyond Monetary Reward
ClassroomCommunity
Interaction Focused
(Vygotskian)
ClassroomCommunityAdvocacy Focused
(Ecosystem)
FCI Gains
Positive
CLASS Shifts
Retention
(DFW Rates)
Persistence
Sustainability
Replicability
References
a. [email protected]
1. Brewe, E., (2008). "Modeling theory applied: Modeling Instruction in the university physics classroom." American Journal of Physics,
76, 1155-1160.
2. Brewe, E., Kramer, L., O'Brien, G., (2009). "Using Social Network Analysis to investigate student interactions in a Physics Learning
Center" Contributed poster at Physics Education Research Conference, Ann Arbor, MI; July 29, 2009.
3. Aubusson, P., (2002). "An ecology of science education." International Journal of Science Education 24(1), 27-46.
Physics Education Research Conference Ann Arbor, MI; July 30, 2009
Acknowledgements
This work was supported by NSF Award #0312038,
and by PhysTEC, an AIP/APS/AAPT Award.