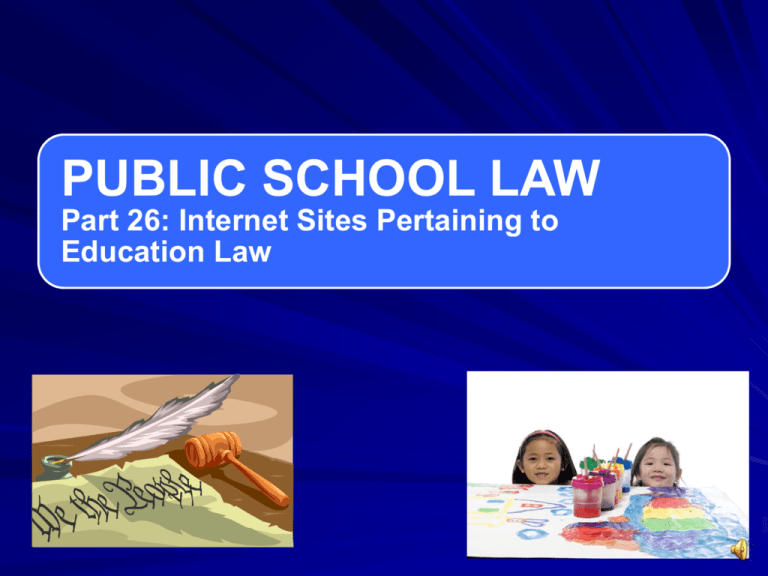 PUBLIC SCHOOL LAW
Part 26: Internet Sites Pertaining to
Education Law
EDUCATION LAW
INTERNET SITES
Education Law
Education Law: An Overview
http://topics.law.cornell.edu/wex/Education
Center for Law and Education
http://www.cleweb.org/
The Center for Law and Education (CLE) strives to make
the right of all students to quality education a reality and
to help enable communities to address their own
education problems effectively, with an emphasis on
assistance to low-income students.
Department of Education Website
The Department of Education website
contains discussion of how laws enacted
by Congress are being implemented. To
find this information, go to the Policies
page at.
http://www2.ed.gov/policy/landing.jhtml
General Education Law Sites
National School Boards Association Legal
Clips
http://www.nsba.org/MainMenu/SchoolLaw/LegalClips.aspx
Education Law Association
http://educationlaw.org/
Oklahoma School Law
Oklahoma State Department of
Education
The Oklahoma State Department of Education is "responsible for all
phases of state public school education...in addition to an
administrative services section, the department has other divisions:
Accreditation Services, Professional Services, School Improvement,
Special Education Services, and Federal Fiscal and Financial
Services." Source: Oklahoma Almanac, 2009-2010 p251
Texas
Texas Education Agency
The mission of the Texas Education Agency is to provide leadership,
guidance and resources to help schools meet the educational needs of all
students. The Texas Education Agency (TEA) comprises the commissioner
of education and agency staff. The TEA and the State Board of Education
(SBOE) guide and monitor activities and programs related to public
education in Texas. The SBOE consists of 15 elected members
representing different regions of the state. One member is appointed chair
by the governor. Some of the information here that would be useful to legal
researchers includes The Administrative Rules of the Texas Education
Agency, Special Education in Texas, the Texas Education Code, The State
Board for Educator Certification--administrative rules, and the No Child Left
Behind Act's implementation in Texas.
Center for Education and
Employment Law
Center for Education and Employment Law
"The Center for Education & Employment Law is a leading provider of
authoritative information for Human Resource and Education professionals. Our
publications provide you with critical information on key legal issues, keeping
you up-to-date on the latest legal developments that concern you most. This
information enables you to avoid costly mistakes and ensure compliance with
the law - before you find your organization in costly litigation." The Center for
Education and Employment Law publishes three books that we have in the
reference collection:
– U.S. Supreme Court Education Cases. 13th ed. (2005)
– Deskbook Encyclopedia of American School Law (2011)
– Students with Disabilities and Special Education Law 27th ed. (2010)
National School Boards Association:
School Law
"School boards must exercise their responsibilities in an increasingly
complex legal environment. Resources spent defending lawsuits
against public schools are resources not available for the education
of children. The National School Boards Association offers an array
of resources that help school boards and school attorneys to
understand this legal environment, to keep up to date with new and
emerging legal developments, and to anticipate, prevent, and
overcome legal challenges." Here are some of the things available
on this site: Council of School Attorneys, School Law Publications,
and Legal Clips, which discusses recent developments in Public
School Law.
You are almost done! One more short
Part, Part 27 and you will be DONE!!!