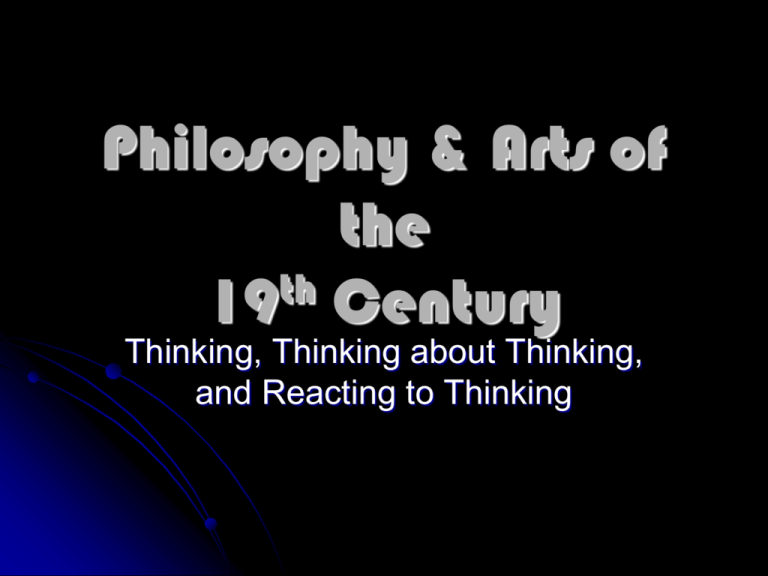 Philosophy & Arts of
the
th
19 Century
Thinking, Thinking about Thinking,
and Reacting to Thinking
I. Its All Their Fault
A. Darwin
B. Einstein
C. Freud
II. Nietzsche & "Will to Power"
A. Human motivation is desire for…
 Concludes a new moral code is evolving
 Judeo-Christian morality was NOT…
Tradition is OUT 
B. Will to Power  "Superman" Individual that can assert
power over himself; man of passion with the courage to follow his instinct.
"Eat from the tree of knowledge and be PROUD."
C. Immoralism  "When man no longer regards
himself as evil he ceases to be so." 
"God is dead. God remains dead. And we have
killed him" 
Parable of the Madman
D. Nihilism 
Old truths have lost their validity: believe in NOTHING
(Nietzsche DIDN'T buy this- felt his system was above nihilism 
)
III. Existentialism

A. Existentialists considered only ONE issue

B. Sǿren Kierkegaard



1. rejected Hegel's idea the philosophy is a
science
2.There are NO universal truths 
C. Jean-Paul Sartre  Must use free will to make own
choices…


 "terrifying freedom"  live without knowing if your choice…
D. Christian Existentialists 
IV. Modernism


BIG movement of art and literature
 Writers and artists rebelling against…
A. Naturalism 

replicating a believable, everyday reality
1. Henrik Ibsen
  A Doll's House

Picked apart the façade of Victorian
life and showed…
2. . Emile Zola
a. Subjects were real- STARK reality:
 Urban slums, coalfields, alcoholism
b. he was "a moment of the human conscience"
c. Germinal (1885) 
d. Other works: The Earth (land & peasants);
The Drunkard (alcoholism); The Debacle (trauma of
war)
e. J'accuse about the Dreyfus Affair
B. Realism
One form of modernism painting
Showing the harsh reality of
everyday life
C. Impressionism

1. Leave the studio 

2. Depict the world…
go outside and depict nature as
never before; new oil paints and portable easel make this possible

"Painters were interested in the experience of
the natural world and in rendering it exactly
as it is seen- not fixed and frozen with an
absolute perspective, but rather as constantly
changing and as it is glimpsed by a moving
eye."
Impression, Sunrise (Impression, soleil levant)
Manet- 1st
Impressionist
Olympia
Water Lilies
Monet
1
2
3
Renoir
D. Post-Impressionism

1. Rejected the impressionists limits


2. Less…


But NOT a…
more…
 Distort form and color
2. Vincent Van Gogh
Starry
Night
3. Paul Cezanne Still Life With Skull
Believed
there was NO
true, single
perspective.
He painted
the same still
lives from
different
perspectives,
undermining
one "true"
perspective.
BUT wanted
to restore
order and
structure to
art.
E. Pointilism Use of tiny dots of color to create the impression of a
single, unified whole
 Georges Seuret
Le Pont
de Courbevoie
Sunday on the Island of La Grand Jatte
V. Other Mediums
A. Photography



1. Photography
combined technology
and realistic art
2. Realism art style an
effort…
3. While others…
B. Architecture
1. Steel freed architects from limits
2. 1st skyscraper in Chicago
The ten-storey Home Insurance Building in
Chicago, built in 1884–1885
Sullivan's Wainwright Building in St. Louis, 1891
Concerns about aesthetics and fire safety hampered the development of skyscrapers
across continental Europe for the first half of the twentieth century
C. Ballets Russes  VIVACIOUS
Freed ballet
from it
constraints
and
reawakened
the art form
1. Stravinsky
 The Rites of Spring
2. Made ballet a global phenomena
Wild, jarring
tones; dance
was a
combination of
ballet and
non-balletvery physical
and nontraditional. It
was MEANT
to be startling.
When first shown
in Paris, it caused
a RIOT. Fights
broke out in the
box seats of the
Opera House.
The End!!
…or is it just a beginning???