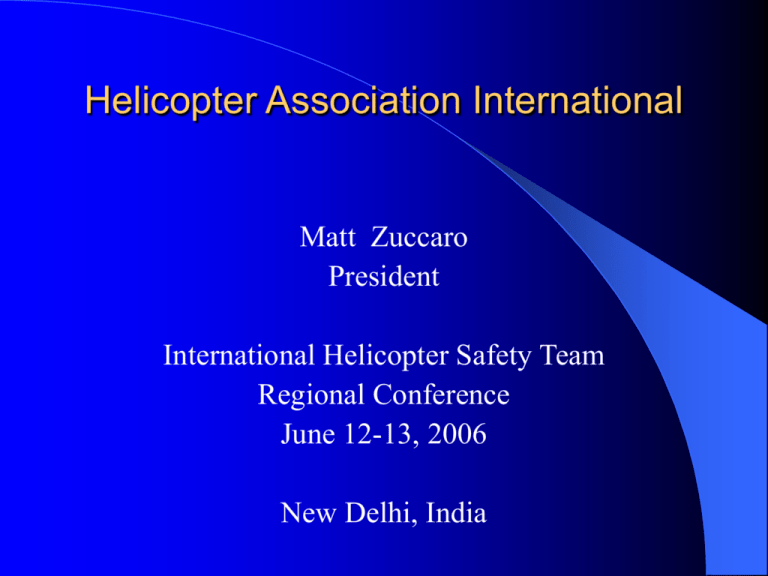 Helicopter Association International
Matt Zuccaro
President
International Helicopter Safety Team
Regional Conference
June 12-13, 2006
New Delhi, India
Thank You

DGCA

COSCAP

ROTORY WING ASSOCIATION OF INDIA
For your
Sponsorship of the IHST Regional Conference
And
Hospitality extended to IHST members
Helicopter Association International
– Established 1948
– The professional trade association for the civil
helicopter industry
– 2,600 + members in 73 countries
– Members include: helicopter owners, operators,
manufacturers & suppliers, service
organizations, affiliate associations, pilots &
mechanics, people interested in the rotorcraft
industry
Helicopter Association International
– HAI Members operate nearly 4,500 helicopters
and fly nearly 2.3 million hours each year
– HAI is dedicated to the promotion of the
helicopter as a safe, effective method of
commerce and to the advancement of the civil
helicopter industry
Helicopter Operations
Commercial & Private
Corporate
Air Taxi
Construction
ENG
HEMS
Law Enforcement
Logging
Air Tours
Agricultural Applications
Instruction / Training
Utilities Patrol / Construction
Firefighting
Mineral Exploration
Helicopter Operations
Government & Military
- Law Enforcement
– Drug Interdiction
– Firefighting
– Customs
– Search and Rescue
– HEMS
– Homeland Security
– Department of Defense (Military)
Helicopter Association International
Gulf of Mexico
ADSB PROGRAM
Automatic Dependent
Surveillance Broadcast
ADSB in the Gulf of Mexico
To appreciate the benefits
Of ADSB in the GOM
You must understand the
current operating
environment
GOM OPERATING OVERVIEW
•
Helicopter Fleet
650 aircraft
•
Offshore Platforms
5,000 +
•
Average trips
7,500 per day
•
Ops per year
2.1 million
•
Passengers per year
2.6 million
•
Flight hours per year
380,000
Inclusive Airspace
Operating area extends over 500 nm
along the Texas, Louisiana,
Mississippi Coastline
Encompasses the area from 20 miles
onshore extending 250 miles out
over the water of the Gulf of Mexico
Type of Operations






VFR & IFR
Single engine / Multiengine
Single pilot / two pilot
Passenger / cargo
Medical evacuation
Most operations are conducted between
the surface and 5,000 feet
SIGNIFICANT FACT

Currently the majority of helicopters operating
 Offshore in the Gulf of Mexico do so without the
ability to communicate with, or be seen by
Air traffic Control

They also do so without the normal infrastructure
 To provide current weather information, or other
generally expected services as provided to similar
operations when conducted over land
Weather considerations
IFR DAYS:
– Operator capacity reduced by 95 %
Due to lack of:
– Adequate communications
– Surveillance capability
– Real-time weather information
Negative economic impact on offshore oil / gas
Activity can cost several million dollars per day
ADSB – GOM BENEFITS


Enhance overall safety
Provide low level communications
Allow ATC surveillance of aircraft
Provide current / forecast weather info
Provide surveillance between aircraft
Increase operational capacity

Enhance economics of operation




FAA / INDUSTRY - MOA BASICS
•
FAA – ADSB GOM System
•
Fund
• Install
• Operate
•
INDUSTRY – ADSB GOM SYSTEM
•
•
•
Transport to platforms
Space on platforms for equipment
Equip aircraft
PARTICIPANTS
FAA
HELICOPTER ASSOCIATION INTERNATIONAL
GOM HELICOPTER OPERATORS
GOM PLATFORM OPERATORS
GOM PLATFORM OWNERS
CURRENT STATUS
M.O.A. SIGNED 5/18/06
FAA FUNDING
WAS APPROVED
JUNE 7, 2006
ADSB BENEFITS TO HELICOPTERS
Due to the very nature of the helicopter
operating environment
Our segment of the industry stands to
reap the greatest rewards from
ADSB Technology
"ADSB EFFECT ON
THE HELICOPTER
INDUSTRY
The implementation of ADSB
in the Gulf of Mexico will eventually
change the way the international
helicopter community operates
FIRST RESPONDER
PROGRAM
FIRST RESPONDER PROGRAM
HAI is developing a web based database
that will quickly identify and locate
available assets worldwide, so they can be
used effectively in response to natural
disasters such as hurricanes, tsunami,
earthquakes and terrorist attacks
FIRST RESPONDER PROGRAM
What are "assets?"
 Helicopters (with specific capabilities)
 Pilots
 Mechanics
 Coordinators
Support personnel
VOLUNTARY REGISTRATION
• Operators & individuals

Easily enter and change information

Can easily opt in or out of program
COLLECTION OF INFORMATION
• PROVIDED BY OPERATORS
Available aircraft
Capabilities
 Updated information
 Location
 Contact(s)

• Must be current
Updated directly by operator near real-time
 Indicates intention but not guarantee

FIRST RESPONDER PROGRAM
Who uses the Program?
Those individuals, agencies or
governments who are responsible for
the management of the response efforts
to natural disasters and terrorist events
SEARCH CAPABILITIES
• Searchable
Aircraft location
 Aircraft capabilities
 Availability determined by contact

• Will be secure
Highly restricted access (Search)
 Up & running 24/7
 Input by Trusted agents

FIRST RESPONDER DATABASE
• Program Development
• HAI Sourced & controlled

Moved from concept to design

Has been field tested
Will remain a work in progress

Will be activated on July 1, 2006

Need input from operators, government

HELI - EXPO
HELI-EXPO is the world's largest exposition
dedicated to the international helicopter
industry


Heli-Expo 2006 Broke all records
16,628 attendees
 526 Exhibitors
 1,871 Booths
 51 Display aircraft
 600 + students – HAI educational courses
JOIN US AT HELI-EXPO 2007
ORLANDO
MARCH
, FLORIDA
1-3, 2007
"SAFETY IS THE TOPIC"
 It
holds the key to our future
 It
effects everything we do
 It
must remain our top
priority, above all else
International Helicopter Safety Team
INTERNATIONAL HELICOPTER
SAFETY TEAM
COLLABRATIVE EFFORT BETWEEN
HAI / AHS / INDUSTRY TO IMPROVE
INTERNATIONAL HELICOPTER SAFETY
OVERALL GOAL
REDUCE THE
INTERNATIONAL
HELICOPTER ACCIDENT
RATE BY 80 % OVER THE
NEXT 10 YEARS
International Helicopter Safety Team
Representative 2004
Accident Rates per 100,000 Flight Hours:
U.S. General Accident Rate
U.S. Civil Helicopter Accident Rate
U.S. Civil Turbine Helicopter Accident Rate
U.S. On Demand Air Taxi Accident Rate
U.S. Air Carrier (CFR 121) Accident Rate
6.22
8.09
5.11
2.21
0.159
Source: Aviation Underwriters Association
International Helicopter Safety Team

Definition of Civil Accident (ICAO Annex 13
and NTSB – 14 C.F.R. 830.2):

"Aircraft accident" means an occurrence associated with
the operation of an aircraft which takes place between the
time any person boards the aircraft with the intention of
flight and all such persons have disembarked, and in
which any person suffers death or serious injury, or in
which the aircraft receives substantial damage.
International Helicopter Safety
Symposium

IHSS 2005 MONTREAL Outcome:

Acknowledgement that the helicopter accident rate is too
high and must be reduced.

Adoption of the goal to reduce the helicopter accident rate
by 80% within 10 years

Pursuit of the goal using a process modeled after the
successful scheduled air carrier initiative known as the
"Civil Aviation Safety Team" or CAST.
Executive Committee
Secretariat
IHST
JHSAT
JHSIT
Subcommittees
Subcommittees
IHST
A Three-Stage Process
Data
Analysis
Implement Safety
Enhancements U.S.
Set Safety
Priorities
Agree on
problems and
interventions
Achieve
consensus on
priorities
Influence Safety
Enhancements Worldwide
Integrate into
existing work
and distribute
International Helicopter Safety Team
IHST Executive Committee consists of:
Industry/Operator Co-Chair
Government Co-Chair
Secretariat
Member
Member
Member
Matt Zuccaro, HAI
Dave Downey, FAA
Rhett Flater, AHS
Bob Sheffield, Shell Aircraft
Somen Chowdhury, Bell
Don Sherritt, Transport Canada
International Helicopter Safety Team
IHST will be broadly inclusive, and include:



Operator associations (HAI /AHS affiliates) and
select operators (including military)
Airframe & engine OEMs, turbine & piston
The regulatory community (FAA, Transport
Canada, ICAO, EASA, etc)

Insurance industry

Client base.
How YOU can help……
http://www.ihst.org
IHST STATUS
IHST / JHSAT / FORMED – FUNCTIONING
 JHSIT NOW BEING FORMED

PRESENTATIONS – WORLDWIDE
 SECURE INTERNATIONAL PARTICIPATION


LOOKING FOR MEMBERS
The Environment

Twin vs. Single engine
 VFR vs. IFR
 Urban vs. rural vs. offshore vs. Int'l
 Missions – R22 training – S-92 Corporate
 1 aircraft to 300 aircraft fleets
 Commercial vs. private / corporate
FIRST QUESTION
DO WE HAVE A
SAFETY PROBLEM ?
SECOND QUESTION

DO THIRD PARTIES THINK
HELICOPTERS ARE SAFE ?
– The general public
– Elected officials
– Potential clients
– Regulatory agencies
E.M.S. Operations

Helicopters save lives

Thousands of lives are saved each year
HEMS
HEMS accidents
continue to occur
67 fatalities and 32
serious injuries since
2000
U.S. Turbine Helicopter CFIT
Accidents
1992 - 2004
12
Part 135
Part 91
Number of Accidents
10
8
6
4
2
0
1992 1993
1994 1995 1996 1997
Based on accidents in U.S. between 1992 - 2004 (NTSB Database)
1998 1999 2000 2001 2002
Year
2003 2004
U.S. Turbine Helicopter CFIT
Accidents
Phase of Flight
Time of Day
Takeoff
7%
Dawn
3%
Approach
16%
Night
42%
Maneuver
10%
Day
52%
Dusk
3%
Instrument vs. Visual
Cruise
67%
Threat Types
Obstacle
4%
IMC
39%
Water
28%
VMC
61%
Terrain
68%
Based on accidents in U.S. between 1992 - 2004 (NTSB Accident Database)
Where does the public get
a perception of our industry ?
Press coverage of industry events
Depictions in entertainment media
(v)
We need to ask ourselves

Are we really unsafe ?

Are our employees and clients at high risk ?

Should the public trust us ?

How do we improve our image ?
How much safety can you afford
?
Basic premise for consideration
IF YOU THINK SAFETY IS
EXPENSIVE
TRY AN ACCIDENT
What are the negative effects of
an accident ?









Loss of Life – Injuries
Loss of the aircraft / a revenue producer
Detrimental to existing & new heliports/facilities
Potential of restricted airspace
Reduction in existing clients & business
Elimination of new client & business potential
Insurance availability and rates
Litigation
Regulatory scrutiny
Is technology the answer
Do we need more boxes?

TAWS
 EGPWS
 HUMS
 ADSB
 GPS / WAAS
Maybe Not

Recent fatal accidents involved
–
–
–
–
–
–
Twin engine IFR aircraft
Autopilot equipped
Two pilot IFR qualified crew
VFR operations
Advanced cockpit
Familiar operating environment
Are you
still with
me ?
Some thoughts

Non punitive safety reporting environment
•
Safety Management Systems / Safety Cases

Risk Assessment program (Mngmt Oversight)

Reward risk aversion / not risk taking
Most difficult task

SALES & MARKETING OF SAFETY

THE BUY IN
Safety Culture
Manufacturers
Regulatory agencies
Elected Leaders
Communities / Public
Operators / Owners
Management
Pilots / Techs
Clients
EVERYONE HAS TO BE INVOLVED
HELICOPTERS ARE
DIFFERENT








24 / 7 CAPABILITY
SITE OPERATIONS – UNKNOWN ISSUES
REMOTE LOCATIONS
NO SUPPORTING INFRASTRUCTURE
MISSION COMPLETION PRESSURES
MEDICAL INPUT TO OPS DECISIONS
MARKET COMPETITION
ECONOMIC MOTIVATORS / DETERMINANT
ULTIMATE RECOMMENDATIONS
•
MUST BE ECONOMICALLY VIABLE
•
OPERATIONALLY APPROPRIATE TO
THE SPECIFIC OPERATING
ENVIRONMENT AND MISSION
•
MUST CONSIDER RETROFIT
CAPABILITY TO EXISTING FLEET
SOME CONSIDERATIONS
 RECENT USA ACCIDENT
 OFFSHORE
 AIR TOUR
 EMS
(CFIT)
(2 EVENTS)
(FINAL ATTEMPT)
CLIENT LACK OF KNOWLEDGE
 "OTHER GUY WILL DO IT – CERTIFICATED"
 "THAT IS WHAT INSURANCE IS FOR"
HELICOPTER INDUSTRY
EXPERIENCE LEVELS

Expansion of overall business activity

Retirement of VietNam Era personnel

Higher client standards

Lack of young people entering industry
POTENTIAL EFFECT ON
SAFETY

Currently experiencing initial effect of a
shortage of experienced pilots and technicians
Inability of operators to meet business demands
and client standards is real.
Lower experience levels could result in higher
accident rates if proper initiatives and cultures are
not put in place.
ACCURATE DATA
ACCURATE HELICOPTER FLIGHT
HOURS FLOWN ARE ESSENTIAL
ACCIDENT RATE MIGHT BE LOWER
THAN WE CURRENTLY BELIEVE
MY CAR

ONSTAR SYSTEM

INSTANT COMMUNICATIONS

GPS TRACKING – REALTIME POSITION

AUTOMATIC EMERGENCY NOTIFICATION

SYSTEMS DIAGNOSTICS
INDSUTRY CULTURE
CHANGE IS REQUIRED

CHANGE THE CULTURAL MINDSET
OF THE APPROPRIATE PARTIES

MUST EFFECT DAILY DECISION MAKING

MAKE SAFETY PRIMARY OVER ALL ELSE
WALK THE WALK
NOT JUST TALK THE TALK
YOUR PARTICIPATION
IS CRITICAL
IHST WEBPAGE:
WWW.IHST.ORG
MATT ZUCCARO
HAI OFFICE:
E-MAIL:
703-683-4646
TAILROTOR@AOL.COM
HAI WEBPAGE:
WWW.ROTOR.COM
Questions?