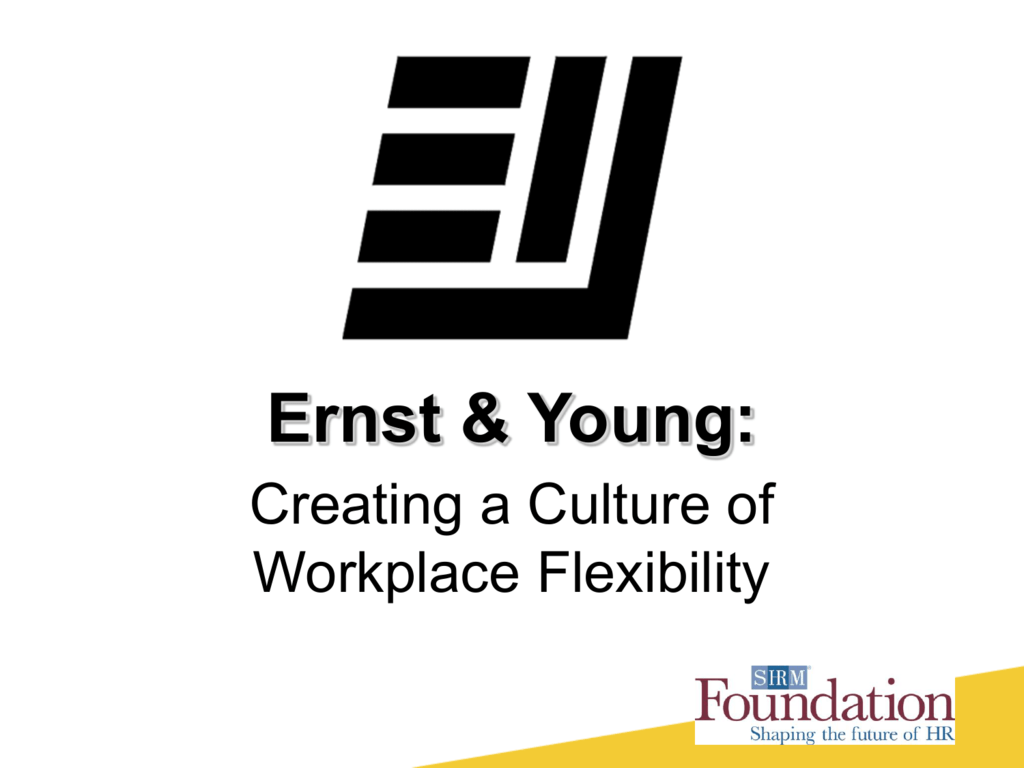 Ernst & Young:
Creating a Culture of
Workplace Flexibility
Video Overview
• Hosted by Wayne Cascio, Ph.D.
• SHRM Foundation's 10th DVD
• Filmed on Location at
Ernst & Young's Headquarters
• Comprehensive
Interviews
• Officers, Managers, and
Employees
Video Synopsis
• Video Introduction
• Why is flexibility important?
• The flexibility imperative
• The role of technology
• Making flexibility work
• Attracting and retaining top
talent
•
Implementing flexibility
•
•
•
Strong relationships
•
•
•
Advice to other leaders
Flexibility at all levels
Flexibility and cultural
differences
The future of flexibility
Five Lessons in Flexibility
Company Overview
OPERATING INFORMATION
•One of the "big four" accounting firms
•Headquartered in London, England
•167,000 employees worldwide (in 2012)
•Operates in 140 Countries
•Eighth-largest private company in the world
•$24 Billion in Annual Revenue (in 2012)
Company Overview
GLOBAL BUSINESS
• Divided into operating areas:
- EMEIA (Europe, Middle East, India and Africa)
- Americas
- Asia-Pacific
- Japan
• Each area is managed independently with an Area
Managing Partner who is a member of the Global
Executive Board.
Company Overview
BUSINESSES:
• Assurance Services (46% revenue share)
• Tax Services (26% revenue share)
• Advisory (19% revenue share)
• Transaction Advisory Services (9% revenue share)
Company Overview
STAFFING PRACTICES
•#1 in Forbes Magazine's "The Best Accounting Firms to
Work For," 2012
•#1 in BusinessWeek's annual list of Best Places To
Launch a Career, 2008
•#44 in the Fortune list of 100 Best Companies to
Work For, 2009
•#34 in ComputerWorld's 100 Best Places To
Work For In IT, 2009
•Top 50 in the "Where Women Want to Work" awards, 2007
•One of the 10 Best Companies for Working Mothers,
Working Mother magazine, 2006
Discussion Questions
What are the primary reasons for a
business to incorporate flexibility?
• Recruit and retain talent
• Where is flexibility taking off?
• Bilateral benefits
Additional Questions
• How does flexibility help retain employees?
• How does flexibility help recruit high-quality
employees?
• How might a flexible work schedule benefit you?
What types of flexibility
arrangements are commonly
implemented in today's
businesses?
• Compressed Work Weeks
• Flexible Start and Stop Times
• Scheduled Collaboration and
Workforce Availability
• Peak-Performance Scheduling
Additional Questions
• What are some reasons that a company might require
a formalized flexible work schedule?
• How can a company offer flexible work schedules to
people whose presence in the workplace is absolutely
required?
• What are some of the trade-offs that employees and
companies might have to accept as part of a flexible
work agreement?
Why is it important to
offer flexibility to all
employees, not just
to those people
with particular
circumstances?
• Remaining neutral
• Protect morale
• Make it accessible
Additional Questions
• Should a company be concerned with the activities that
an employee participates in during his or her flextime?
Why?
• What industries are more likely to be able to
accommodate flexible work arrangements?
• What industries are less likely to be able to
accommodate flexible work arrangements?
How does technology
enable effective flexibility?
• Untether the Worker
• High Availability
• Shared Calendars
Additional Questions
• What cost savings exist at the intersection of flexibility
and technology?
• What considerations might an organization make for
remote employees who primarily work outside the
office?
• How can technology, shift work, and flexible scheduling
help limit the overhead costs associated with an
expanding workforce?
How can flexibility benefit a
company's customers/clients?
• Flexibility is Universal
• A Global Competitive Advantage
• Be there for your customers
Additional Questions
• What are some benefits of flexible scheduling to the
local community?
• How can flexibility help a company expand productivity
in a cost-effective way?
• How does flexibility protect a productive workforce in a
bad economy?
How does flexibility enable a more
productive global workforce?
• Save on cost, burnout
• Increase efficiency across borders
• Decisions, decisions
Additional Questions
• How can compressed workweeks help increase global
cooperation and productivity?
• How do flexible work schedules help strengthen team
relationships?
• How might flexible work schedules negatively affect
employees' personal lives?
Why do employees often value a
flexible work arrangement over an
increase in salary?
• The Flexible Generation-Y
• Outside the U.S.
• Not Just Moms
Additional Questions
• Why has flexibility become such an important trend?
• With flexibility becoming more popular, do companies
even need offices?
• Do telecommuting and flexible work schedules
decrease productivity?
What are some obstacles
that could arise when
implementing flexibility?
• Adoption difficulties
• Keeping in touch
• Remaining consistent
Additional Questions
• Why are Baby Boomers adopting flexibility more slowly
than any other generation?
• What can an organization do to overcome the fears of
flexibility?
• What are the pros and cons of not having a
companywide flexibility-implementation plan?
What frameworks have been created
to measure the success of
flexibility?
• The BOLD initiative
• The ROWE initiative
• An Accountability Model
Additional Questions
• What cost savings might an organization experience by
implementing flexibility?
• What expenses might a company incur as a result of
implementing flexibility?
How does flexibility help
increase diversity?
• Women in the workforce
• People with disabilities
• Employees with cultural
obligations
• People around the world
• Senior citizens working
longer
Additional Questions
• Why is diversity in the workplace important?
• How does the move from the industrial age to the
information age enable diversity in the workplace?
• If you were given an opportunity to work on a flexible
schedule, how do you think you would perform?
Five Important Lessons
1.
Flexibility is a two-way street. Yes, employees have
to make their needs and concerns known to their
managers, but managers need to let employees know
that it is OK. They need to support them as they strive
to find sensible solutions that work for the individual,
his/her team, and the clients he/she serves.
2.
As a leader, it's up to you to initiate a conversation
to discuss how accessible and connected you want
your team or direct reports to be. Staff members are
unlikely to begin that conversation because they don't
want you to misinterpret their question to mean, "I don't
want to work hard," or "my career is not important to
me."
Five Important Lessons
3.
Call a meeting or have a 30-minute conference call to
develop a "contract" with your fellow team members
or direct reports that addresses clients' expectations
and deadlines as well as team-members' needs.
4.
Encourage teams to use team calendars to track key
personal appointments, commitments, client deadlines,
and other flexibility needs.
5.
As a leader, always remember that people will watch
your behavior closely – perhaps more closely than
you may expect. If your public perspective on flexibility
is inconsistent with your actions, people will imitate
what they see.