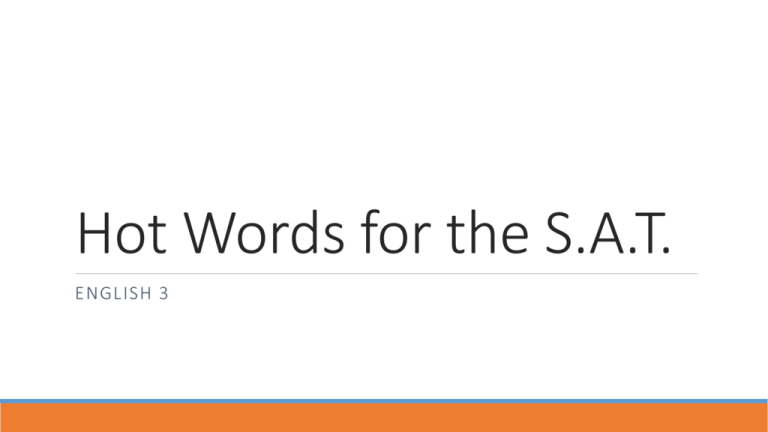 Hot Words for the S.A.T.
ENGLISH 3
Lesson1: How
Wonderful You Are!
Words Relating to Praise and Respect
ENGLISH 3: HOT WORDS FOR THE S.A.T.
Acclaim accolade adulate
esteem eulogize exalt
extol laud panegyrize
revere venerate
LESSON1: HOW WONDERFUL YOU ARE!
WORDS RELATING TO PRAISE AND RESPECT
Acclaim (uh-KLAME) v.
"to express strong approval or praise; to hail"
He's an accomplished artist, acclaimed by all the
critics.
Dad was happy to hear his son's talent acclaimed by
his teachers.
Accolade (A-kuh-lade) n.
"an award given as a sign of appreciation or respect"
The Broadway diva received many accolades for her
stellar performance.
Inclusion in the Zagat's restaurant guide is one of the
greatest accolades any fine eatery can receive.
Adulate (A-juh-late) v.
"to praise or flatter too greatly; fawn over"
Students who are adulated often end up with
swelled heads, but not Sean. In spite of the awe he
inspires, he's very humble.
Personally, I don't adulate him, but I admire and
respect his many talents.
esteem (ih-STEEM) v.
"to value highly; to have great respect for
Bernard is a well-known philanthropist. Far and wide
he is esteemed for his generosity.
To show how highly they esteemed her, they gave her
$1 million in stock options when she retired.
eulogize (yoo-luh-jize) v.
"to praise, as in a eulogy (a funeral speech); to say good
things about someone who has died"
Loretta knew Mike well and eulogized the good deeds for
which he will be remembered.
The introduction sounds like a eulogy. While full of praise
for the author, it is written in the past tense as if he had
already died.
exalt (ig-ZAWLT) v.
"to praise or glorify; to lift up in status, dignity, or
power"
As the honored leader of the organization, she was
exalted by the members.
The Catholic Church exalted Mother Teresa by
making her a saint.
laud (LAWD) v.
"to praise; to extol"
He lauded my efforts to help, but I did not think the
praise was sincere.
The laudatory comments on the back cover suggest
that this is a terrific book.
panegyrize (PA-nuh-jih-rize) v.
"to praise a person or event in a formal speech or in
writing; to praise highly"
As the best man at the wedding, Luke panegyrized
the happy couple.
Before presenting the award, Mr. Universe
panegyrized this year's winner.
revere (rih-VEER) v.
"to regard highly with love and respect"
To revere the Founding Fathers is part of the formula
for making a speech on the Fourth of July.
The Joads revered the land, but the landlord did not
care how much they loved it, and chose to evict
them.
venerate (VEH-nuh-rate) v.
"to feel or show deep respect for, especially due to
age or tradition; to honor"
Most religions expect believers to venerate old
customs and traditions.
The scholar, now old and frail, was still venerated by
his former colleagues.
MEMORY TIPS
Use these mnemonics (memory devices) to boost your vocabulary. Make up your own
memory clues for words in this lesson that are challenging you.. Add these tips—and
your own—to your Hot Words notes.
Laud If you know applaud, then simply connect the new word laud to the word you
already know, applaud. The meanings of these two verbs are closely connected.
Plaudits means praise.
Revere You remember Paul Revere from American History, right? I am certain you will
agree that it is only right to respect, or revere, one of our nation's Founding Fathers.
Another tip: You can repeat this chant to yourself over and over again: "Revere the
reverend. Revere the reverend. Revere the reverend."
Lesson 2:
ENOUGH IS ENOUGH
Words Relating to More Than Enough
ENGLISH 3: HOT WORDS FOR THE S.A.T.
ample copious lavish
myriad plethora profuse
prolific superfluous surfeit
LESSON 2: ENOUGH IS ENOUGH
WORDS RELATING TO MORE THAN ENOUGH
ample (AM-pul) adj.
"abundant; plentiful; enough or more than enough"
It will be expensive to send me to college, but my
parents have ample funds, thank goodness.
For turning in the lost wallet, Heather was given an
ample reward of $200.
copious (KOH-pee-us) adj.
"abundant; much; plentiful;"
I could not attend the meeting, so Julie took copious
notes and now I know everything that happened
there.
It rained copiously day and night, leaving the streets
flooded.
lavish (LA-vish) adj.
"abundant; in excess"
My lavish weekend excursion resulted in a huge bill
on Dad's Visa card.
On the cruise ship we ate lavishly, enjoying gigantic
meals three times a day and snacks in between.
myriad (MIR-ee-ud) adj. or n.
"countless; a very large number"
Kenny failed the test by making myriad mistakes in
addition and subtraction.
New York City has a myriad of restaurants. The
number and variety are astounding.
plethora (PLEH-thuh-ruh) n.
"excess; abundance"
The kindergarten room is crowded with a plethora of
materials and equipment.
Considering the plethora of ways to get lost en route,
it is a marvel that you got here so soon.
profuse (pruh-FYOOS) adj.
"abundant; more than enough"
The profusion of options in our curriculum gives
students many choices to make.
Please accept my profuse thanks for your hospitality.
Your graciousness knows no bounds.
prolific (pruh-LI-fik) adj.
"abundant; producing a great deal; fertile"
Despite Maria's prolific fiction writing, she never
shared any of her many short stories with others.
A prolific artist, Caroline painted hundreds of
watercolors and landscapes in her lifetime.
superfluous (soo-PUR-floo-us) adj.
"overabundant; more than is needed; unnecessary"
Since the birthday card was sufficient recognition of
the big day, the gift was superfluous.
Most of what I brought along for the camping trip was
superfluous. I did not need the majority of it.
surfeit (SUR-fut) n.
"an oversupply"
A surfeit of donations made the drive to collect more
money superfluous.
During Halloween, kids collect a surfeit of candy and
other sweets.
MEMORY TIPS
Use these mnemonics (memory devices) to boost your vocabulary. Make up your own memory
clues for words in this lesson that are challenging you.. Add these tips—and your own—to your
Hot Words notes.
copious Let yourself see the word copies within copious, and think "lots of copies." Certainly,
"lots of copies" leads to the defining ideas of abundant and plentiful.
plethora Let the ple lead you to plenty. When you write plethora in your notebook, underscore
ple or highlight it.
superfluous The prefix super- means over and above. This knowledge is helpful because
superfluous means "above what is needed; extra."
surfeit Like super-, sur- is also a prefix meaning over and above. So a surfeit is an amount over
and above what is needed. In your mind, link a word you already know, surplus, to the new
word, surfeit. These two-syllable synonyms even have the same number of letters. Solidify the
meaning of surfeit in your memory.
Lesson 3:
MMMmmm…DELICIOUS!
Words Relating to Food and Hunger
ENGLISH 3: HOT WORDS FOR THE S.A.T.
Abstemious alimentary
culinary delectable emaciated
epicurean glutton palatable
ravenous savory voracious
LESSON 3: MMMMMM---DELICIOUS!
WORDS RELATING TO FOOD AND HUNGER
Abstemious (ab-STEE-mee-us) adj.
"holding back from eating or drinking too much"
Grandad eats like a bird. Mom is afraid his
abstemious nature may not be good for him.
With a buffet dinner that includes an Italian hero and
pepperoni pizza, it is difficult to be abstemious.
alimentary (a-luh-MEN-tree) adj.
"relating to food and nourishment"
Fast food provides little nourishment, but fresh fruits
and vegetables are good for your alimentary health.
In biology, we learned about the alimentary canal, the
system in the body for swallowing and digesting food.
culinary (KUH-luh-ner-ee) adj.
"having to do with cooking, preparing meals"
Airline food is anything but a culinary delight.
Our chef went to the Culinary Institute of San
Francisco to learn all about food preparation.
delectable (dih-LEK-tuh-bul) adj.
"delicious"
The aroma of fresh-baked bread and other
delectable, mouth-watering foods wafted through the
house.
For Gary, there was no more delectable meal than
fresh-baked macaroni and cheese.
emaciated (ih-MAY-shee-ay-tid) adj.
"very, very thin due to lack of food"
Winter out on the range with very little food left the
cattle emaciated.
It is very difficult to look at photos of emaciated
children who are victims of famine.
epicurean (eh-pih-kyoo-REE-un) adj.
"having to do with relishing the pleasure of eating
and drinking"
At the wedding reception, the table was piled high
with the most delicious epicurean delights.
As a dyed-in-the-wool epicure, Clyde eats at only the
very best restaurants.
glutton (GLUH-tn) n.
"one who overindulges in food and drink"
Eddie proved he was a glutton by eating a whole
pumpkin pie and a half-gallon of ice cream in one
sitting.
Maria was such a glutton, she ate huge meals even
when she was not hungry.
palatable (PA-luh-tuh-bul) adj.
"pleasing to the taste buds"
What do you find more palatable, shrimp or lobster?
Zina found Ethan's rabbit stew unpalatable and
refused to eat it.
ravenous (RA-vuh-nus) adj.
"very hungry"
A day spent outdoors makes me ravenous enough to
eat a hippopotamus.
Matt is a ravenous eater. When he is not poking
around in the refrigerator, he is exploring the pantry
for snacks.
savory (SAY-vuh-ree) adj.
"tasty or good smelling"
Spices can turn a bland, tasteless dish into a savory
one.
The label on the can says the soup is savory, but to
me it has no flavor whatsoever.
voracious (vuh-RAY-shus) adj.
"greedy; gluttonous; ravenous; insatiable"
Because Molly skipped breakfast and lunch, she had a
voracious appetite at dinner.
Sally reads mysteries voraciously. No sooner does she
finish one that she starts reading another.
Lesson 4:
"EASY DOES IT"
Words Relating to Being Careful
ENGLISH 3: HOT WORDS FOR THE S.A.T.
chary circumspect
conscientious exacting
gingerly heedful meticulous
scrupulous vigilant wary
LESSON 4: TAKE IT EASY
WORDS RELATING TO BEING CAREFUL
chary (CHAIR-ee) adj.
"cautious; wary"
Be chary about what you say to others. You do not
know who may be listening.
Chary of burglars, we set our security alarm whenever
we go out.
circumspect (SUR-km-spect) adj.
"careful and cautious before acting"
Lt. Myra is too personally involved in this case to be
circumspect about it.
Kevin contributes less to class discussions than most other
students do, but his thoughtful comments reveal his
circumspection.
conscientious (kahn-shee-EN-shus) adj.
"relating to doing what one knows is right; scrupulous"
Marta was promoted twice for her conscientious
performance on the job. No one works harder than she
does.
Tino pumps iron conscientiously, at least three times a
day for half an hour.
exacting (ig-ZAK-ting) adj.
"requiring a great deal of care or effort; painstaking"
The lacrosse coach's standards were so exacting that
it was very difficult to achieve them.
It is exacting work to build a stereo from a kit. If you
are careless, the stereo will not work.
gingerly (JIN-jer-lee) adj.
"very carefully"
Because Sue gingerly placed the sleeping baby in his
crib, the infant did not wake up.
Build a house of cards gingerly. One careless move
will make it collapse.
heedful (HEED-ful) adj.
"paying careful attention to"
If the novice skier had heeded the signs, he would
not have found himself on the expert slope.
It is smart to heed the instructions before operating a
chainsaw.
meticulous (meh-TIK-yoo-lus) adj.
"very careful; fussy; finicky; fastidious"
A meticulous carpenter, Emil makes perfect dovetails and
cantilevers, even better than a machine does.
Her makeup is meticulously applied. Eyeliner, lipstick,
blush—no one puts them on as carefully as Lisa.
scrupulous (SKROO-pyoo-lus) adj.
"showing great care and honesty, based on personal belief
of what is right and proper"
Jade is scrupulous about doing her own work. She will not
even let a classmate proofread her papers.
Follow the rules of the race scrupulously, or you may be
disqualified.
vigilant (VI-juh-lunt) adj.
"carefully alert: watchful"
Ever since Jerry stumbled into a pothole, Dad has been
more vigilant about keeping the driveway in good repair.
Thomas Jefferson said, "The price of liberty is eternal
vigilance."
wary (WAIR-ee) adj.
"cautious; careful"
If the ship's captain had been more wary of icebergs,
Titanic might not have sunk.
Be wary of offers that sound too good to be true
because they probably are.
MEMORY TIPS
Use these mnemonics (memory devices) to boost your vocabulary. Make up your own memory clues for words in
this lesson that are challenging you.. Add these tips—and your own—to your Hot Words notes.
chary, wary Learn these two SAT-level synonyms as a rhyming pair—can't get much easier than
that!
circumspect This word is a blend of the prefix, circum-, and the root, spec. Circum-means around
(as in a geometry term you might know, circumference). Spec means seeing (as in spectator and
inspect). In other words, circumspect means looking around—or being cautious and watchful
before making decisions or taking action.
Vigilant Write this word in your Hot Words Notebook, and make the dots of the two I's into
"watchful" and "alert" human eyes! Once you sketch eyes in place of the dots, this memory clue
becomes a word-picture clue. Word pictures appeal to visual learners, and they tend to stick.
As a noun, a vigil is a night watch. For example: Since her son had a high fever, the mother kept a
vigil at his bedside.
wary You know what it means to be aware. Link this preexisting knowledge to wary. Both words
share the letter cluster war.
Lesson 5:
"HERE TODAY, GONE
TOMORROW…"
Words Relating to Being Short-Lived in Time or Place
ENGLISH 3: HOT WORDS FOR THE S.A.T.
ephemeral evanescent
fleeting itinerant nomadic
peripatetic transient
transitory volatile
LESSON 5: "HERE TODAY, GONE TOMORROW…"
WORDS RELATING TO BEING SHORT -LIVED IN TIME OR PLACE
ephemeral (ih-FEM-rul) adj.
"lasting a short time; fleeting"
David has followed baseball steadily since he was nine,
but his interest in other sports has been ephemeral.
To a child, time goes by slowly—but to an older person,
time is ephemeral.
evanescent (eh-vuh-NEH-snt) adj.
"vanishing quickly; fleeting"
Snowfall in the spring is usually evanescent. The snow
melts very quickly.
The rumor is that an evanescent ghost haunts the forest.
People who have seen it say it vanishes suddenly.
fleeting (FLEET-ting) adj.
"short-lived"
Time is fleeting when you are enjoying yourself, while
pain seems to last forever.
Willie and Wanda had a fleeting romance. Their
"fling" could not have lasted more than 24 hours!
itinerant (eye-TIH-nuh-runt) adj.
"wandering about; tending to move around, travel"
Susan and Ellie wandered around Europe for months,
enjoying a carefree, itinerant life.
Pete's itinerary for two weeks included stops in 10
cities and five countries.
nomadic (no-MA-dik) adj.
"wandering"
Nomadic tribes wandered endlessly around the land.
Drew, like a nomad, cannot settle down in one place.
He has to keep moving.
peripatetic (per-uh-puh-TEH-tik) adj.
"moving or walking about; itinerant"
Here today, gone tomorrow—that is the kind of
peripatetic life Carl enjoys.
Lila was exhausted after a peripatetic shopping trip to the
city. She walked from store to store all day long.
transient (TRAN-shee-unt) adj.
"lasting for only a short time; temporary"
The motel serves a transient clientele. Few visitors stay for
more than one night.
The large number of houses up for sale in this
neighborhood suggests that this population is transient.
transitory (TRAN-suh-tawr-ee) adj.
"fleeting"
The morning fog is transitory. It always burns off by
midday.
The joy of winning a game is a transitory feeling; it
lasts only until the next game.
volatile (VAH-luh-tl) adj.
"explosive or changing very quickly"
Louis can turn angry in an instant. He has a volatile
temper.
Be careful where you store that can because it
contains volatile fuel that blows up if heated.
Lesson 6: "OLD HAT, NEW HAT?"
Words Relating to the Old or the
New
ENGLISH 3: HOT WORDS FOR THE S.A.T.
antediluvian antiquated antiquity
archaic obsolete relic
contemporary inception
innovation novel unprecedented
LESSON 6: "OLD HAT, NEW HAT?"
WORDS RELATING TO THE OLD OR THE NEW
The Old…
antediluvian (an-tih-duh-LOO-vee-un) adj.
"very, very old; antiquated"
The shop contains antediluvian machines that ought
to be replaced with up-to-date equipment.
That joke about the chicken crossing the road is
antediluvian. Can't you think of a more current one?
The Old…
antiquated (AN-tuh-kway-tud) adj.
"very old and no longer in use; obsolete"
The proverbial housewife standing over a hot stove
all day is an antiquated stereotype rarely seen today.
Some of our history textbooks are antiquated and
full of outdated information.
The Old…
antiquity (an-TIH-kwuh-tee) n.
"ancient times"
Antiquity usually refers to times prior to the Middle
Ages.
Hippocrates articulated a code of medical ethics that
is as valid today as it was in antiquity.
The Old…
archaic (ar-KAY-ik) adj.
"old; from a much earlier time; antiquated"
Footnotes are used to explain archaic terms known to
Shakespeare's audience but not to modern readers.
Some glassmakers use contemporary methods, but most
Venetian workshops still rely on archaic techniques.
The Old…
obsolete (ahb-suh-LEET) adj.
"old; outdated; no longer in use"
In the business world, where everything is stored on
computers, filing cabinets full of paper records have
become obsolete.
Although rotary-dial phones are obsolete, our family still
uses one for old time's sake.
The Old…
relic (REH-lik) n.
"a custom or object that has been around for a very,
very long time"
Fritzi's spinning wheel is a relic that has been in the
family for generations.
The museum displays relics of ancient cultures from
all over the world.
The New…
contemporary (kun-TEM-puh-rer-ee) adj.
"modern; new; relating to the same time period"
The course is call Contemporary Civilization, but much of
it is devoted to the study of ancient history.
Radiant heat, instead of traditional forced air or steam
heat, is becoming the standard in contemporary buildings.
The New…
inception (in-SEP-shun) n.
"the start; the beginning of something"
Since the inception of computers, the library has
become a swinging place!
The inception of e-mail has cut the use of postage
stamps and envelopes.
The New…
innovation (in-nuh-VAY-shun) n.
"something new"
The company makes innovative water filters that can add
fresh lemon flavor to tap water.
Frank Lloyd-Wright's buildings are always innovative. No
architect has ever designed structures quite like his.
The New…
novel (NAH-vul) adj.
"new"
Serving kids steamed vegetables for breakfast: now
that is a novel diet!
A vinyl record album made into a clock is the
souvenir shop's best-selling novelty.
The New…
unprecedented (un-) adj.
"novel; unparalleled"
The number of delayed flights is unprecedented. Never
before have so many travelers arrived so late to their
destinations.
The heat wave this summer is unprecedented. There has
never been a summer as hot as this one.
MEMORY TIPS
Use these mnemonics (memory devices) to boost your vocabulary. Make up your own memory clues for words in
this lesson that are challenging you.. Add these tips—and your own—to your Hot Words notes.
antiquated, antiquity Think of the word "antique." An antique refers to
something that dates back 100 years or more. Link this knowledge to
antiquated and antiquity as they both have to do with being very, very
old.
novel, innovation The root word nova means new. Additional words
containing the root nova include novice, novelty, and renovate.
Word roots neo and nou also mean new. Words containing these roots
include neophyte (beginner, rookie, novice), neonate (newborn), and
nouveau riche (a person who has recently become rich.
Hot Words Quiz
antediluvian
antiquated, antiquity
archaic, obsolete,
relic, contemporary,
inception,
innovation, novel,
unprecedented
On binder paper with a proper heading
please write a well-constructed
paragraph using at least 9 of this
week's words. Use the words properly
(think about parts of speech). Your
paragraph must make sense both in
grammar and your ideas. Underline
the hot words used and be sure you
are spelling them correctly.
When you are finished, please put
your paper on the back counter and
work quietly on your poetry which is
due Monday.
Hot Words for the S.A.T.
Lesson 7: "IS ANYBODY THERE? IS
ANYTHING THERE?"
WORDS RELATING TO BEING SNEAKY OR HARDLY NOTICEABLE
clandestine covert furtive
inconspicuous sly stealthy
surreptitious unobtrusive
LESSON 7: "IS ANYBODY THERE? IS ANYTHING THERE?"
WORDS RELATING TO BEING SNEAKY OR HARDLY NOTICEABLE
clandestine (klan-des-tun) adj.
"hidden, secret, concealed"
During the party, Gia and Jason stole away into the
woods for a clandestine rendezvous.
It was important to keep the operation clandestine to
protect our undercover agents.
covert (KOH-vurt) adj.
"secret, hidden"
The administration's covert plan to overthrow the
rebel leader failed because top secret documents fell
into enemy hands.
Under cover of darkness, the workers slipped
covertly across the property boundary.
furtive (FUR-tiv) adj.
"sneaky"
Jane and Henry did not know that I observed them
exchanging furtive glances in biology class.
Knowing that Grandma would disapprove, Robbie
furtively grabbed a handful of cookies when she was
not looking.
inconspicuous (in-kun-SPIH-kyoo-wus) adj.
"hardly noticeable"
The birthmark on Lilly's cheek was noticeable at birth, but
as she grew older it became more and more
inconspicuous.
Because the thief made the mistake of wearing a stupidly
conspicuous red hat during the holdup, he was arrested
almost immediately.
sly (SLIE) adj.
"underhanded, furtive"
Using a sly line of questioning, the attorney tricked the
witness into revealing the true story.
All summer, JoJo played billiards on the sly. By September
no one realized how skillful JoJo had become.
stealthy (STEL-thee) adj.
"secretive, sly"
The airplane known as the Stealth Bomber lives up to
its name by eluding radar detection.
Using stealth, the U.S. Navy SEALS avoided detection
and blew up the enemy ship.
surreptitious (sur-up-TIH-shus) adj.
"done or made in a secret, stealthy way"
William's surreptitious behavior has me concerned.
He is up to something sneaky, I am sure.
During the test, Gojian surreptitiously studied the
answers he had taped to the palm of his hand.
unobtrusive (un-ub-TROO-siv) adj.
"inconspicuous; not easily noticed"
There was nothing unobtrusive about Tina's diamond
earrings because they were the size of silver dollars.
The table stood unobtrusively in the corner for years
until Aunt Rhoda noticed it was a valuable antique.
MEMORY TIPS
Use these mnemonics (memory devices) to boost your vocabulary. Make up your own memory clues for words in
this lesson that are challenging you.. Add these tips—and your own—to your Hot Words notes.
covert Think covered when you see this word. Covered relates to the definition of
covert.
Inconspicuous The root word spic (also spec). Spic has to do with seeing
(spectator, inspect, spectacle). The prefix con- (and com-) means with or together.
In this word the first prefix in this word, in- means not. Link the prefixes and roots
together and inconspicuous means "not with seeing." (hardly noticeable)
stealthy Think of the Stealth Bomber which uses special material and designs that
either absorb or do not reflect radar waves well. The bomber can fly directly over
its target and remain undetected.
adversary advocate artisan
ascetic charlatan hedonist
orator pariah raconteur
skeptic virtuoso
LESSON 8: "DO YOU KNOW THESE PEOPLE?"
WORDS RELATING TO PEOPLE YOU WILL MEET ON THE S.A.T.
adversary (AD-vuh-ser-ee) n.
"an opponent"
To Wanda's frustration, her math teacher seemed
more like an adversary than a guide through the
mysteries of calculus.
advocate (AD-vuh-kut) n.
"a supporter; proponent"
My best friend, Laura, is my eternal advocate; she
will support me vociferously for the rest of my life.
artisan (AR-tuh-zun) n.
"a person who is skillful with his or her hands"
Every weekend, artisans display and sell their crafts
on the village green.
ascetic (uh-SEH-tik) n.
"a person who refrains from indulging in earthly
pleasures"
Why would someone who claims to be an ascetic
own five wristwatches and a suitcase full of jewelry?
charlatan (SHAR-luh-tun) n.
"a fraud; a quack or imposter"
Is the preacher in "The Scarlet Letter" someone to be
trusted and believed in, or is he merely a charlatan?
hedonist (HEE-duh-nist) n.
"a person who lives for pleasure"
We lived like hedonists during our vacation at Club
Med. For a week we played at the beach, danced all
night, and had nothing but great food and fun.
orator (OR-uh-tur) n.
"a skillful public speaker"
Martin Luther King Jr.'s speech, "I Have a Dream,"
established him as one of the greatest orators of all
time.
pariah (puh-RIE-uh) n.
"a social outcast"
After he painted his house neon orange, Paul became
the neighborhood pariah. No one on the block
wanted anything to do with him.
raconteur (ra-kahn-TUR) n.
"a skillful storyteller"
Uncle Ernie is our family raconteur. He has endless
stories to tell about life in the old country.
skeptic (SKEP-tik) n.
"a person who doubts"
Many skeptics do not accept the findings of the
Warren Commission. They still think there
was a conspiracy to murder the president.
virtuoso (vur-choo-OH-so) n.
"a highly-skilled performer, usually a musician"
As a virtuoso trumpeter, Danielle stands a good
chance of getting into the Julliard School
of Music.
For the next Hot Words Quiz-The quiz will include at least 1 word from each
of the previous lessons in addition to the
current lesson. Check with other teammates at
your table to see if they have anything you need
to make sure you get at least a "B" on this quiz
(open notes).
extraneous frivolous incidental
inconsequential irrelevant
negligible peripheral petty
superficial trifling trivial
LESSON 9: "IT JUST DOESN'T MAT TER!"
WORDS RELATING TO THINGS OF LITTLE IMPORTANCE OR VALUE
extraneous (ek-STRAY-nee-us) adj.
"not necessary; not an essential part; not relevant"
In your presentation, include only the highlights of
your paper. Leave out all extraneous matters.
frivolous (FRIH-vuh-lus) adj.
"not having substance, a sense of importance, or
seriousness; silly; trivial; trifling"
If you ask a silly question, you deserve a frivolous
response.
.
incidental (in-suh-DEN-tl) adj.
"less important, minor"
In college, tuition, room, and board make up the bulk
of the cost, but there are numerous incidental
expenses, too.
.
inconsequential (in-kahn-suh-KWEN-shul)
adj.
"irrelevant; of no significance; unimportant"
The collision produced a huge crash, but the damage
to the vehicles was inconsequential.
.
irrelevant (ih-REH-luh-vunt) adj.
"not relating to the matter at hand"
The teacher said that since the essay was awful, the
amount of time I spent writing it is
irrelevant.
.
negligible (NEH-glih-juh-bul) adj.
"able or likely to be neglected or bypassed due to
smallness or lack of importance"
Paulie refused the job offer because the increase in
salary was negligible.
.
peripheral (puh-RIH-fuh-rul) adj.
"only marginally connected to what is truly important;
minor or incidental; at the edge of one's field of vision"
The class discussion got bogged down in peripheral
matters that had nothing to do with the issue of cloning.
.
petty (PEH-tee) adj.
"minor or trivial; small in quantity; paltry"
Their arguments were about petty matters. There
was no big issue between them.
.
superficial (soo-pur-FIH-shul) adj.
"lacking in depth or importance; on the surface"
The wound was only superficial. It was skin deep and
hardly bled at all.
.
trifling (TRY-fling) adj.
"lacking significance; unimportant"
"Lying during your college interview is no trifling
matter," said Mom. "In fact, it could cause them to
reject you."
.
trivial (TRIH-vee-ul) adj.
"unimportant; trifling; ordinary"
Gordy is a world-class expert in hockey trivia.
Ask him anything about pro hockey, and
he will know the answer.
.
acute astute discerning erudite
incisive ingenious judicious
perspicacious prudent sagacious
savvy shrewd
LESSON 10: "LIKE AN OWL"
WORDS RELATING TO BEING WISE AND SHARP -MINDED
acute (uh-KYOOT) adj.
"keen-minded; sharp"
Natalie's acute intellect contrasts with the dull minds
of her classmates.
.
astute (uh-STOOT) adj.
"sharp-minded; very clever"
As an astute reader of poetry and song lyrics, Helen
seems always to find meaning hidden between the
lines.
.
discerning (dih-SUR-ning) adj.
"able to judge people and situations clearly"
As a discerning collector, Kevin buys only the very
best jazz recordings on the market.
.
erudite (ER-uh-dite) adj.
"wise due to much reading and studying; scholarly"
That office worker pretends to be erudite, but she's
really an airhead.
.
incisive (in-SIE-siv) adj.
"decisive; keen and directly to the point"
Briana's incisive comments went right to the heart of
the matter.
.
ingenious (in-JEEN-yus) adj.
"very clever or inventive"
Claude came up with an ingenious alternative to the
broken computer; a piece of paper and a pen.
.
judicious (joo-DIH-shus) adj.
"showing wisdom in judging people and situations"
By keeping to a budget, Marlene makes judicious use
of her limited income.
.
perspicacious (pur-spuh-KAY-shus) adj.
"using wise judgement; sharp-minded"
As a perspicacious observer of middle-schoolers, Mr.
Khan knew instantly that Kenny had a problem.
.
prudent (PROO-dnt) adj.
"careful, cautious, and wise"
It is prudent not to drive when the roads are covered
with ice.
.
sagacious (suh-GAY-shus) adj.
"wise"
Prof. Roth wrote, "This sagacious essay is full of
impressive insights." From him, that is quite a
compliment.
.
savvy (SA-vee) adj.
"smart; informed"
Savvy investors knew better that to put their money
in Tom's risky business venture.
.
shrewd (SHROOD) adj.
"insightful; clever"
Denny was shrewd enough not to be deceived by the
fast-talking used car salesman.
.