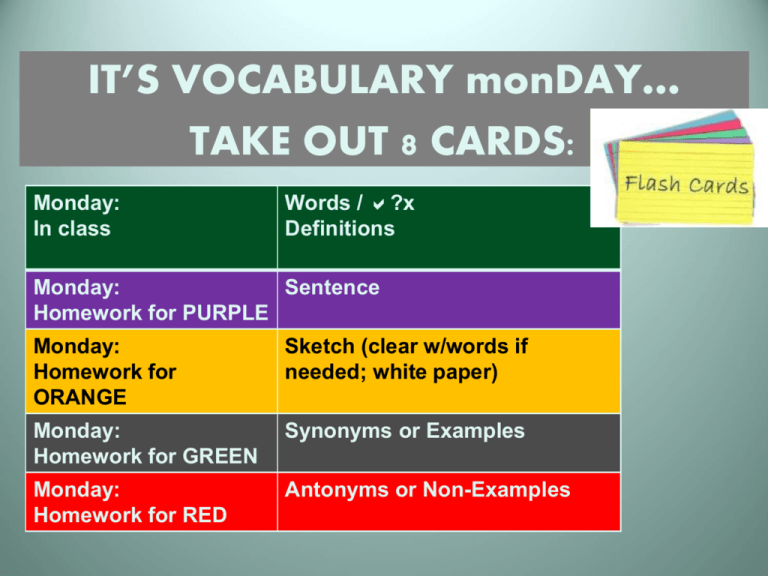 IT'S VOCABULARY monDAY…
TAKE OUT 8 CARDS:
Monday:
In class
Words / ?x
Definitions
Monday:
Sentence
Homework for PURPLE
Monday:
Homework for
ORANGE
Sketch (clear w/words if
needed; white paper)
Monday:
Homework for GREEN
Synonyms or Examples
Monday:
Homework for RED
Antonyms or Non-Examples
VOCABULARY SCHEDULE…
Tuesday:
In class
Everyone AT YOUR TABLE will write the
homework on ONE poster (GRADED).
Wednesday:
In class
Everyone will rotate to copy the
homework on their cards.
Homework
Thursday:
In class
Homework
Friday:
Study cards.
Everyone will study FINISHED flash
cards (GRADED); you will receive
CREDIT for EACH completely FINISHED
card.
Study cards.
Test (GRADE)
Figurative Language
"Figuring it Out"
Figurative and Literal Language
Literal Meaning: words mean EXACTLY
what they say; actual definition
The car is blue.
He caught the football.
Figurative Meaning: figure out what it
means
I've got your back.
(means I'm here for you or I support you)
Figurative and Literal Language
Figurative Language: agreed upon by
society; commonly understood and
commonly used.
You're a doll.
(means you're attractive, or you're kind)
When words are created...
Personification (Table 1)
Personification is a description that gives
human traits to objects or ideas.
• The sunlight danced.
• The water on the lake shivers.
• The streets are calling me.
Hyperbole (Table 2)
A hyperbole is a descriptive
phrase which exaggerates
to show strong feeling or
effect.
• I have a ton of homework.
• My house is a million miles away.
Hyperbole Clip
Idiom (Table 3)
An idiom is a saying that isn't meant to be
taken literally.
•
•
•
•
Statement doesn't "mean" what it says.
Don't be a stick in the mud!
You're the apple of my eye.
I have an ace up my sleeve.
Idiom Clip
Proverb (Table 4)
A proverb is a figurative saying in which a
bit of "wisdom" is given.
• An apple a day keeps the doctor away.
• The early bird catches the worm.
Oxymoron (Table 5)
An oxymoron is a phrase of two words put
together that contradict each other "Opposites"
• Jumbo Shrimp
• Pretty Ugly
• Freezer Burn
Understatement (Table 6)
An understatement is an expression with
less strength than expected.
These are the opposite of hyperboles.
• I'll be there in one second.
• This won't hurt a bit.